THE SCENE: Kayla Joe
Every month, Mercy College holds an open mic in the Victory Hall Cafe.
At these open mic events, you can find many usual suspects, most of whom have been covered in The Scene before. One of the familiar faces, Kayla Joe, is a mainstay of Mercy's music scene.
It's just her and an acoustic guitar; a simple lineup that's become a commonality amongst Mercy's music-natured events. Joe, however, is not simple. Neither is her music — as seen in her debut EP "How To Love Your Pet Rat."
Born and raised in Maine, Joe is a singer/songwriter who combines Fleetwood Mac melodies with a voice as strong as Whitney Houston's.
At an exclusive listening party that she hosted, guests learned that her EP actually has more in common with the pop music of today than it does with any old folk singer/songwriters.
The songs ooze with ethereal synthesizers, catchy melodies, soulful keys, and even the occasional trappy drums. She recorded entirely at Mercy College's studios and unleashed an unexpected pop-R&B style that has been up her sleeve for quite some time.
The five-song EP is about herself.
"When I first moved to New York, it was an unstable living situation. I didn't really have anywhere to go, so it was a rough coming here," explained Joe. "The first month (that) I got my place, I went out, and I got two pet rats. Their names were Mumbles and Smokey."
While many may scoff at owning the same creature that terrorizes daily subway goers, her rat-lationship goes much deeper.
"Every New Yorker always goes, 'Ew! You live in New York and you own those things?!' and I'm just like, 'Yeah' And I kinda related to that because I definitely felt like an underdog growing up. I guess the thing I relate to with a rat is we're both misunderstood."
"Some people don't know how to love us. How to love your pet rat is how to love the ugly in your life."
The EP's infectious lead single "Rat" is one of only a couple tracks where the instrumentation is done entirely by Joe.
"I made that whole song in about a day. I honestly was just playing around and I had made a little loop; that humming part or whatever, because the bass line was doing something and I wanted to I guess somewhat mimic it. Then every four hours, I had just thrown down a random verse… When "Rat" had become a finished product, I actually really liked it."
While she may not have been clear on where the new direction came from, she knew for certain that she wanted to change up her process.
"Really using engineering as an art form. That's something I focused on, trying to personalize it and make it sound like me, mixing it and recording it as I'm writing — the whole process was happening at once. It was a freeing experience. When I write on the guitar, it's more like I'm jamming, so, we scrapped the guitars because I guess it just wasn't interesting anymore. I've tried to use the guitar more lately but trying to incorporate more electronic stuff. So I guess it's sort of like two different galaxies. I just wanted something new, and I tried it out and there it was."
The future for Joe will hopefully involve more music because "How To Love Your Pet Rat" is not only a fun listen, but an amazing debut of a singer who is sure to capture the public eye soon.
Q: How Do You Love Your Pet Rat?
A: "How do you love your pet rat?? I don't know man, listen to the EP."
Stream Kayla Joe's music in the link below:
https://open.spotify.com/album/1YVy8wDLzQz4bGpKUOW1ym?si=EhVDo4MyTQOemSzZP3zHDw
Leave a Comment
About the Contributor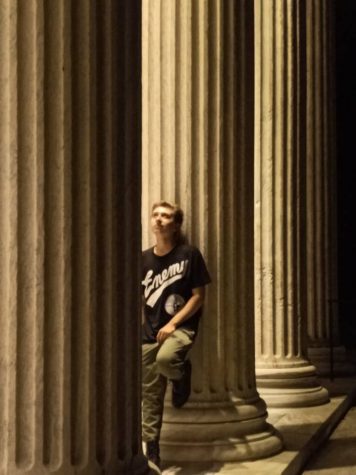 Jack Seda-Schreiber, Entertainment Editor
Jack Seda-Schreiber is the entertainment editor for The Impact News.

Born in New Jersey, Jack has an almost encyclopedic knowledge of music and a wide...