Closing Of Venues Bad News For Upcoming Musicians
The seemingly futile dream of becoming a rock star is becoming more and more farfetched. It isn't necessarily about the competition or the challenge of making something unique; rather, the ability to stomach the unsettling feeling that the music scene is dissipating into an abyss—crumbling—one venue at a time.
In hindsight, some venues suck. Whether it be poor audio, management or lack of cleanliness, some venues simply can't hang with newly renovated, state of the art venues spontaneously sprouting upon the streets of Brooklyn—which has inevitably been deemed the last reputable music frontier in New York. Although many venues have been burdened by such issues and have been forced to close, there are two venues that such circumstances simply do not apply, yet, have uncharacteristically made the list to close their doors for good—leaving musicians and music lovers looking for other places to play, gather and to fill a void in their hearts that may forever linger.
When people received notice that Death by Audio would be closing their doors it were as if a lightning bolt of paralyzing disbelief had struck them. For many, Death by Audio is considered to be a landmark and one of New York's most rewarding hotspots. Despite the unconventional décor of trippy murals on the walls, sticker and graffiti covered bathrooms, and removed car seats; music lovers have voyaged to the apparently abandoned warehouse since 2002.
Since the beginning, musicians and music enthusiasts alike have displayed their loyalty to the venue. Death by Audio has hosted thousands of bands and has always had a reputation of a solid draw, which is why it is appealing to so many people. Even as a spectator, a night at Death by Audio is always a guaranteed spectacle.
Death by Audio also strikes certain nostalgia with many people, as it is most people's first glimpse at a DIY venue. "My first show in Brooklyn was at Death by Audio. Playing there for the first time felt like I was entering a special club, a true community of artists supporting each other…the real Rock N' Roll underground" says Joey Farber, a local musician and music aficionado.
Aside from hosting shows, Death by Audio has also catered to bands through their "homemade" pedal store that offers various unique effect pedals that have helped bands define their sound.
Another venue that has shockingly joined Death by Audio on the short list is The Glasslands Gallery. Similarly to Death by Audio, this venue is an emptied warehouse that was converted for live performances—graciously providing a large room for fans to congregate. The building's bones of brick and air ducts are exposed; ornamental lights dangle above the majestic stage that can be overlooked from and over-hanging balcony.
Since 2006, The Glasslands have been housing bands. The venue's cleanliness and professional sound leaves one only to ponder what has lead to their demise. Perhaps the overpriced drinks and unprecedented cover charges have deterred people from going to the venue, yet, if one can afford to live in Brooklyn, they can probably afford a beer or two.
Whatever the reasons may be behind the closing of these venues, it will be long before they are forgotten, if ever. Though it is unknown the exact reasons why owners have decided to close, their legacies will be left to new venues such as Shea Stadium, The Palisades and Baby's All Right, who are all booking better bills trying to attract more people in attempt to fill the gap left by both Death by Audio and The Glasslands.
It is sad to see venues such as these have to close for upcoming musicians. Future bands will never get to play such awesome venues which such distinct personality; "They're going to miss out on a true DIY experience that can't be found anywhere else," Farber continues.
Despite the numerous venues that seem to be taking the scene by storm, Death by Audio and The Glasslands never lost their luster and importance to the music community, which is why they will forever be remembered.
Leave a Comment
About the Contributor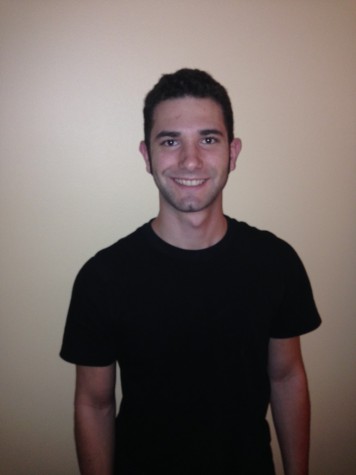 John Principio, Entertainment Editor
John Principio is a senior at Mercy College studying Public Relations. Even though he has never imagined himself as a writer, he has always loved to read...