Take A Seat, Kanye
Over the past two decades there has not been a rock artist as prolific and eccentric as Beck. Bek David Campbell, or more commonly referred to as Beck, has been playing music since the mid 80's; he became internationally famous in the early 90's with the release of what would become a cult-classic, "Loser." Although this song is popular amongst any crowd, it doesn't even come close to define or cap the creativity of the legendary musician.
Beck isn't an ordinary musician, he plays over a dozen instruments and covers a vast range of genres—it's hard to even restrict him to be a rock artist as many of his songs are inspired by hip-hop, funk, soul, folk and soft rock. While it has been 15 years since Beck's last Grammy, he has proven that he is back on top.
Anyone who likes to tune in to the annual Grammy Award Ceremony may have thought they experienced a case of déjà vu upon the conclusion of the 2015 ceremony. This is because rapper and producer Kanye West once again spoiled an honorary moment for another artist.
The first incident happened in 2009; Singer and songwriter Taylor Swift had just received her Grammy for Best Female Video for her hit "You Belong With Me." As Swift began her acceptance speech, West took the stage by storm and grabbed the microphone from her hand. He continued to say "[to Swift] I'm really happy for you, I'm going to let you finish but Beyoncé had one of the best videos of all time."
The statement took the crowd by surprise, embarrassed both Swift and Beyoncé and ensured everyone that he is disrespectful and perhaps the most ostentatious human beings on earth. Though one would think that West himself was embarrassed, he would prove otherwise.
Beck, although he hasn't won a Grammy in over a decade, has been nominated for four other albums and two solo performances. Arguably within the time frame, Beck did not win an award, he was producing his best music. Albums such as "Midnite Vultures," "Sea Change," "Guero" and "Modern Guilt" have all proven to be fan favorites and were all written among Beck's Grammy drought. In 2015, Beck was once again called on stage to receive his fourth and fifth golden gramophone. Beck was nominated for four awards: Album of the Year, Best Rock Album ("Morning Phase"), Best Rock Song, and Best Rock Performance ("Blue Moon"), he won Album of the Year and Best Rock Album.
Upon receiving his award for Album of they Year, Kanye once again approached the stage.
Although Kanye made the gesture jokingly this time and turned around before desecrating another artist's proudest moment, he still made himself the center of attention. While some people laughed at the rappers antics, others found it disgusting. Although West refrained from walking on stage, he wasn't done yet.
At the conclusion of the ceremony West was interviewed by the E! Network; he stated "Beck needs to respect artistry and he should've given his award to Beyoncé" once again defending his ally and making a jerk out of himself. Beck seemed to welcome Kanye on stage and later referred to him as a "genius."
Kanye West may be the best rap artist of the past 10 or so years. If only his attitude and respect for other musicians (other than his friends) was as equally profound. West has proven to be an egotistical window-breaker; he has no right to speak down to other artists, especially ones who have arguably made more of an impact than he.
Beck deserves this Grammy; he deserved one for his past three albums also. He is an inspiration not only to rock artists, but also to musicians of many genres. He doesn't have a multitude of writers or producers on his album. It is his work. His creation.
The actions of West are cringe-worthy, once again embarrassing himself, or at least making the people around him feel embarrassed for him. His antics aren't funny, and he should have at least listened to a Beck song before he ever opened his mouth.
Leave a Comment
About the Contributor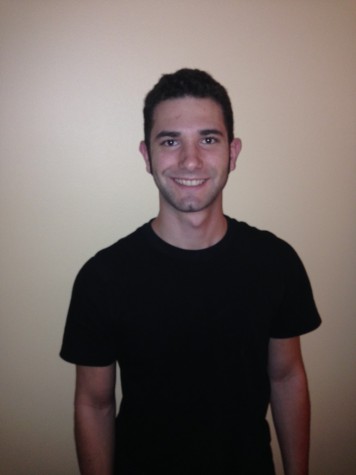 John Principio, Entertainment Editor
John Principio is a senior at Mercy College studying Public Relations. Even though he has never imagined himself as a writer, he has always loved to read...