The Business of Pleasure
The Impact Travels To Exxxotica
A group of adult entertainers stand off-stage waiting for the "Pole Olympics" to begin in the center of a large convention hall. Vendors were stationed at their booths, dressed in company shirts with business cards at the ready for those curious enough to wander by. Adult entertainment icons, rising stars, and moguls of the industry roamed the sprawling maze that had transformed The New Jersey Convention and Exposition Center for Exxxotica, the three-day convention for all things sex entertainment.
Stocked vendors offered their expertise about various products as news crews filmed them and eager visitors browsed their wares. Seminars and Q&A's with so-called expert panelists were in progress at the several conference rooms at one end of the convention center. It was the typical scene of any business convention, but with one very explicit twist.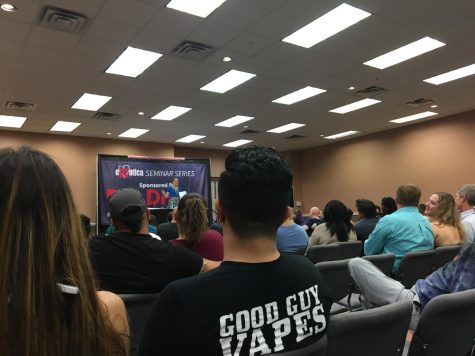 The Jersey convention is only one of the three events held in different states (think ComicCon but for sex). It's an impressive run fitting for a big business, and with the amount of money made by the adult entertainment industry each year, it makes sense.
In 2015, NBC News reported that the adult industry makes $97 billion on a global scale. In the US alone, the industry is making 10 to 12 billion a year.
The adult entertainment industry comprises a collection of businesses ranging from sex education to pornography. Pornography is typically the first thought to come to mind when discussing the "adult industry."
According to CNBC, women in the adult entertainment business make, on average, between $300 to $1,500 a year off of one porn shoot, and $700 o $1,200 on a shoot for "girl on girl" content. Men on the other hand, make between $500 to $1,500 per shoot in general. Of course, as with any film industry, roles extend far beyond the on-screen performers; there's camera operators, directors, writers, editors, makeup artists and more.
However, the adult industry is significantly more than what you see on your screen. It is an industry made of services, products, and businesses sustained by long hours and work weeks. It is an industry populated by people who have families, college degrees, and social interests like any other professional. It's an industry powered by lives that are not defined by but are influenced by the experiences and lifestyles they are passionate about.
The industry is a blend of business spearheaded by people with multifaceted lives, no different from any other industry.
Miss Lydia
"I'm completely submerged in this lifestyle. It's the reason I made it my business."
The day begins at 6:15 a.m. The next two hours consist of meditation and reading with a cup of tea. "Me Time," as Miss Lydia calls it, warming her up for a new day of posting ads, answering emails, and booking clients.
Miss Lydia's work requires her to travel from her home in Boyertown, Pennsylvania to Lady's Wicked Playground in Allentown, Pennsylvania. The late evenings of her work often require spending three days in a row at in her office, but there are bedrooms available there to sleepover. When speaking with her on Thursday, she mentions that she had been there since Tuesday. Her hectic schedule prompts a need for assistance, and Miss Lydia feels she has a solution.
"I want a service slave."
Someone who could make sure dinner is cooked and cleaning up after her sessions at Ladies Wicked Playground. Someone who could help Miss Lydia's husband who is disabled due to back problems and other medical issues.
"I thought this would be great for both of us to have," in describing why she thought a service slave would benefit their lives.
Let it be clear said slave would understand their role. "They are actively searching for a mistress to serve," she explains, but the slave would obey her husband out of respect for her. Though, not her twenty-year son who lives with them. "I'm just going to tell him to think of him as the butler."
Something he will likely be okay with as he rather still thinks his mother cleans than is a disciplinarian and pro-dom.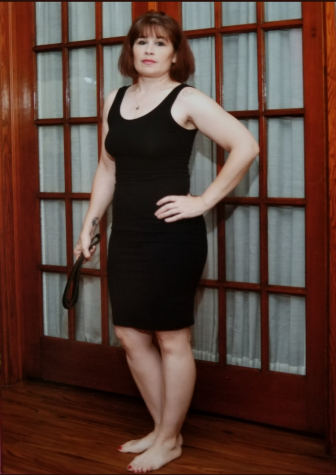 To Miss Lydia, it is all a part of being in immersed in the lifestyle. A lifestyle she first felt an urge towards since her earliest years. "I actually spanked my dolls when I was four," remembers Miss Lydia, the small-town Pennsylvania daughter of a blue-collar single mother, when she first expressed her original kink. It was not until she was 21 and out of college when she first looked at BDSM magazines and realized she was not alone. Thereafter, she first became involved in the lifestyle, which she expresses involves "playing" with others, then just knowing your kinks, "even if only online and you're doing webcam."
Today, Miss Lydia is a dominant, but originally, was a submissive. "My first experience was pre-internet," she describes of her first time in the lifestyle with Mistress Kathleen. It was with her that night Miss Lydia was the spanked and not the spanker. A night she would learn her likes and dislikes, "I'll never forget that night."
Two to three years into her immersion in the lifestyle, she met a slave, a twenty-year veteran in this role, who became a mentor to her. It was her mentor who made her more aware that being a submissive was not aligning with her. "She was like, "You need to try it," Miss Lydia recalls the push to try dominating. The control that comes with dominating she describes in a soft tone as "natural" and "how it should be."
Although she is no longer a submissive, she leads today a support group at Lady's Wicked Playground every second and fourth Sunday for those who are submissive. In addition, she also educates singles and couples on proper technique, guiding them, and how to be in the lifestyle on a dime, "The Dollar Tree and Walmart, Home Depot they are like my toy store."
"I was a terrible submissive. I always had to be in control." Her need to control she expressed in her position as a kindergarten teacher for a "mom and pop" daycare setting. Miss Lydia telling how, even though her best friend was the daycare's director, she was the one managing "how to run the stuff, how to run the rules."
Miss Lydia has been open about her involvement in the BDSM lifestyle since the beginning. The director and manager were no exception. They even bought toys from her and the manager had Miss Lydia's back. "She knew I wasn't doing anything illegal. She knew what I was doing was my business and she supported it."
Miss Lydia began working as a pro-dom with nearly all online clients for the first three years. Her first in-person client she remembers being scared to death leading up to it but ended it well. They are friends today, but it's more of a private friendship. "We would talk for an hour, 'How are your kids.' Before going upstairs." They will see each other in the grocery store, but leave the interaction to a smile. The majority of her clients are married and no sex occurs but understands the impression of a husband seeing a dom can give.
She was doing everything she wanted. She was teaching and pursuing all she hoped for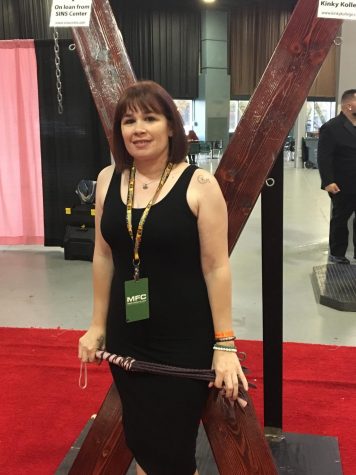 as a pro-dom. She was exhausted.
The hours of two different career lives taking its toll. When asked, what decided her choice to leave her job as a teacher to be a pro-dom full-time she summed it up as "because it's what makes me happy." In the years, since, she's expanded her work to be a life coach, nutritionist and became a certified personal trainer a year ago. Her role as a disciplinarian and pro-dom benefiting her wellness roles. "I use it in my kink life for clients who want to lose weight and be punished."
She has "vanilla" (not in the lifestyle) clients who she never threatens with a spanking, but she attests to the accountability it creates. Her husband who is diabetic can attest to its success. He lost seventy pounds in one year. "So with him spankings really worked," she says with a laugh.
Sessions with her husband were unusual because it was at his home, but she felt very comfortable in his home looking back. They became friends over time, which for a major football fan like her who did not have cable it meant spending weekends at his house watching the game. Him the Patriots fan with three daughters and her the Cardinals fan with two sons would hang out.
"His daughters and my sons are very close. It was all very meant to be," she gushes.
Their relationship sealed with a first kiss on 11/11/11 and were married June 30, 2012.
All of their children now know how they met, but for years they believed they met on a "diet and nutrition site." Miss Lydia laughing as she tells the story. Her sons, now 25 and 20, also thought she cleaned, which her youngest prefers to call her work as a pro-dom.
She and her husband, a "switch" (dominant and submissive) do have people they play with, but every discussion and arrangement has been discussed. They meet each other's play partners and to answer the pressing question: "His (expletive) is mine and my kitty is his."
A personal life that works in tandem with her work life where she spends up to twenty hours a week on business-related matters and up to ten sessions a week with clients. As someone with clients in six cities and clients traveling more than an hour to see her she doesn't fret a thought about competition. She has no qualms about educating younger women in the life of a pro-dom, because she knows it will benefit those seeking time with a pro-dom.
"All I want is for clients to be safe. I hope I mentor a lot of young girls when I get the chance."
A chance she may have many years to because she hopes to work for years to come. A pro-dom in her eighties is an image she can foresee, but be forewarned it takes work to make it one let alone several decades. "… [young women] think… 'they're gonna message you all the time and you're going to be booked all the time.' Where it is not that way."
Dee Bertino
"I told my kids, while we may be made fun of by some people, this business has helped us out a lot. We were able to go on family vacations as well as buy Christmas presents, thanks to this job."
The business of distributing erotic "toys" is a profession that can lead to many ways of earning money and public outcry.
This is primarily due to the vast field of fetishes that exist, the things that secretly arouse people. That includes the ropes, candles, pheromones, "toys" – it all falls under this umbrella term. Everyone, despite what they say in public, gets aroused by something, but few even dare talk about it in public.
The age of the internet has led to new methods of acquiring erotica, but the practice still retains a stigma that has led to difficulties for some.
Dee Bertino is a former lawyer who has changed from litigation to sex toys.
"I was a public defender in Cook County, Chicago for three years. I'm proud of the work that I did in that job, but when I married my husband I decided to leave that career to focus on the family business."
Bertino's husband was the successor to his father's business, a brick and mortar erotica store in New Jersey called "Fantasy Gifts." While a family business is usually something that most Americans love to talk about and support, Bertino received no such praise.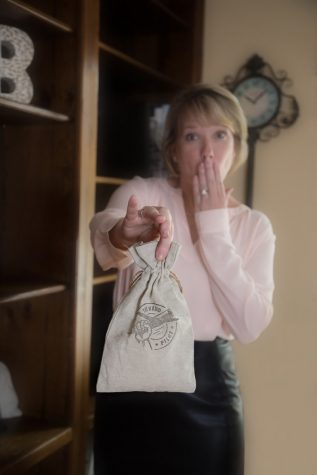 Not even from members of her own family.
"Now I wouldn't say he was mad, but my father was definitely shocked. I had this law career with so much potential, and to see me leave it all behind for a sex shop seemed to shock him."
Shock wasn't the only thing that Bertino has experienced in her time in the industry, every town she tries to do business in has insisted on putting up a fight.
"Whenever we set up a new location, no matter where it is, we always get a lawsuit from someone. We constantly have to defend ourselves against them. I swear, we probably have the most First |Amendment case victories out of any sex shop."
Despite there long track record of legal victories, Bertino did lose one case to the county of Cinnaminson, New Jersey. The location was in a strip mall within the county lines and the suing party argued that Bertino and her husband did not follow the law when it came to where and how they did business.
"The central issue in this appeal concerns the constitutionality of a zoning ordinance adopted by the Township of Cinnaminson that restricts the location where commercial establishments that sell adult videos and novelty items can operate," the transcript read.
Certain businesses that can be seen as too "adult" end up having to get permission from the towns zoning board before setting up. This is supposed to help avoid drama between the community as well as the business owners once opening day roles around. However, in some instances a towns population will still challenge a businesses legitimacy long after the business filed all the paperwork.
This is, unfortunately, what ended up happening to Bertino when she opened up shop in Cinnaminson. She was told to close down on a technicality, the plaintiff stating that she did not properly disclose what she was going to sell. She then countered this with her own lawsuit on the grounds that she was not being treated fairly by the town due to what she was selling.
Unfortunately, the courts ruled in favor of the plaintiff on the grounds that they felt that the town did give Bertino plenty of time to communicate any grievances she had with the town. They also argued that her type of business in no way impacted their ruling.
However, Bertino didn't give up. She went to the appellate division and won during the retrial.
"We reverse. We hold that the trial court misapplied the holding in Hamilton Amusement Center v. Verniero, 156 N.J. 254, 716 A.2d 1137 (1998), when it relied on a generalized notion of "common sense" to find that the ordinance served a substantial governmental interest."
The appellate division also stated that the county did not properly communicate with Bertino and "the trial court failed to consider the impact the municipal restrictions have on defendants' ability to operate the business, in the context of the restrictions imposed by N.J.S.A. 2C:34-7(a)."
So, despite all the litigation that Bertino had to go through to win the right to operate her business, which was legal, Bertino never did open up that shop in Cinnaminson.
"We won the case on appeal, which is great. However, by the time we were done with the case, our lease had expired and we did not want to try and open up in that area a second time. I have no current plans to return to Cinnaminson in regards to opening up a store there."
The reception Bertino receives for her career path has never been too friendly. Even her children were harassed at school. They were called names and shamed for having parents who sold "adult" toys. Even the members of the P.T.A, the parents of some of those kids, joined in the insults.
And Bertino attended those meetings.
"My children have been made fun of for our line of work. We've even received criticism from the parents of those children as well."
Sex shops can be a touchy subject for some people, most would rather sweep it under the rug as opposed to actually talk about it. Though Bertino will argue that people shouldn't be afraid of her business.
"We are a very respectable establishment. We aren't like other shops that go all out. We don't let anyone under eighteen into the store, and our employees are well educated and trained in the products. We are not the type of place people should be afraid of."
Though it is not the most traditional kind of work, according to Bertino, it has helped the family live a very nice life.
"I told my kids, while we may be made fun of by some people, this business has helped us out a lot. We were able to go on family vacations as well as buy Christmas presents thanks to this job. If people don't like us because of our work, then that's fine. I'd rather not have people in my life who would judge us based on are line of work."
Bertino is proud of the work that she does now and feels that it is the perfect time for other women to come into a field that has not been kind to its female members in the past.
"The industry is becoming much more female friendly. Most of my employees are female and we don't get much trouble. Anyone who does bother them is asked to leave, and they comply."
Bertino is so confident in the sex shop business that she had taken it upon herself to start her own venture, a website called "The Hand Pilot."
In many ways, this new business was born out of necessity, both for consumers and for providers.
"Men aren't going out as much anymore either. They aren't meeting people at bars or at work, but they still need to relieve themselves."
Bertino created the website as a way for men to be able to purchase a monthly gift bag that will be filled with things that they can use to "relieve" themselves.
Plus, it gives total anonymity to her clientele on top of avoiding a fight with local communities.
This website is just another transition for Bertino, just like her transition from law into sex toys that occurred years ago.
"Though I'm proud of my brick and mortar stores, I also know that online is the future," she said when asked about her feelings on running an online store.
At the end of the day though, Bertino is a businesswoman. Her stores aren't a taboo, or some kink, they are her main source of income and above all else hers.
And like all businesswomen, she also knows how her carrier will end.
"The dream is to run the stores until we die, but the most logical one is to sell them when it becomes time to retire. I don't think my children should inherit the stores. They should go out and find what makes them happy."
Jasmine and King Noire
"I think we all have something we do on the side that is fun, that we're passionate about, and happy to generate money."
"As people of color, as people of substance, we lack representation in the adult entertainment industry," says Jasmine, founder of Jet Setting Jasmine (JSJ). A topic King Noire and her, co-partners of JSJ, have personally experienced or observed.
King Noire was done with shooting for the day when he received several texts from April Dawn, the performer he was working with that day. Her texts explicit-filled as she called him a "prude ass nigga." Her believing she was texting someone else before realizing. "Ooooooooopse (expletive) my life not for you ignore…" 
The crew was antipathetic to what had been said about him.  "Oh you should get over it and get back to work," he describes their tone. The ambivalence striking so deep he told them he wouldn't work with her. April Dawn was removed, but Private Society, the company he was shooting for, became standoffish with him after the events.
King Noire and Jasmine, founder of JSJ, adding how same themed adult films can vary in titles based on the performer's race and the expectation performers adhere to stereotypes. Jasmine worries how this can affect people's perceptions of what their partner expects from them. "A lot of people don't want to admit, but we learn about sex through porn," Jasmine says.
"A combination of all that led to the work we do now," says Jasmine. Jasmine's and King Noire's work ranges from the adult industry to other fields: wellness, music, and social justice. Their first interaction in 2010 was when King Noire was interviewed by Jasmine on The Emotion Picture, a radio show she used to co-host. She appreciated his, "perspective on sex positivity, women's rights," and the opportunity for clients to hear a male's perspective to answer questions. King Noire mentioning how they brought different backgrounds to their partnership: A clinical background and experience in the adult industry, but also evident two multifaceted lives.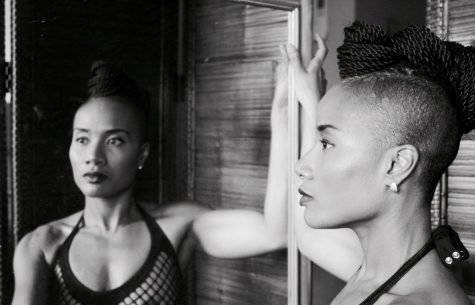 Jasmine, the first-generation American daughter of a mother from the Philippines and father from Panama, split most of her early year between New York City and Miami. She and her three sisters were raised primarily by their mother in a traditional Filipino household where sex was a topic not spoken. Jasmine was once slapped in the mouth for saying the euphemism "superfreak" from the Rick James song, "but it's such a great song I didn't even know what I singing."
She lacked an outlet to explore her sexuality difficult due to her enduring curiosity about sex. "My own curiosity is what started my own business."
King Noire's familial attitudes towards sex differs from Jasmine's. He was raised by his grandmother and mother, two former teachers. "My mother probably trained half of the school nurses in New Jersey," he tells of his upbringing where sex was not an unspoken topic. His mother was proud of the positive work Jasmine and he are doing. He attributes his upbringing to his comfortableness talking about and helping people in the physical, mental, and health areas of their sexuality.
King Noire was kicked out of the house at eighteen for being a "knucklehead." Soon after, he was asked by a friend who was dancing to join him in a photoshoot because she wanted to be photographed with someone she felt comfortable with. Although there is less work in the NJ/CT area compared to Florida and Los Angeles, he made a living through private shows and online. However, the racism of the industry and similar factors turned him off from the work causing his decision to stop for a while.
King Noire would return to his neighborhood and became involved in the Urban League of Hudson County, Jersey City helping youth leaving juvenile detention or get court-order community service. He would become involved in the program in 2005. The same year he released his first album Paradise Lost and started working in music full-time. His time as part of the program he describes himself holding many hats, including, teaching chess and creative writing to the youth in the program. He would be a part of the program for a couple years until the funding was cut.
The funding cut occurred as King Noire resumed working at parties and offering erotic touch massages. He would return to the adult industry, while continuing to go on tour and record music. An active schedule that has continued to grow since Jasmine and King Noire first met in-person in 2011.
"He's working, he's always working," Jasmine says.
The same words applied to Jasmine. Her day starting at 6:15 a.m. so she can send her daughters off to school and do her "straight and narrow" work from the time she wakes up until 4:30 p.m. Jasmine's daughters, both in their teens, have been with her entire educational journey. Her oldest born when Jasmine was a junior at Florida State University and her youngest born six weeks before her starting to earn her first masters. Jasmine holds two Master degrees in Clinical Social Work and Aging Studies. In contrast to her upbringing, Jasmine has been raising her daughters in a judgement free household free to be students, athletes, and dancers. "They're just all-around really wonderful children, obviously because they are mine," Jasmine briefly laughing. They are much aware about the entire range of their mother's career. "It has been very important to me to show them women are multifaceted."
After her "narrow" work it's off to their fitness studio, Body Altitudes Health and Fitness, to work with clients from 6 p.m. to 9 p.m. Finally, conducting interviews like the one for this article at 10:30 p.m., answer emails and schedule out social media, before trying to get five or six hours of sleep.
A packed schedule even more stuffed when you add in Royal Fetish Films, where Jasmine and King Noire produce, direct, and market their own work, their individual one-one-one fetish training sessions, and packing for a different trip every weekend for sessions in another area to educational seminars.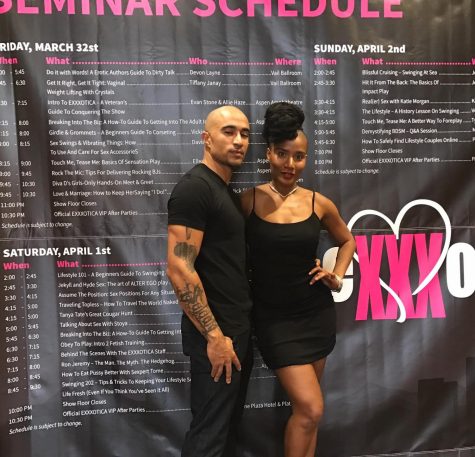 Jasmine and King Noire's work sometimes overlapping with their work with victims of domestic violence, emotional trauma, and sexual assault. Jasmine tells of a client who came to them expressing a desire to explore sex more freely. After talking with her about what was preventing her from a wider sexual experience it was revealed she had been sexually assaulted. Over the past six months, Jasmine has helped in rebuilding her ability to trust others by revisiting the traumatic event. "Relinquishing the blame, relinquishing shame," she says, which her client has replaced with an increasing confidence in herself.
Their efforts have also extended to the Center of Domestic Violence in Harlem (CDVH). Jasmine has observed a gap in emotional and sexual wellness for survivor's domestic violence. As a survivor of domestic violence herself, she felt motivated that they work to fill this gap by helping survivors reassert control over their bodies and desires that was once controlled by their abuser. One women they met at the shelter Jasmine remembers as, "so into herself, so isolated," who shared with them she knew each of her five children were conceived by her husband raping her.
A story that left a lasting impact on them and brought them joy to see her become a "social butterfly" when they visited the CDVH again nearly a year later. King Noire and Jasmine have continued to support the CDVH by working with artists to donate artwork.
To King Noire, a highlight of his life was his work with the people of Guinea Bissau. King Noire, the first American hip hop artist to perform there, was approached by Devin Austin. A woman who traces her heritage back to Guinea Bissau and expressed her desire to raise funds for Djati, a Bissau-Guinean village whose school is washed away by the annual rain season.
At the time, King Noire was working on "Music is My Weapon." The album, which King Noire explains derives its title for the historical significance and symbolism music holds. "Music has been used [as a] tool for freedom, justice, and equality by my people, the African-America's since we've been brought here."
He originally intended it to be available for free, but decided with his former manager, Raj, to use the album to raise funds for Djati. The funds raised have gone beyond rebuilding their school, but also, a new fresh-water well and medical facility powered by solar panels so Doctors Without Borders can work at night. "It's honestly one of the greatest things I've ever been a part of."
Jasmine and King Noire's social justice and non-profit work is fervent as ever. Before the interview came to a close, they decided to discuss their latest project of raising two-thousand dollars to buy pads and menstrual cups so women are, "Able to meet their feminine hygiene needs, even though, they may not have home," explains Jasmine. An effort to help women not have to make the decision between buying food or purchasing pads. Sometimes, the choice leading them to use unsanitary materials as substitutes when choosing food.
When asked on the spot, they had a message for young people.
"Consent is key," said in perfect unison. Jasmine adding consent can be given and taken back before and during sex.
"As men, we have to do way, way better," King Noire following up by touching on the #MeToo movement by encouraging men to use the current events as motivation to hold others accountable and learn how to become better partners.
Jasmine finishes by offering her recognition college is the first-time young people have privacy. It's a good time to explore and learn your own body because there is plenty of time after to share with a partner. She advises, "It's a great time to walk around nude if you don't have a roommate."
As the day winds to a close, the festivities at Exxxotica start to wind down. The final exchange of business cards occurs, the poles are torn down, and the last visitors walk out the door as the security stayed ever-vigilent. The vendors closing up their booths and packing up their remaining products. Many of them preparing to leave for a momentary rest.
However, the end of Exxxotica means the fast-approaching start of a new day of business because sex is a business and a business never stays closed for long.
Leave a Comment
About the Contributors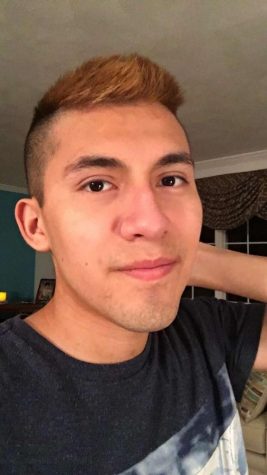 Matt Reich, Former Associate Editor
Matt Reich is a guy constantly on the go who can't let a minute go unused. Born in a city in Texas, raised in rural Connecticut, and now he's trying to...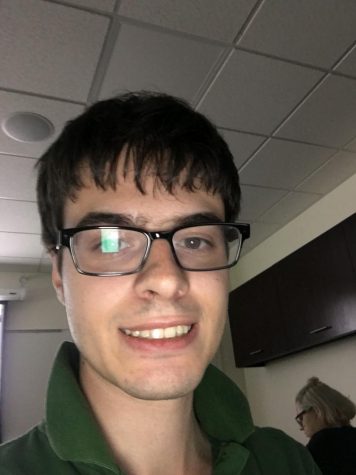 Mark McCarthy, Impact Staff
Mark is a A 22 year old senior English major from Scarsdale. He enjoys video games, comics, movies and occasionally T.V. shows. He wants to become...