Visit Korean town and enjoy Korean Barbecue !!!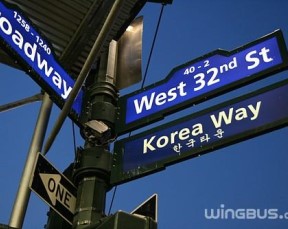 Business honor students in Mercy college went to Korean town with their professor. Most of students went to Korean town for the first time and they enjoyed Korean food and had a great time.
"I enjoyed my time in Korean Town. My professor offered for us to go out to dinner as a class one day, so I took him up on his offer. I was unsure where he was taking us, and I was pleasantly surprised to learn it was a Korean BBQ. I cannot say I am accustomed to Asian Cuisine, so this was my first time trying any sort of Korean Food. My favorite dished were the kalimari, octopus, and the Korean BBQ meat. I highly recommend Korean BBQ, because it was by far one of the best meats I have ever eaten", stated Andrew Bee, business honor student in Mercy college.
Korean barbecue refers to the Korean method of grilling beef, pork, chicken, or other types of meat. Such dishes are often prepared at the diner's table on gas or charcoal grills that are built into the table itself. Some Korean restaurants that do not have built-in grills provide portable stoves for diners to use at their tables.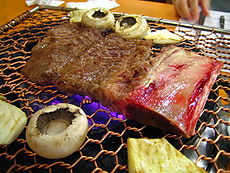 The most representative form of Korean barbecue is bulgogi usually made from thinly sliced beef sirloin or tenderloin. Another popular form of it is galbi made from marinated beef short ribs. However, Korean barbecue also includes many other kinds of marinated and non-marinated meat dishes, and can be divided into several categories. Korean barbecue is not only popular among Koreans, but has gained popularity internationally.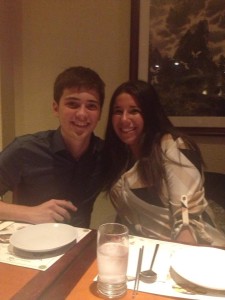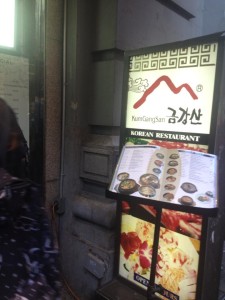 "I am not sure what the foods were called since my professor ordered what he thought everyone would love which we certainly did! I enjoyed putting meet, spices and cooked vegetables into a piece of lettuce and experiencing eating something new and unique! It was so good! I would CERTAINLY recommend Korean food to other people without a doubt. Not only am I open to different cultures but I find that people would be interested in trying this food in particular since its unique in taste. It can be spicy and sweet at the same time! I love Korean food!" stated Alison Furman who is also honor student in Mercy college.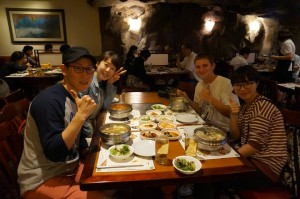 Korean students in mercy college also frequently go to Korean restaurant in the korean town area of Manhattan. They played important role to introduce Korean food to American friends.
" Thanks to my Korean friends, I could experience different cultures and I liked the culture difference between the New Yorkers and the Koreans," stated Sam Moseley.
The Korea town area of Manhattan is primarily a Korean business district, but in recent years, the district has seen an increase in Korean and European traffic as well, and the resident Korean population in the area has grown concomitantly. There was never a formal plan or agreement to create a Korean commercial district in Manhattan. However, given the high tourist traffic stemming from its proximity to the Empire State Building, Macy's Herald Square, Penn Station, Madison Square Garden, the Garment District, and the Flower District, amongst other Midtown Manhattan landmarks, it was an ideal location for Korean immigrants to settle. Initiated by the opening of a Korean bookstore and a handful of restaurants in the 1980s, Korea town sprang into being. With their success, an additional stream of Korean-owned businesses took root in the neighborhood, coinciding with increased immigration from Korea and with rising demand for the prime location, overall property values in the area increased as well.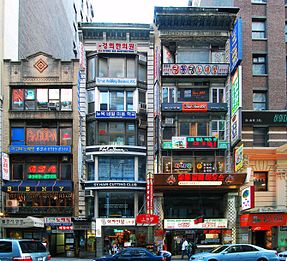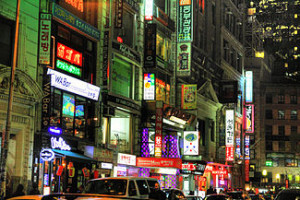 The heart of Koreatown is the segment of 32nd Street between Fifth Avenue and Broadway, officially nicknamed "Korea Way". Though only one city block long, Korea Way features stores on multiple stories, with small, independently run establishments reaching up to the third or fourth floors, including restaurants, exuding an ambience of Seoul itself. The New York City Korean Chamber of Commerce estimates there to be more than 100 small businesses on Korea Way.
The street features numerous restaurants that serve both traditional or regional Korean cuisine and Korean fusion fare, several bakeries, grocery stores, supermarkets, bookstores, consumer electronics outlets, video rental shops, tchotchke and stationery shops, hair and nail salons, noraebang bars, nightclubs, as well as cell phone service center, doctors' offices, banks, and hotels.
"Visit Korean town and enjoy Korean barbecue !"
Leave a Comment
About the Contributor
Heejoong Chung, Impact Staff
HEEJOONG is an exchange student from Yonsei Univ, in South Korea. He majors in Business Administration and he is highly interested in sports and business....