October put the boo in boobies
The fall foliage has finally surrendered to October's chill; football season is well under way and Halloween costumes have already been fashioned with shades of orange and black. However, once our candy corn induced comas subside and the optimistic chance of getting away with a dominatrix alter ego in pleather dwindles. We recognize October as a  month of strength, awareness, and more importantly, lots of boobs.
It's that time of month again. You are sitting there, feet dangling from the cold examination table, staring at an unsightly diagram of the female bodice. Maybe you are one of the few to actually schedule the appointment yourself, or perhaps your being there is more of a failed ultimatum and your refusal to answer one more phone call from your mother on the importance of an annual breast screening.
Still, you patiently sit, feet dangling as they grow colder from your gynecologist's decision to keep the office temperature two degrees short of freezing.
That should make things a little more comfortable, don't you think?
No?
Well maybe let's have you strip down, answer a few awkward questions and finish off by squishing your breasts in between two large digital plates for a few X-ray pics (say cheese)?
How about now? Still no?
In between biting your lip and praying for a merciful release, the illusion of a cheery doctor's visit seems to be fading, quickly turning your cordial smile you previously gave the nurse into the malicious snarl being squeezed out of you now.
Mammograms seem to be the adult version of eating your vegetables as a child; you just don't want to do it. And while, this uncomfortable constraint on your lunch break may seem to lack any promise of hilarity, it is in fact a necessity.
This past October, National Breast Cancer Awareness's Month celebrated its 27 anniversary. For years they have been shimmying stories, precautions and awareness of breast cancers issues and its growing cure development on a global scale.
Only there is one problem…
Women don't seem to be very aware.
Not 20 something's and college girls, anyway. Although many female, uh…assets may be hard targets to miss in the average Halloween giddy up or pursed lipped profile picture, the severity of annual screenings has sadly been dismissed until further notice.
Well, let's consider this the notice ladies.
Since its inception, the pink ribbon culture has gained warriors by the masses, regardless of their cup size, ethnicity, and in some cases, gender.
It would be unfair to pinpoint one organization as a frontrunner towards a cure, as breast cancer awareness seems to have become somewhat of a creed among celebs and brand names.
Along with the organizations close ties to Susan G. Komen, the disease has gained support from the beauty product lines such as Estee Lauder, clothing endorsements by A-listers like Jennifer Aniston and Gabrielle Union, and even the NFL.
Never mind their original jerseys; there is just something so right about a man pulling off the color pink, sweat, and a set of nice bisects, right ladies?
As college girls, we look at late nights spent partying and juvenile cases of smokers cough as just another perk of being young, but that, as we all know can only last so long, leaving us with serious repercussions to deal with later in life.
Ashley Ingleman, a representative of the American Cancer Society, shared a few enlightenments on when and where to get an annual checkup,
"Traditionally, a screening isn't necessary till the age of 40, however, girls with a history of breast cancer in their family or those who may have felt a lump during a self examination should contact a doctor straight away."
"It is never too young for a precautionary clinical exam," Ingleman continued.
Early detection has proven to become a literal lifesaver. With Early detection a cancerous infection can be attended to before it has the chance to spread.
Further research presented by the Center for Disease Control and Prevention claimed that Breast Cancer is the leading cause of cancer death among women besides skin cancer. Statistically, the Prevention Center estimated that about 232,240 cases of invasive breast cancer will be diagnosed in woman by the end of 2013 and concludes with a staggering death rate of about 39,620.
Although research and fundraising has already made immeasurable strides toward awareness there is really little to do regarding who the disease affects in spite of family history.
Like some deadly, uninvited game of eenie meenie miney mo, it reaches out in hopes of fondling any size cleavage.
However, with those devastating numbers in mind, the prevention center also proudly announced that after the year 2000 there was a decrease in diagnosis thanks early detection to those same plates of terror you were cursing before.
Obviously, these screening have achieved some type of dentist like stigma, because lets be real here, a mammogram and a pair of cold sterile hands copping a feel isn't anyone's ideal afternoon.  However, let that not be a reason to skip a screening.
Regaining optimism and reassurance at healthy breasts will eventually return with any flattened pride that may have been pinched from your girls in that cold doctors office. Picking a screening location should be based on reputable reviews and personal comfort (or as comfortable as it can be).
Screening locations can be found on the American Cancer Society's website as well as references made by your healthcare provider, health department, or Planned Parenthood Care center.
Leave a Comment
About the Contributor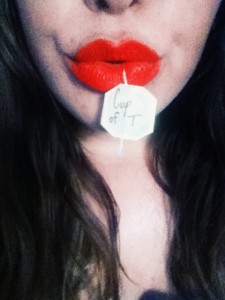 Taylor Ryan, Impact Staff
Originally from Florida, Taylor now resides in Manhattan's Lower East Side. She has been fortunate enough to jump between both Mercy's Manhattan campus...