Business Honors Student Visit West Point
On Nov. 22, the Business Honors students traveled to West Point to learn leadership.
The United States Military Academy at West Point (USMA), also known as The Academy or simply, The Point, is a four-year coeducational federal service academy located in West Point, New York.
On Friday morning, business honors students from Mercy College woke up early to travel to West Point to meet with Col. Greg Ebner, who toured students around West Point. At first, business honors students arrived at the Visitor Information Center, where they read and watched videos on the history of West Point and its important figures.
"My first impression of West Point was a strict school with no smiles, students doing intense exercise and everyone marching all the time. What I learned from West Point is that people become soldiers but  are still human. They still joke around, but when it comes to being serious, they will be," stated Andrew Bee, a business honors student.
Other students agreed.
 "When I first arrived at West Point, I thought it was a beautiful place. The barracks, the houses and the sport fields were well kept and had history. The 4,000 cadets which attend class there were really impressive. I was surprised by how strict their days are and how much attention detail they must maintain on a day-to-day basis. It's not the school for everybody, but it builds character. If you want to serve this country, the best and the brightest come from West Point Military Academy," stated Angel Cespedes, who is the Student Government President for School of Business and an ambassador for Mercy College.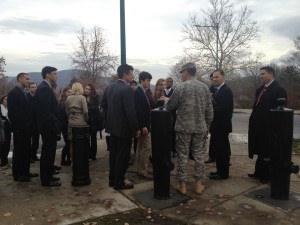 After passing through security, the group arrived at West Point Academy and met Col. Ebner near one of the barracks. He gave business students a tour of the campus, and they proceeded to the Department of Foreign Language in which the group met two professors and two cadets, who lead a discussion on ethics in leadership. The group also learned about West Point's three key concepts: duty, honor and country.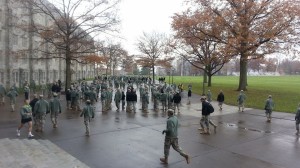 Many business honors students learned a lot of things about leadership through this visit.
"I learned that there is no absolute formula for leadership; the military condones conformity and obedience, whereas in business you can still be powerful, but you have to be open minded as a leader to listen and take the opinions of your employees or coworkers. There is a common understanding in all types of leadership, and it is that leadership is not about the leader, it is not an "I" or "me" situation. It is solely about the group and how the group can utilize you, the leader, to better execute a decision," stated Abigail Smith.
"I learned that to be an effective leader you don't just lead from power, but you lead from character. A great leader leads by respecting, motivating and trusting his/her followers. It is a mutual relationship that works together to accomplish a common goal," stated Cespedes.
After they said their goodbyes to Col.  Ebner, the group headed to a football field nearby in which they threw around a football with the Mercy College School of Business professors and Dean. They then proceeded to the gift shop, picked up a few souvenirs then headed back to campus. 
"Our visit to West Point was a great trip, and had beautiful campus. I have deeper respect for the men and women that commit their lives to our country because of this trip," stated Bee.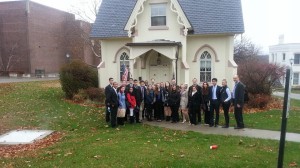 Leave a Comment
About the Contributor
Heejoong Chung, Impact Staff
HEEJOONG is an exchange student from Yonsei Univ, in South Korea. He majors in Business Administration and he is highly interested in sports and business....