Mercy Students Volunteer to Make Schools A Little More Colorful
Students in the Manhattan Campus, along with the Caribbean Students Association (CSA) from the Dobbs Ferry campus, took a trip to MS 80 in the Bronx on Feb. 22 to volunteer their time to help paint the school with a group called Publicolor.
Publicolor is a non-profit youth development group that uniquely engages disaffected students in their education. Their gateway program is multi-day and multi-year that empowers them through commercial painting. Schools are the most popular buildings that they transform, but they aren't the only buildings. They paint community centers, museums and galleries as well. These students transform schools from looking like prisons and hospitals to warm, welcoming environments, somewhere that the students and teachers want to go to everyday.
This program does more than just allow schools to be transformed, but the students who paint the school as well as the students and staff who go to the school are also transformed. Publicolor allows students to grow, become strong individuals, and prepare for the world after high school, such as college and the work force. Most of the students who get involved with Publicolor are almost always the first in their families to go to college. The new look to the school puts a new image of what school is like in the students' and teachers' minds.
At 7:45 a.m., the last thing a college student wants to be is awake in a van on the way to the Bronx, but on this particular Saturday, it was worth being awake. For the next six hours, M.S 80 would undergo a transformation that could change the way students saw their school, and even their future.
For some of the Mercy students, it was their first time doing any work with Publicolor. For others like myself, it was their second and sometimes third time.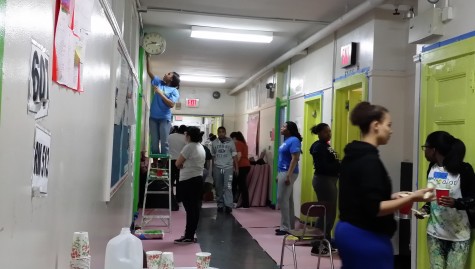 When we arrived at the school, we found out we were a little early, but we were able to see what they called "the behind the scenes." Not all volunteers get to see the preparation before they start painting, and some staff members of Publicolor said we were lucky.
Once the volunteers were settled and the students with Publicolor were ready to go, we were paired up with some of the Publicolor students. We were told to get to know each other; considering we were going to be spending the entire day together, it seemed to be the right thing to do. Age ranges varied, and a volunteer could have had a high school student or even a young elementary student as a partner.
Publicolor students showed the volunteers what to do. Considering they paint almost every Saturday, they knew the drill. Taping had to be done, as well as papering the floors. The process seemed to go by so fast, before we knew it we were painting.
Harold Hillyard, a faculty member at Mercy, attended Publicolor for his second time that day. He found out about Publicolor through PACT, and when he found out students were going again this year, he volunteered to go again. Mentoring the young students and meeting new people are his favorite experiences. He enjoys learning about the young students' aspirations and what they want to do when they grow up.
Hillyard shared that he thinks the program is doing great things for these students, especially with the GAP Scholarship program. It allows the students to realize that just because they may be in a financial situation so that they can't afford to go to college, they still have an opportunity with Publicolor to attend any college of their choice.
During lunch on Saturdays, Publicolor encourages the volunteers to talk about what they do and the schooling that they may have needed in order to get there.
"The younger students can look up to the older students. Then you have the older students that can look up to the volunteers to see what they can do in the future," Hillyard said. "It is a great opportunity for college students to get involved with the younger students and be leaders."
Deja Walker, a junior and the President of CSA (Dobbs Ferry Campus),. was the reason I got involved with Publicolor. I have had a great experience with Publicolor and I can now thank her for 'forcing' me to go.
It was Walker's third time attending a Saturday with Publicolor. Her god-sister is a 'Red Shirt' (manager) so she first found out about the program through her, then started attending when PACT went for the first time.
Making a difference is a big deal for her, so that's what she loves the most about the program. She would rather have a younger mentee so she could pass on her knowledge to someone at a young age.
"Publicolor is an inspiring, moving program that I wish I had known about before I went to college," Walker said. "I absolutely love it and would go back again and again."
***
According to Publicolor, "150 schools, 16 playgrounds and 175 community facilities-transformed from dreary, dark and dangerous institutions to safe, bright and vibrant educational and community centers since 1996. All of these facilities were improved by the very people who use and depend on these environments, fostering students' and community members' sense of pride and belonging."
When Publicolor members go into a school to paint, they aren't just painting a fresh coat of white or 'eggshell', they are painting in vibrant colors such as 'Sun Kissed Yellow', 'St. Patty's Day Green' and 'Sharp Cheddar Orange' (all paint is donated by Benjamin Moore). You may be asking, why bright colors? The Founder and President Ruth Lande Shuman is the reason behind this choice.
Shuman completed her M.S. in Industrial Design at Pratt Institute along with a six-month post-graduate study on the psychological effects of color. She stated in an interview with ABC that "Color has huge power and environments have an effect on our attitudes and behavior. So if you change the environment, it will change our attitudes and behavior." Changing the paint sites to bright colorful places makes people want to go to them. If it's a school, it makes the students want to attend.
For the students who are involved directly with the program, there are different levels.Therefore, when students are involved in the program, they learn many skills after than painting.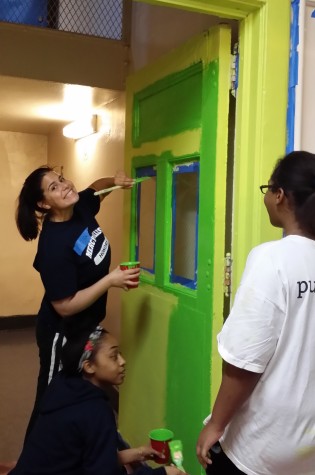 The first level of Publicolor is Paint Club. Tuesdays to Fridays after school, Publicolor staff focus on working with students whose school is being transformed. On Saturdays parents, teachers and volunteers paint side by side.
Color Club is the next level up. It is a multi-year three day a week (minimum) apprenticeship. Seventy-five motivated Paint Club graduates learn to plan and prepare for the future. They have to attend two days of after school workshops where they have tutoring and mentoring from corporate employees, as well as have career and life skill workshops. There are grand workshops available where parents, siblings and guardians can learn about the importance of college education.
According to Publicolor, "80 percent of participants report that Publicolor helped them understand the importance of education and a majority of them helped them come to school more often."
Next Steps is the next level of Publicolor which is a three day a week college and career program. Close to 150 high school juniors and seniors, college students and students who are going into college are a part of this program. They go through weekly tutoring for SATs along with college workshops. They have one-on-one sessions with admissions and financial aid counselors to help them with the application processes. They get the opportunity to go on college tours. Last fall they went to schools such as Seton Hall, Morgan State, and University of Maryland. They also learn about resume development, job shadowing interview skills and workforce readiness.
Fresh Coat is one of the last steps in the Publicolor program and is made up of semi-professional paint crews. They are offered job training to enhance work readiness. They go around to already painted schools and community sites to do regular touch ups. There is a huge emphasis on arriving on time, having a good attitude, taking initiative, being a time player and leading by example.  The students in the Fresh Coat program get paid hourly wages.
In every group, Publicolor promotes the importance of education in order to get good jobs in the future. They teach the students important skills that are needed to maintain good jobs. Publicolor is helping hundreds of students have a successful future.
The program wants students to succeed in life so much there is a scholarship to fill the gap between what financial aid doesn't cover and what the actual cost of college is. They call it The GAP scholarship – 100 percent of high school graduates in need receive scholarships to fill the gap.
***
I think Publicolor is one of the best organizations I have ever volunteered with. I learned so much about what the kids' dreams are, and I feel like I can help encourage them and show them something about what they can do in the future.
Last time I volunteered, I was paired up with a younger student and I felt like I could offer them advice about high school. This time I was paired up with an older student and we could talk about more than just high school. I could talk to them about life and college, and after I got to know him, I could tell him what I thought he had to offer.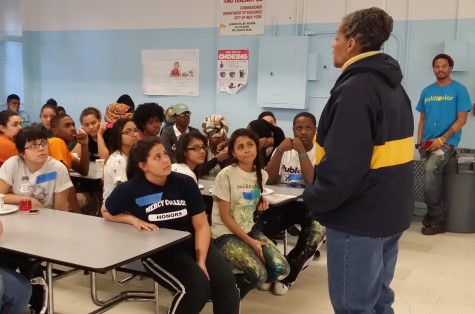 Students are involved in the program are so inspiring and well mannered, I think this program is going to help them even more in the future. This particular Saturday was special because State Senator Ruthe Hassell- Thompson came and talked to the group about the importance education. I think she inspired the kids. She even inspired me!
Painting is a plus, yes. But helping the young students learn about college and what they can accomplish is what I walked awa
Hillyard explained it so well by saying, "No pun intended, but it paints a picture of their future."y loving. This program is something that I would encourage students to join – it helps them focus on school and helps them get to college if they can't or they don't know how to.
Leave a Comment
About the Contributor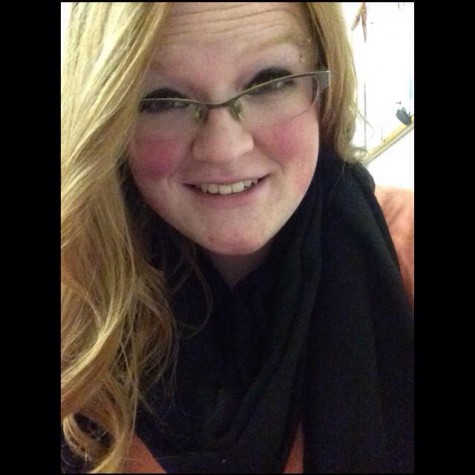 Karissa Allen, Associate Editor
Karissa is a Senior majoring in TV/Radio Production. Writing hasn't always been her calling but within the last couple years she has found a passion for...