Students Work With ABC/Disney On Marketing Project
The School of Business created a special marketing course this semester, giving students the opportunity to work on a project for the Fortune 500 company, ABC/Disney.
Ed Weis, Dean of the School of Business, and Prof. Dan Longest, who specializes in marketing, had several conversations discussing the need for students to have hands on professional experiences in the classroom in addition to what they're reading and learning.
"When textbook principles and content are also applied with real life experiences, the information sticks," Weis said.
After the concept of the class was created, the next step was finding a company to work with. Longest spent 20 years at ABC/Disney as the Senior Vice President of Sales Marketing, so choosing to work with them seemed like the perfect match.
Over the summer, Longest sent out an email to primarily business honors students, informing them about the special course, Entertainment Marketing 295, which will be offered in the fall. Based on the students who expressed interest in joining, they were later reviewed by Dean Weis and Longest. Only 11 were chosen to participate in the special course.
"We chose students who will gain the most from the experience and contribute to the company's success," Longest said.
The course, Entertainment Marketing 295, was counted as a regular class, offering three full credits. If needed, Weis would count the course as a substitute for a required marketing course. But either way, there were no additional costs to taking the class.
The client, ABC/Disney, presented the class with this assignment to tackle – "find new and innovative ways for an integrated marketing team at a broadcast network (ABC) to move the business forward and compete with the partnership offerings of cable and non-traditional media outlets" as stated in the course assignment.
The class was divided into three groups: Industry Insights and Analysis, Research, and Social Innovation in order to cover all the bases and offer effective solutions to ABC's assignment. Each week, the three groups checked in with each other to share findings and possible ideas. Essentially, each group was a department in a business.
Amanda Droll, senior marketing major, interned with companies Viacom and NBC and can now add ABC as an internship to her resume.
"Having another experience and another project under my belt is great. To be able to say that I've worked on this project with this team of people, it really helps when I go into the job market. Also, this is an experience that I can add to my portfolio," Droll said.
Sophomore marketing major Matthew Koen expressed his thoughts on working with a fortune 500 company, so early in his academic career.
"Being able to say as a sophomore in college that I'm doing an actual consulting job with ABC is amazing," Koen expressed.
Apart from the students gaining knowledge about building a formal client proposal, working in teams, and effective communication skills, one student has applied what he learned for his own marketing/ad agency.
Business Administration/Marketing major Cristian Francisco expressed how the course helped him professionally in his own business, Northern Creative Design, with helping non-profit and individual companies.
"My friend Joe Giron and I have our own business. We're helping (non-profit and individual) companies that are starting out and growing so that we can also start out and grow professionally. This class has really improved our knowledge and given us an even deeper look into what we're doing," Francisco stated.
The Entertainment Marketing class has gone far beyond being a traditional class and has truly helped the students prepare for their careers.
"It is so beneficial for students to get this level of work, skill set and understanding that this is what my job is going to be like in the future," Koen said. "I will be getting up in front of clients and pitching my ideas. The class has helped me prepare for that."
At the end of the semester, students will meet with the heads of ABC's Integrated Marketing team to present a formal and professional presentation.
Longest expressed that the pilot course has gone "beyond expectations" and glad to have created a course like this.
"Courses like these are game changers!" Longest exclaimed.
Both Weis and Longest have confirmed that the course will be offered for the 2016 spring and fall semesters. Between 10-15 students will work with a new company each semester to tackle a real life problem that they're having in their entertainment business.
Leave a Comment
About the Contributor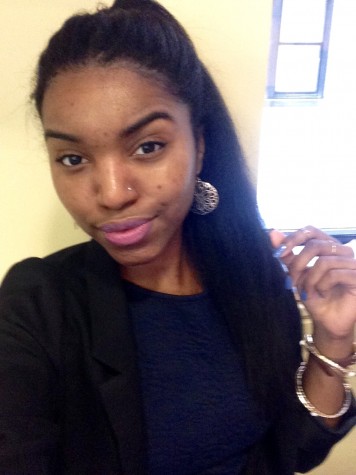 Shantal Marshall, Associate Managing Editor
Shantal Marshall is from Brooklyn, New York and majors in journalism at Mercy College. Her hobbies include reading O magazine, listening to music, and...