Weissman's Company Visit Program Proves Successful for Mercy
Growing up we always hear about how in college it will be difficult to almost impossible to build a relationship with professors due to the size of the classes. We have even been told that most professors will never really know our names or even remember our faces. Having a professional relationship with them outside of class is an opportunity that very few students have the chance to do.
What if there was a professor who was willing to take students under their wing and show them the ropes in the professional world? What if there was a professor who took time out of his day to take students to giant media and tech companies like Facebook, AOL, and The New York Times?
 Look no further because that professor is Roy Weissman.
Weissmman, a professor of business at Mercy's Manhattan campus, isn't just a professor who cares about his students, he has become an unexpected mentor to many of them.
Weissman started his career in television for the ShowTime network. He traveled all across the country as part of the team that was in charge of getting the then very new network its distribution. After working his way up, he transferred to marketing for ShowTIme.
Although he had many career paths in investment banking, Weissman always returned to his roots of marketing in the tech industry.
Weissman was introduced to teaching at Mercy through colleagues who taught at the college previously. Years later, he teamed up with Dr. Ed Weis, Dean of the School of Business, to formulate a program that would give students a chance to get their foot in the door of a booming and often impossible break into industry.
"I was one of the only people who had experience in both the media and tech industry and I brainstormed with the Dean," Weissman said, adding that the program initially started out as a guest speaker series for students but developed into something more.
"We felt it would be better if we brought students into these large tech firms. Its a growing industry with a lot of jobs available, so why not?" said Weissman
Since the start of the program, Weissman has successfully taken students to leading tech companies such as BBC, Facebook, AOL, Grey Advertising, The New York Times and the Time Warner Company. The visits even resulted with students sitting down and having an in depth discussion with the CEO of Time Inc.
"These opportunities are exactly what I wanted for my students," said Weissman.
This program has given students the opportunity to network with the professionals who dominate the industry.
According to Cyberstates 2015: The Definitive State-by-State Analysis of the U.S. Tech Industry published by CompTIA, The U.S. tech industry added 129,600 net jobs between 2013 and 2014, for a total of nearly 6.5 million jobs in the U.S.
More over, this year's edition shows that tech industry jobs account for 5.7 percent of the entire private sector workforce.
This shows just how essential a program like this one for students in college, yet more is on the horizon. 
Weissman revealed that next semester the School of Business is working on program for a number of the companies with internship programs to have an interview day with students. This will be actual interviews for real internships with these tech giants, giving students the opportunity to fulfill their dreams of working for such prestigious companies, says Weissman. 
"I want to build this into something larger. However, its up to Mercy to commit to it, but I think its a great pilot. With helpful student feedback, I think it can be something that is regular in our curriculum."  
Leave a Comment
About the Contributor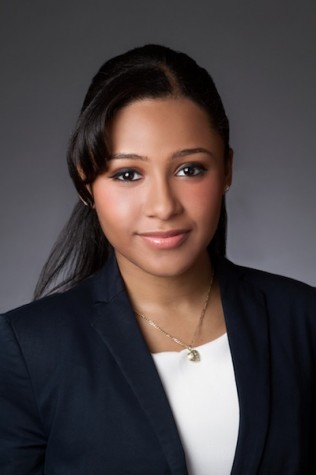 Tiffany Cordero, Impact Staff
Tiffany is a Marketing Major and a Journalism minor at Mercy. She has been a ballet student for many years. She loves any sport you can bet on. She hates...