Mercy Leaves Its Mark At Children's Village Collaboration
A collection of muddy sneakers with unraveling shoe laces line the hallway in the foyer that leads to the front door. Posters encouraging a healthy, drug-free life and adolescence cover up the blandness of white, cinderblock walls. A New York Yankees plastic basketball hoop sticks by suction to the foyer door, falling down every shot it gets. A group of young boys and volunteers dribble around the chairs and staff to make a dunk, passing if the opportunity is there. Another group is outside playing on the court confronting the cooler weather. They are surrounded by a sea of tan, low mowed grass that stretches for acres. A few couches shape an area by the television for those not as interested in the physical activities. An episode of Star vs. the Forces of Evil plays in the background and the cartoon is hypnotizing.
Tis the season for giving back, and for over four years Mercy has partnered with the Children's Village for volunteering opportunities every month.
Typically every third week of the month students are invited to volunteer at the Dobbs Ferry Children's Village campus, give or take scheduling conflicts. In the past, it was open only to volunteers at the boys' cottage, but starting this year students have also offered their time to the girls' cottage.
These volunteer initiatives are coordinated by the Office of Student Life and spearheaded by Community Service Coordinator for the Office of Student Life, Sarah Fant. Her favorite part is seeing and hearing all about how much the children love when Mercy students visit and how much it changes their days.
"When we meet with the all female cottage students, we do female empowerment activities. Meeting with the all male cottage is a bit more difficult because the children are younger, but we often do science experiments or quick and easy activities. The inspiration for both types of activities comes from past experience working with children, Pinterest, and creative brainstorming with my coworkers in the office."
Every volunteer initiative introduces a new hands-on activity.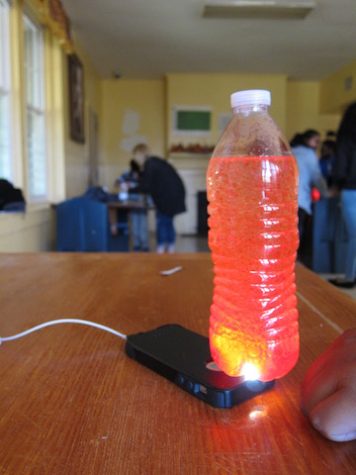 On Oct. 25, there were eight volunteers who helped spread some love and cheer. Mercy students led numerous members of the 8-12 year old boys cottage through the process of making a homemade lava lamp. They mixed water and oil, chose a food dye color, dropped a few rounds in, and then added Alka-Seltzer and put a light under it. After that some students played basketball with the children, watched television or miscellaneous activities.
Sophomore Business Management Major, Alex Aparicio, has volunteered a couple times for the hours – and for the children.
"I like it because it's nice to hang out with the children and keep them company. It's not much, but it keeps them focused on something else for a little while."
He went even further to say "We are not adults, so we are able to relate to them."
That definitely showed in the smiles of the children and the happiness in their laughter. Aparicio was busy outside playing basketball with the children and helping them improve their jump shots.
Student Life Coordinator, Railyn Pou, has committed to help since last fall and attends every trip. She explained how they have consistent volunteers, but welcome probably three new faces every time.
"I do it because I really love the idea of bringing an element of change into the students' routine."
The Children's Village is a charitable institution that was founded in 1851 and serves as an avenue for children and families who are struggling to "become productive, independent citizens who will enrich their communities and their future families." The Dobbs Ferry campus provides short-term residential programs for more than 1,000 youthful members annually.
The Dobbs Ferry campus contains a recreation center with an indoor pool, a 24/7 medical clinic, a K through 12 New York state school and a full staff of clinical professionals and expands to over 180 acres. There are seven different types of programs offered at the Dobbs Ferry Campus. These range from programs for youth with behavioral and/or emotional problems, minors who have come to the U.S. without guardians, short-term non-secure detention program for youth awaiting a court decision on permanent placement and childcare for children from the surrounding communities and for children of employees. A few program names are the Little Village Daycare, Family Court Assistance, Jackson Rapid Intervention Center, Transitional Residence for Alien Children, and the Residential Treatment Center.
The Office of Student Life is always looking for new volunteers, and not just for the Children's Village. Mercy has partnered up with Big Brother's Big Sister's to create a mentoring project and give Mercy College students a chance to help elementary level students with homework, advice, and games on a weekly basis.
The children were only as excited as the volunteers were, and that was a tremendous amount. The littlest activities, smiles, conversations or gestures really go a long way in these kid's lives. Regardless of the emotional, physical, or psychological barriers, just spending time with the volunteers clearly raises self-esteem and improves their emotional health.
Railyn explained that "It's a one of a kind volunteer opportunity. Be open minded and get what you want out of it, but remember that there are several other people who are benefitting from it."
Leave a Comment
About the Contributor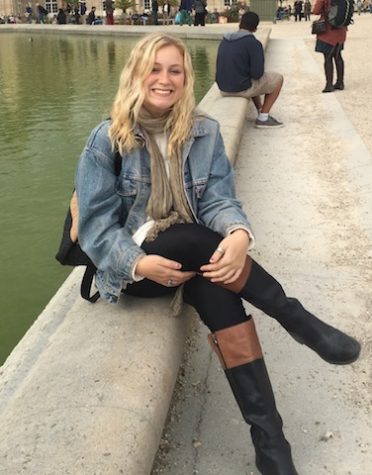 Abigail Smith, Staff Writer
Abigail may be a Public Accounting major at Mercy College but she's not your average accountant. Abigail enjoys meditating, journaling and reading in her...