It's Cuffing Season! Find Someone to Squeeze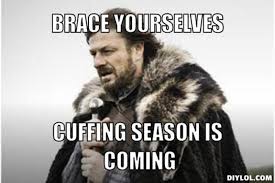 It is officially cuffing season and love is in the air. Well, for some.
As the cold and gloomy weather is streaming in, the sunny single days filled with freedom, fun and parties are over. The sadness, loneliness and cold nights are now upon us.
With the temperature dropping, it is mandatory for your health to have a designated cuddle buddy. And everyone wants some sort of affection during those gray rainy days to cuddle up with someone when it is cold outside.
For some, a cuddle buddy is not enough and instead, they may want something more substantial.
This is the time to use the many benefits of cuffing season. Cuffing season is not just a way for people to use other people for warmth, it is also gateway to ignite possible relationships.
So, get out and go find yourself someone who doesn't just keep you warm at night, but someone who will make a great reliable partner.
There are some challenges for those who want to use cuffing season as a stepping stone for being in a relationship. Mercy College's population is 27 percent male and 73 percent female. If you are looking for a boyfriend, the choices are slim. But, if you by chance are looking for a girlfriend, your options are overflowing with hope. Not to be discouraged for those of you who are looking for a boyfriend during this cuffing season, he's out there, even if it's not in that 27 percent.
Having a partner who attends the same college as you has sparked various opinions in the Mercy College community.
Couples actually do exist at Mercy, as Serigne and Samiyyah are proof. They officially met at Mercy College at the Caribbean Student Association barbecue. PJ and Sammiyah started as friends with occasional flirting. They both knew there were sparks and that they wanted to take their friendship to the next level.
The two started dating Sept. 22, 2015, as Serigne states, "I loved her vibe. We had a connection that I really didn't feel with no other girl."
Samiyyah responded back, "His personality is what attracted me from the start. He is the type of person where you just want to be his best friend."
"No matter what, he's always there for you."
Hope and Toni, another couple on campus have been dating since Jan. 31, 2016. The two began their relationship as being friends first. Having mutual friends, they would hang out numerous times before officially dating.
"It was just the love. Once I finally took the chance, I asked her out," Toni said, "And she said yes."
On Sept. 19, 2015, Michelle and Parker began their "loving" relationship, as they call it.
These two love birds met at the business honors recruiting program in high school. They crossed each other's path through mutual friends.
After the dinner, they exchanged phone numbers ad continued to talk for the remainder of the school year, and the summer before college. Once they started Mercy, they became instant friends.
Two weeks into the school year, they decided to evolve their friendship into a blossoming relationship.
***
The main question asked to people who are in relationships while being in college is, why? Why give up your freedom as a college student and decide to settle down at your prime?
The main response is normally that relationships begin as friendships. Friendship is key. Almost all successful relationships have begun as friendships.
Before settling down, you must get to know them as a friend. Cuffing season gives that opportunity for you to get to know each other. It is important to get to know someone for both of your sakes.
Friendship, you can find common interest, discover their sense of humor, and get a little background on them.
"I didn't even view it as being in a romantic relationship in the beginning, she is the best friend I've ever had," Parker began to say. "The best friend I've ever had, it's just now I get to kiss her whenever I want to."
"Whenever I want to give my girlfriend a hi-five."
It is great to have someone who understands the difficulties of being in school with the never ending homework assignments, projects and exams.
"You have a lot of security because you know that at the end of the day, they are always going to be there," Michelle began saying about Parker. "If you're having a hard time at school or if classes are stressing you out, they are always there to make you feel better."
As Serigne chimes in, he adds, "We do everything together."
Having someone who you can depend on is a great feeling. But the thought of knowing you have someone who is in your corner and who loves you unconditionally, is a greater feeling.
Like many things in life, there are some challenges when it comes to dating someone that goes the same college as you do.
Mercy College definitely has a small community within the campus. The total of full time undergraduate population is about 5, 500 students. If you dorm, you are more than likely going to know majority of everyone's faces who also dorm. For couples, this sometimes creates a problem with their relationship.
"Everyone knows your business," Samiyyah said with ease.
Unfortunately, people in general who live in close proximity with each other tend to make themselves home in everyone's business.
"Privacy is an issue when you are dorming. We both have roommates, so it can be a tricky situation if we want alone time," says Michelle.
Balancing a relationship and also being in college can be tricky.
"Having different schedules can sometimes strain the relationship. She is a science major and I'm in liberal arts major," Hope began to say. "I have more free time while she has to study a little bit more in depth."
The main reason one is here at Mercy College is to get an education; getting good grades while keeping your significant other happy can be difficult at times. The stresses of college can sometimes take a toll on relationships.
"When one of us is stressed out from a class and the stresses from school, it strains the relationship," says Parker.
Before being cuffed, you may want to listen to some advice of people who are currently in relationships.
Do not make it your mission to find someone tomorrow. It may be hard for people to find a partner at Mercy, but there is only so much cuffing season can do.
"Do not go searching, it will eventually come," said Serigne. "If you by chance do have a potential cuffing candidate just take your time on getting to know them."
Michelle added, "Don't force it, if it is not working out, you shouldn't have to put a ton of effort into it to feel like you are loved."
Honesty is key, so, if you're looking for a cuffing buddy, then make that known.
Maintaining a healthy relationship while being at Mercy includes multiple factors. If you and your cuffing buddy catch feelings and decide to make it official then you have to be prepared for being in a relationship during college.
"Don't let your past experience stop you from the future," says Serigne.
Make sure to leave your baggage at the door while getting to know somebody. This is a new person and a new experience so enjoy it with an open mind.
Another tip is to communicate with each other. So many things can get lost in translation. Say what you mean and mean what you say.
"To make your relationship last is to communicate no matter how much you may don't want to," says Samiyyah.
Michelle's advice is to be understanding that you are both in college, "At college, everyone is going to go out, people are going to go to parties, you cannot be really possessive, you cannot be worried about the other person, you have to trust them to take care of themselves."
Another piece of advice is to remember that you are two different people in one relationship.
"Be individuals that are in a relationship, don't just be a relationship. Be happy with yourself, be happy with the other person and be happy together," says Parker
Lastly Hope advises, "The best thing you can do is be respectful and communicate everything, because it is really easy to have misunderstandings, especially in college because things change, you are growing and changing as a person and that is what college is for, when you are in a relationship with someone it is very important that they know, what's going on in your mind and vice versa."
Having a relationship during college is not impossible. Make the most of your college experience while being at Mercy. Make new friends. If by chance you do find someone during cuffing season, try it out. Who knows? It could last the entire cuffing season, or it can blossom into a long lasting relationship.
Leave a Comment