Bigs and Littles Bond: Not The Greek Life Type
The school day is over, the bus loop is packed as a round of bells ring. But for a few public school students, their after school program is just beginning.
Volunteers check in at the front office and make their way to the gym.
Students jet into the gym with backpacks double the size of their miniature bodies and smiles just as big. They leap into the seats next to their big brothers and big sisters, excited to start their afternoon. A petite snack and occasional embrace, marks the beginning of an adventurous hour and a half.
Every Monday, a group of Mercy students carpool to a school in Yonkers to volunteer through the Big Brothers Big Sisters of Westchester.
The "I Believe, I Achieve" program at Museum School 25 in Yonkers has been in existence since 2010, and Mercy has been provided a valuable partnership since 2011. There are about 10 volunteers from Mercy and four from Westchester Community College that attend on a regular basis with the 14 students of MS25.
A sister "I Believe, I Achieve" program that is run out of Port Chester Middle School. This program benefits 10 children and their bigs come from Pace University, Westchester Community College and Manhattanville College.
Maggie Theotokatos, IBIA program coordinator, has been a part of Big Brothers Big Sisters for five years.
While she has been there every Monday, a team of skilled professionals and long-time supporters of Big Brothers Big Sisters created this program to ensure every child's needs were met.
"I love watching the children's face light up each and every week their Bigs come to the program. The Bigs are the most important aspect in the program to these children and have the most influence on them. By just showing up and spending a couple of hours means the world to these children."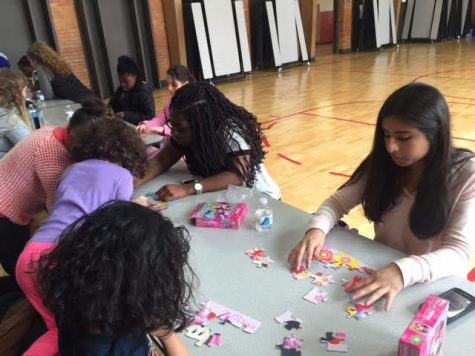 Afternoon activities consist of a coordinated activity followed by homework help, and finished off with another creative task, if time permits. These activities range from Giant Jenga, to Red Light Green Light, puzzles, DIY science projects and so much more.
These activities are planned with purpose. They are research based and proven to enhance their social, emotional and academic skills. The BBBS staff undergoes extensive training and modules to understand the necessary elements to create successful programs. Put simply, a relay race or group puzzle can encourage the students to work together in a positive way and compel them to focus effectively.
Junior social work major, Marianna Macaluso, has been a volunteer with MS25 since October of the fall semester and has always felt compelled to be a part of BBBS.
"My favorite part of volunteering with BBBS is seeing how excited the children get when they see all the 'bigs.' At first, they were very hesitant with speaking to us and a lot of them were quiet, but after realizing that we come back every week for them, they started to open up," she said.
Students that participate in the program are selected by the School Improvement Manager from MS25 and school counselors from Port Chester Middle School and New Rochelle High School. The motivations for entering this program are based on a variety of needs: some just need extra homework help, some have self-esteem or behavior issues and some are looking for that extra relationship with an objective and inspiring person to help them foster success in their lives.
Macaluso's decision to choose this career path was reconfirmed when she created a bond with a little girl that started off very shy and timid. Now, she automatically runs into the cafeteria looking for a heartfelt hug during the 10-15 minute buffer time that allows the participants to mingle with volunteers while everyone is arriving.
"They get so excited just to show us the new sneakers or the new haircut they got over the weekend. It's nothing but jokes and laughs for the entire hour and a half we are there."
Various studies have proven that a mentoring program provides excellent results in regard to the impact on the students' lives while in the program. A 2008 Program Outcome Evaluation by Big Brothers Big Sisters of America stated that 98 percent do not use alcohol, 78 percent get better grades, 85 percent have better self confidence and 88 percent possess better trust with adults. A similar report stated that after 18 months in the program, 46 percent were less likely to use illegal drugs, 33 percent were less likely to hit someone and 50 percent were less likely to skip a class.
BBBS is the oldest and largest mentoring program and can be found both nationally and internationally. The Big Brothers Big Sisters mission is to provide children facing adversity with strong and enduring, professionally supported one-to-one relationships that change their lives for the better, forever. "I Believe, I Achieve" is a school-based model which provides students with mentors from local colleges to achieve this mission both inside and outside of school.
Leave a Comment
About the Contributor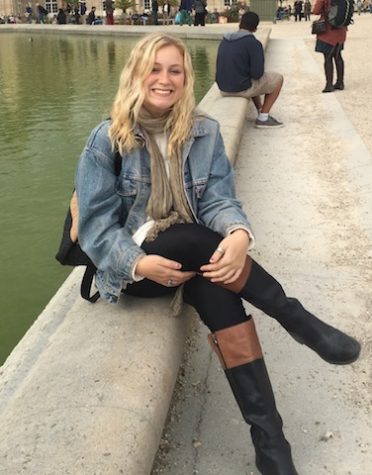 Abigail Smith, Staff Writer
Abigail may be a Public Accounting major at Mercy College but she's not your average accountant. Abigail enjoys meditating, journaling and reading in her...