Students Make A Difference At Dobbs Ferry Children's Village
Five female students came together to volunteer in the Children's Village Female Cottage on Sept. 25, continuing the tradition of service Mercy College has shown to the residential campus in Dobbs Ferry.
The goal was to show young girls body positivity, and make them feel at ease and comfortable with people outside of the village. The event was organized by the Student Life in Mercy College, who visit the campus often during the academic year.
The Children's Village was founded in 1851. Their mission is to help vulnerable children become educated, socially active and economically productive. In the village, the children have the opportunity to get an education and live in a safe environment. The village also has a doctor's office and houses where the children can live. They must attend mass in the Chapel of All Faith, learn how to cook, grow vegetable and flowers, train rescue dogs and cut hair in a barber shop to earn credits towards getting a barber certificate. There are many activities they do outside of the village like going kayaking and snowboarding.
Before the Mercy students could get the chance to attend this event, they most fill out a form that includes their social security number, full name, date of birth, student ID number and so on. If that form is not filled then the student can not volunteer. Once they arrived to the village, they are told what activities they would be doing with the girls.
Onati C.Morillo, who is a freshman, was one of the volunteers in the event. She enjoys helping kids, has worked with kids before and figured that this was a great opportunity to share her love with the children in the village.
"I decided to volunteer because kids have problems they are dealing with and they need that one positive influence to change their whole life around to give them an idea of how they can change and better themselves."
Once they met the two young girls, each girl in the room were told to introduce themselves and share some information about themselves. At first they were quite shy and nervous, but once they began to do the activities, they started to come out of their shells, they said. There was a big poster that one of the volunteers had brought for the girls to do. It had a person on it but with no physical feature just the figure. It gave the girls, as well as the volunteers, the opportunity to write on post its what they liked about their body. It could be anything – toes, hair, how smart they are. They were allowed to put as much post its as they wanted. By the end of the activity , the poster was filled with yellow and pink notes.
Doing these activities with the young girls in the village is important for Morillo because girls at that age think lowly of themselves, she says, and having them share what they liked about themselves instead of what they don't like about themselves made them feel more comfortable with themselves.
Other activities took place as well. One of the volunteers handed a paper that had a wheel on it. It was divided into categories of what elements are essential to life such as family, love life, friends and education. The girls were told to draw in what was most important to them to least important. They then had to share why they felt that way.
Another Mercy student who volunteered was Liana Negroni, who is an exercise science clinical major and in her third year at Mercy College. She volunteered before in her sophomore year but for the male cottage. This time she wanted to volunteer for the female cottage and spread her joy and happiness to the children in the village. Negroni enjoyed doing this activity the most because it helped her know what was the most important thing in her life and try to work on the things that were least important to her so that everything would have a balance.
"I was able to interact with one of the girls, and she started smiling and laughing. It was nice to know that the we made her day. We all started to feel comfortable with each other and expressed ourselves," states Negroni.
Negroni wanted to spend time with those kids who don't get to spend time with other people. She decided to volunteer because she wanted new experience and to meet new people. Being there made her feel grateful to have the opportunities she has, like going to school and being with her family.
One of the volunteers asked questions to make the volunteers and the children more comfortable with each other. Questions like what superhero would you want to be, and if we were all in a room what's one thing that you would bring that makes you happy. Some said a family member or friend, food, their pets or their pillows. It was a great way to break the ice and get to really know one another, said the volunteers. The Mercy student were not only there to make them feel at ease but also to guide them on what college life is like.
Children's Village is a place where children come to if they need help dealing with family problems, homelessness or behavior issues. The village welcomes them with open arms and greets them with kindness and understanding. They offer a wide amount of space for those children. The houses are divided for females and males. Not necessarily because of gender, but because the males usually are dealing with family problems while the females are dealing with behavioral issues, said village officials. It's easier for the program to divide them according to what problems they are dealing with.The environment of the village gives the children a way to feel normal and not feel outcast, since the houses and the buildings look like normal school and houses, it makes the students feel as if they are no different from any other child.
Every month Mercy students will have the opportunity to volunteer at the Children's village, there will be two different event each month. One for the male cottage and the other for female cottage. Anyone is welcome to come volunteer.
Morillo adds that more Mercy students should come to the Children's Village to volunteer because "it's a rewarding experience especially if you're going into social worker or any profession where you have to deal with children. So you can see what exactly how they live and what they go through. Maybe you can be that positive influence."
Leave a Comment
About the Contributor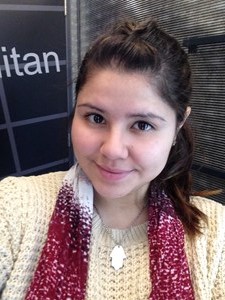 Andrea Loaiza, Staff Writer
The name is Loaiza, Andrea Loaiza. She is currently a junior in Mercy College on her way to getting her bachelors in Media and Journalism. She...