M.E.T.A. Club Joins In The Maker Movement
God created the universe in seven days. Alfred John Tignonsini 3d printed a Pokémon in thirty minutes.
With the advent of stores and online shipping, the need to make your own stuff has been replaced in the public zeitgeist with the need to buy it.
Few make a knife, car, or even a piece of software anymore. Most people opt to buy those products online from a multimillion-dollar company.
However, tastes and trends change with every generation, and the desire to build has begun its return to society through the "Maker Movement."
The "Maker Movement" is the idea that people should be learning how to make the tools and gadgets that they use every day, like computer programs and appliances, as opposed to buying them. Mercy College has its own version, called the  "Maker Room," which also houses the "M.E.T.A. Club."
Located behind the reception area for the college library and squirreled away in a corner, the "M.E.T.A. club" is run by Abdou Nyan, a senior bio major.
"M.E.T.A. stands for Mercy Electronic Tech Automation club. The goal is to introduce people, students and teachers new technology."
Abdou is a man who doesn't like to talk about himself. He finds ideas and tech much more interesting. Some of the techs used ranges from soldering, robotics, programming, to even 3D printing.
The club has six 3D printers, four for smaller projects and two for larger ones. One expert in the club is Alfred John Tignonsini, sophomore computer art and design major.
"I started 3D printing over the summer and enjoyed it. It's good to teach yourself. You can make gifts or projects for others. It opens up a new world."
Tignonsini explained that the printers use a plastic filament to create their projects. The printer heats up the filament and then, in layers, applies it to the base of the printer until the project is complete. A small project can take up to thirty minutes, and all projects require the use of special software like Mia.
"Some people are actually afraid of Mia. It uses seven different tools for modeling which can be a bit intimidating for some people. In my opinion, Mia becomes easy once you're used to it."
The use of the advanced software isn't the only aspect that intimidates people, as the maker space deals in all sorts of technology.
"Sure, we have the 3d printers, but it's much more than that," said Abdou as he opened a cabinet filled with past projects and materials, including a robot that he made but wasn't happy with.
"We've learned how to solder objects, worked with Python, turned a computer into a thermostat, and used raspberry pi's."
The broad range of tech used by the club, and the maker space, have allowed it to become a place where people can learn how to build the tools they need to live a productive life. However, that doesn't mean the club is swarming with eager students. Tignonsini was in charge of recruiting people during the past "Founders Day Festival" and he remembers the results vividly.
"We thought it went well. A lot of people stopped by our booth, but unfortunately, we didn't get as many people as we hoped to. We got twenty-nine emails from visitors to our booth. Only two of the people who gave us their emails came to the club."
The club has a small size, and Abdou knows this, but he isn't bothered by it.
"A lot of people find this hobby interesting, but when it comes to learning, not many people can handle it. But its fine. I like our small sized group. It keeps everything personal since everyone is focused on the same objective."
Though student interest in the club might be mixed, the interest in the space itself, particularly the 3D printers themselves, is extremely popular, according to Tesse Santoro, the head librarian and one of the people behind the purchases of the 3D printers.
She remembers attending a San Francisco conference four years earlier, and 3D printers were an item everyone was talking about, so she pushed Mercy to invest in a few.
"I've had a lot of people come by to learn about the tech. In fact, I've had twenty students packed into this room at one point for a tech demo."
Santoro has given a lot of tech demos for the 3D printers and has seen the colleges embrace them first hand.
"We've had people, professors, and students, from the physical therapy classes, come by to print models of body parts as well as tools to help people with motor difficulties. We've also had biology majors come over to print models of cells. We even had the psych majors in here when they were doing their big project on the psychology of superheroes," she says.
The library hosts this tech because it believes in its ability to help students learn, and they are not the only support of the club. Prof. Woody Sullender has donated countless parts and pieces of tech used by the club, and the Mercy I.T staff has taken a liking to the group as well.
"We've also received a lot of support from Mercy I.T. In fact, they showed us the campus's private servers once. I'm not telling you where they are located since its supposed to be a secret, but just know that they see everything you do on those computers," joked Abdou.
And knowing the club has benefits too, as it has given demos to I.T. department members.
"You should have seen them. They were so excited to be using the printers. They are so used to only fixing problems, so the chance to make something was exciting to them. Here they were, all these high-level guys going crazy over this stuff saying 'look what I made!'"
This interest in tech has led to the inevitable – a desire to expand the room and its resources. The library has already made the purchase of a new 3D printer that uses a wood filament instead of plastic along with a laser engraver. They also want to look into getting a 3D printer that can print using metal and are also looking for a new room so they can host new tech that can't be used in the current room.
"We are looking at getting a laser etcher, something that can engrave things like wood and other materials. However, the current maker space is too small, and one of those lasers needs a room with space and a window so you can vent the room after each use. Preferably, we would like to relocate to one of the rooms upstairs that are currently a computer lab."
As for why the investment into all of this technology, from the 3D printers to the soldering demos and laser engravers, the head of the library insists that it is all for the benefit of the students.
"Tech can be used for whatever you want, but we like to focus on helping with learning. That's why we host the M.E.T.A. club."
Furthermore, according to the Circulation and Technology Services Supervisor at Mercy College, Edmond Pernokaj, the need for this technology is on the rise.
"In the future, everything will be 3D printed. I was missing a phone holder. I could have bought another one, but I chose to print one instead."
According to Pernokaj, the benefits of investing in this technology can also be seen in the field.
"We have a student who is going to Ecuador on a medical mission. They are 3D printing tools that can help people with motor disabilities," said Pernokaj as he brought out a 3D printed tool that could hold an eating utensil.
"If you want something to fit perfectly, it's simple. You 3D print it."
Leave a Comment
About the Writer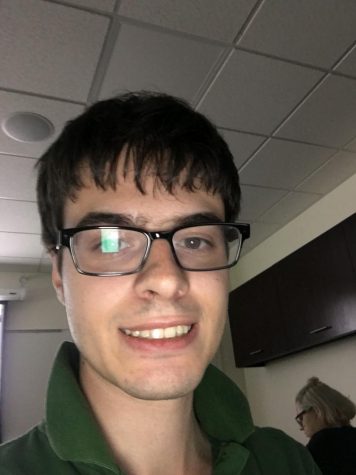 Mark McCarthy, Impact Staff
Mark is a A 22 year old senior English major from Scarsdale. He enjoys video games, comics, movies and occasionally T.V. shows. He wants to become...