County Executive Latimer Talks National Issues with a Local Focus
As Westchester County Executive George Latimer fielded questions from a roundtable of college journalists, the first-year county executive addressed a range of topics in the national conversation that have had an impact on the county.
Most notably, the epidemics of school shootings, opioid abuse and immigration.
The Valentine's Day mass shooting at Marjory Stoneman Douglas High School in Parkland, Florida has revived the debate over guns. The shooting that killed seventeen students and three staff members has raised the idea of having teachers be allowed to have guns with them in classrooms. Latimer does not agree with this proposal.
"Arming police guards at every entrance to every school is not plausible answer to me. I don't think that solves the problem."
He went on to state armed guards and teachers in schools present a "false security" that leaves him with too much uncertainty over what could occur. He raised the concern of an intruder disarming a teacher.
"I don't think, as some politicians have said, arming everybody does the trick. We did that for a period time in American History it was called the Wild Wild West," said Latimer.
He recognized there are thousands soft targets, a person(s) or thing(s) that are relatively unprotected or vulnerable, across the county from restaurants to ball fields. Latimer, a former state senator until his election as county executive, believes the New York state government can help schools establish better security through security cameras and electronic locked door systems.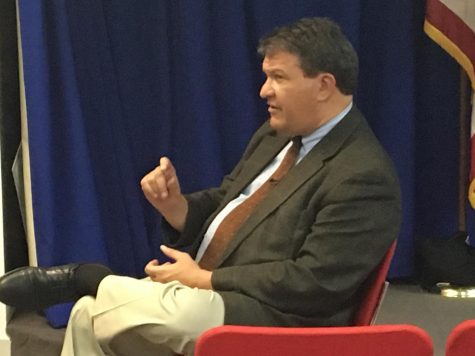 The shooting in Parkland has also raised the question of an assault weapons ban and ability to buy a AR-15. Latimer reiterated his belief individuals do have a right to own a gun, but believes, "There is no purpose for [an AR-15] other than to kill as many human beings as you can in a short period of time."
In early February, Latimer signed a bill into law that bans gun shows from all county-owned property. Days earlier, he took action on another national issue that has affected the county: addiction to opioids.
Westchester County filed a lawsuit against thirty-plus pharmaceutical manufacturers and distributors. The county joins 59 other New York state counties have either filed lawsuits or have retained firms. Over a dozen counties, plus Ithaca and New York City, have filed suit are consolidating their cases in a Suffolk County. The lawsuit states over 250 states, counties, and cities are currently suing multiple pharmaceutical companies on the basis of deceptive marketing and misleading the risks their products posed to those prescribed. The lawsuit by Westchester County alleges the companies, "broadly disseminated promotional messages and materials both by delivering them personally to doctors during visits and by mailing deceptive advertisements directly to prescribers."
According to the New York State Department of Health, in the last two years, the number of deaths from opioid overdoses has risen has nearly doubled from 67 in 2014 to 124 in 2016. Latimer said the epidemic has resulted in an increasing strain on county and local resources to law enforcement, medical services, and provide public education. Latimer believes the companies, "need to make a reparation payment to the government so we can spend that money to offset the costs that are generated by the products that they market."
One of the companies named in the lawsuit is AmerisourceBergen, with a distribution center in Newburgh, New York. When asked for comment, the company released a statement saying, "We are dedicated to doing our part as a distributor to mitigate the diversion of these drugs without interfering with clinical decisions made by doctors…" and "We are committed to collaborating with all stakeholders, including in New York, on ways to combat opioid abuse."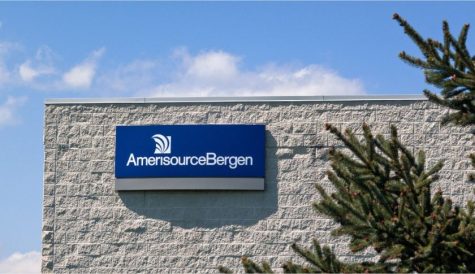 Latimer has also not shied away from the controversial debate over how local police interact with illegal immigrates reporting crimes and federal immigration laws. The Immigration Protection Act, also referred to as the Immigrant Protection Act, has been debated for the past year by the county legislators and among the public and law enforcement community.
The legislation proposed in February 2017 before working its way through the committee process. The Immigration Protection Act that was voted on last August would have forbid County Law Enforcement Agencies (CLEAs) and other agencies from inquiring, "about or investigate the Citizenship or Immigration Status or country of birth of an individual," and "shall not perform the duties of Federal Immigration Authorities, engage in the enforcement of federal immigration law, or… assist in civil immigration enforcement operations."
The bill was passed on a 10-5 vote, but vetoed by Rob Astorino, the county executive at the time who was defeated in his re-election bid by Latimer. The attempt to override the veto fell one vote short of the 12 needed.
Latimer referenced his Roman Catholic faith and its teachings on how someone is to "treat a stranger in your midst." The philosophy the Catholic Church espouses he said can also be found in other religions from Buddhism to Islam.
"As a religious moral underpinning, I think the Immigrant Protection Act is solidly based on the ethics by which our society was created," yet, he recognizes some of his constituents have a different view on the matter.
Latimer believes the county legislature will be able to come up with "a reasonable end product" that will satisfy the concerns raised by the county corrections, county police, and law enforcement community. George Longworth, as of January, former commissioner for the Westchester County Department of Public Safety, described the bill as "a bad and reckless idea."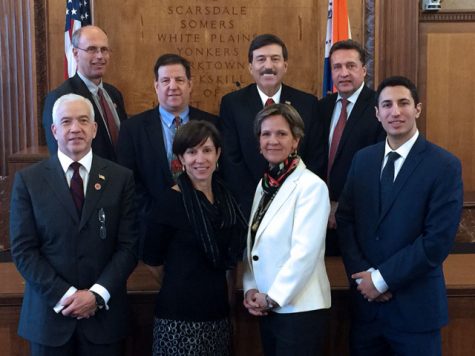 David Tubiolo, who represents District 14 that encompasses Yonkers and Mt. Vernon, voted against the bill passed back in August. "I think we're going towards the middle ground. Police seem to be a little more comfortable so I try to keep an open mind as much as possible," said Tubiolo who is waiting till revisions end to make a decision on his vote.
Legislators Margaret Cunzio and John Testa, and Minority Whip Gordon Burrows, joined Tubiolo in voting no on the Immigration Protection Act. They did not respond to requests for comment on whether their votes could change based on current discussions of revisions to the bill.
James Maisano, one of only two Republicans to vote yes the bill, resigned last week to join Latimer's administration.
Before the hour-long roundtable finished, Latimer took a submitted question from the Mercy College community. Matt Palczewski, a junior, asked, "Is there a solution to help ease the burden of high commuting costs for college students? Some of us shell out hundreds of dollars for our monthly tickets each month to pay to get class [every day]."
Latimer responded that it was not an immediate concern, but there is a potential to address the issue of commuter costs when he meets with county bus system officials to review routes and issues of ridership. The county does not have a say over ticket pricing for the trains that run through Westchester County. The decision on prices rests with the Metro Transportation Authority (MTA).
Latimer does not envision the student train commuter will receive any discount or relief. "It's hard for me to envision the train commuter will get somehow a significantly better deal," he added.
Latimer proposed a meeting be set up with him and "our senior people come over and have a student speak out. On this and every other issue. Any other issue."
Latimer spent most of the meeting discussing topics with national relevance, but also discussed the 2019 contract and the continuing negotiations over the county's contract with the Civil Services Employee Association.
"It will be dry. I mean this stuff is not sexy," unlike guns or immigration he said. Yet, Latimer made clear both these issues affect "the guts" of what his administration can do.
The contract that involves around 3,000 people have gone with a valid contract for over six years. The issue will be addressed in his State of the County Address on April 16.
Leave a Comment
About the Contributor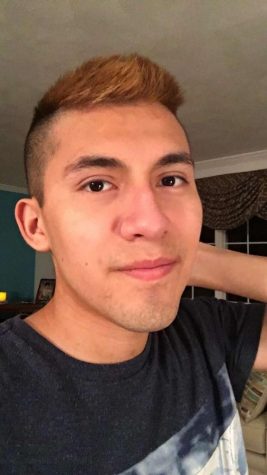 Matt Reich, Former Associate Editor
Matt Reich is a guy constantly on the go who can't let a minute go unused. Born in a city in Texas, raised in rural Connecticut, and now he's trying to...