Mercy College Students Write Letters to Overseas U.S. Troops
Mercy College students write letters to troops every year on Sept. 11 in order to honor them for their time and services. Many students showed up to express their gratitude to the men and women fighting for the country. They were asked not only to write letters, but to also make paracord bracelets as well.
The letters and bracelets will be included into a care package full of other products, put together by Operation Gratitude and mailed to the troops.
Operation Gratitude is an organization founded in 2003, designed to send care packages containing snacks, hygiene products, entertainment, handmade items and personal letters of appreciation to the troops. They annually send 100,000 care packages to not only deployed troops but also to first responders, veterans, their children left behind, wounded warriors and their caregivers. Operation Gratitude has a list of materials they suggest for people to make and sent, one of them being the paracord bracelet.
The reason why Operation Gratitude asks volunteers to make paracord bracelets is not only for soldiers to put around their wrist, but it can also come in handy during difficult situations. The Paracord " Survival" bracelets inner strands and outer sheath can be used as a sling or to tie on a splint. It can also be used as a sewing thread to stitch wounds or repair gear. As well as a tripwire, or to make nets and traps. The bracelets are braided and can hold up to 550 pounds.
Most of the participants came from Mercy´s women lacrosse and soccer team. They bombarded the tables to write the letters and make paracord bracelets for the troops.Once the teams were finished with writing the letters, they would go to the hallways telling students to go to the event to write the letters in order to get more participants and more letters for the troops.
Veronica Scruggs is one of the players on the soccer team who made a bracelet and wrote a letter expressing her plans in joining the Airforce after she graduates from College. She is a freshman majoring in Exercise Science: Physical Therapy Track and is currently the goalie of the soccer team.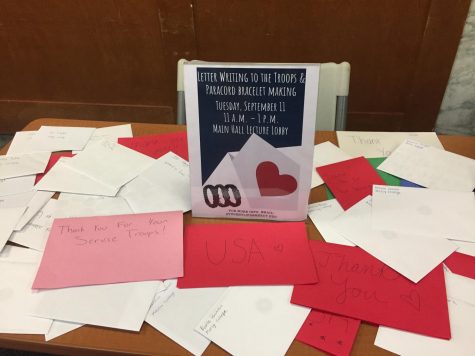 It has always been a part of her future plans to join the Air Force. Two of her uncles have served in the Army, one is still serving while the other has retired. Many of her family members are police officers and firefighters. She is inspired to join due to her admiration to the country and wanting to provide her time and future serving it.
In her letter she expressed gratitude by thanking them for their service. She wrote down her soccer number in the letter to feel more connected to the person reading the letter and for that person to get a sense of who she is and what she does.
" I want the soldiers to know that Mercy College is a great school who loves the troops and thinks about them. Everyone who wrote the letter had some kind of connection to the troops" Scruggs said.
Scruggs stated that this was a great opportunity for students to participate in because "it's not everyday that we can write a letter to someone in the troops.Someone who is going through things we don't go through in a daily basis." She also expressed the importance of writing a letter to those who risk their lives and time away from their family, not only to thank them but to let them know that there are people who support them.
Another student named Samuel Novas who is a sophomore majoring in Exercise Science: Performance Track had similar views to Scruggs.
"It was a positive event that really shows the appreciation for the troops here at Mercy. Their efforts do not go unappreciated and we support our troops fighting for us," expressed Novas.
Students were given instructions and tips how to write the letters. It was suggested to 'keep in mind that soldiers may be men and women, old or young and of all ethnic and religious backgrounds.' The letters required to be neutral for any person reading it. It was also recommended to 'be creative, draw a picture or sent a picture along with the letter.' Another tip was to 'include personal stories about school and/or family' and to always be positive.
" I hope that these letters help them to continue to do what they are doing, fighting the good fight whatever the fight may be and to keep going because they have a lot of people rooting for them," Novas added.
Many students mentioned that they were in a sport team and how proud they were of their school for allowing them to connect to the troops. They expressed their hopes for the troops to come back home safe and to reunite with their family. One of the letters were directed to someone specifically, it read "Carl, miss you, come home." Another student wrote, "I hope this letter brings a smile to your face because your service makes me smile everyday."
In one of the letters the school received in the past from Operation Gratitude, it states their appreciation for the school for sending letters and paracord bracelets to the troops. It also contains a quote from a former Navy soldier.
" Every box, every piece of paper, every cloth, every book, every piece of candy…means a lot to us when we are away from home. It gives us Hope, Confidence, Happiness, Strength and Pride that somebody thinks about us, that somebody is there for us."
Leave a Comment
About the Contributor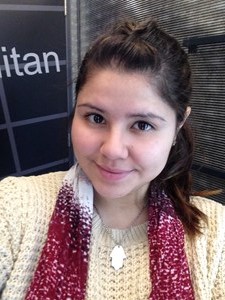 Andrea Loaiza, Staff Writer
The name is Loaiza, Andrea Loaiza. She is currently a junior in Mercy College on her way to getting her bachelors in Media and Journalism. She...