The Autism Project: FLOS Host Holiday Party for Families with the Autisum Spectrum
Santa Claus came to Yonkers town with the help of The Autism Project-FLOS. On December 8th, a holiday party was held in the Alamo Drafthouse Cinema where families of members with special needs were invited to celebrate the Christmas spirit.
A full theatre room was rented out for the families to watch the new anticipated movie; Ralph Breaks the Internet. Each individual was given a free lunch and unlimited drinks, all without charge. The kids were also greeted by Santa Clause at the end of the movie, who distributed presents to each kid in the room. As they exited, goody bags filled with chocolates and candies, puzzles, stuffed animals and Christmas cups were handed to them as well.
Laughing with my son was the best thing that happened today," Karen Rodriguez, a single mother of three who has a son of nine years old in the autism spectrum said.
Students from Mercy College became Santa's helpers during the event; giving out the goodies and supervising the event. Evan Milliken was one of them and has been for over four years. He is a senior majoring in Behavioral Science with a minor in Legal Studies and has been Monroe confident since they met back in 2015.
"I keep coming back because they stole my heart. I love what she stands for and seeing the kids faces when we are with them makes it worthwhile," explained Milliken.
The Autism Project-FLOS is a non profit organization in the Westchester area founded in 2012 by the president, DaQueen Monroe who is a mother of an autistic son. She created this organization and named it after him; FLOS which stands for For the Love Of Shaquan. As a mother who couldn't find organizations and events that could help her raise a child within the autism spectrum nor could she afford the service already provided, she decided to take matters into her own hands. After countless of years, meeting with other families going through the same situations and desperately needing guidance, she decided to create an organization of her own.
"It was always a thought. My son played alone and I didn't see a lot of places in which kids with autism can play with others so I wanted to do this for my son so he can make make friends just like him," shared Monroe.
In spite of all the ups and downs, she managed to create the first event of the organization. The Special Needs Fair was held in 2013 at a room in Yonkers Public Library. Being unknown to the public, only a few people attended.
"I didn't have any knowledge of what I was doing and was learning along the way. Once I understood the process, I had to maintain the funds and get donations to support our efforts each time," continued Monroe.
Today, her events and programs are attended by many people in the area. The Special Needs Fair is her outnumbered event yet. For this holiday event, she had the support of the Mayor of Yonkers who sponsored the event. Being that this is fourth year of doing the holiday party, she hopes that more people continue to come to the events in order to keep the organization functioning.
"The challenge is getting parents to come. It's not easy. If we can get them to come, we can do more," Monroe stated.
The Autism Project- FLOS collaborates with numerous organizations for educational workshops such as Westchester Independent Living Center and Westchester Institute for Human Development. They provide families with the proper tools, training and education needed to raise a child in the spectrum.
"We help them with the social and educational component. We always follow up with them to check the parents and child process," DaQueen said.
The Autism Project- FLOS also has professional therapist who specialize in field such as Speech, Behavioral and Occupational therapy. They come and answer any questions parents may have, help them cope with raising a child in the spectrum, educate them about healthy nutritions and help transition the child into adulthood.
"The average parent fills their day with their child's needs, taking care of them, trying to get them help through so we provide a stability for the parents to balance that lifestyle," Monroe added.
After school programs, workshops, and activities are held for the families and the children to help enhance their sensory and social skills. The organization also wants to help spread awareness about Autism and help support families who are lost and in need of guidance.
Rodriguez is one of the many parents who turns to the Autism Project- FLOS for guidance and support. After hearing many people tell her what her son has but found zero help from anyone, she got the support she needed with this organization when a colleague at work introduced her to Monroe. She has been attending and participating in all of Monroe's events for two years now. Since joining, Rodriguez has felt that she has found a community that understands her struggles and isn't alone in the journey of raising a child in the spectrum.
"It give us a sense of things we are not able to do on our own like in other words I don't have the money to take my son to the movies but it gives me pleasure to be able to do it with the help of this organization," said Rodriguez.
The Autism Project- FLOS mission is to help individuals in the spectrum get life experience learning through training, opportunities, fitness and education that is accessible and affordable.
"I'm a parent too so I have a sense of what the parents would like for their kids. The goal is to offer them a sense of normality, opportunities and life experience," shared Monroe.
The Autism Project- FLOS host numerous events annually such as Valentine's parties, Mother's day parties, bowling events, sensory movie showings and most notably the Annual Yonkers Special Needs Fair. This year they also hosted a Halloween party and will host a fashion show later next year.
"I think it is a wonderful chance for them to make friends like them and be themselves. Do things that make them feel like they aren't different," Milliken concludes.
Please visit the Autism Project-FLOS website, www.theautismproject-flos.org in order to join any events or participate in the numerous workshops and contribute to their mission.
Leave a Comment
About the Contributor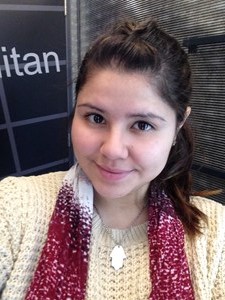 Andrea Loaiza, Staff Writer
The name is Loaiza, Andrea Loaiza. She is currently a junior in Mercy College on her way to getting her bachelors in Media and Journalism. She...