Planned Parenthood Educates on Reproductive Health, Tests for HIV
Mercy College Residential Life, along with the Department of Health and Wellness, collaborated with Planned Parenthood Hudson Peconic to help educate students and staff about preventive measures for HIV and reproductive health on Valentine's Day.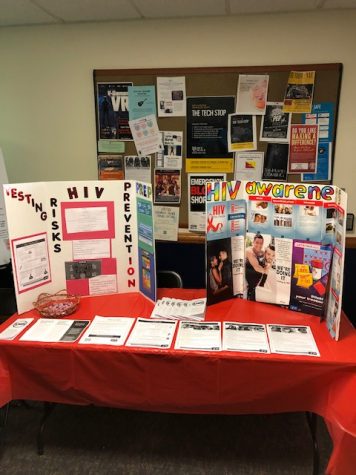 Planned Parenthood sent over their SmartWheels mobile health center to Mercy's Dobbs Ferry Campus. The mobile health center provides free HIV testing, and the results arrived in 20 minutes.
The mobile health center also provides brochures that offer more information about reproductive health, as well as steps a student can take to prevent sexually transmitted diseases, or "STDs."
"We have one truck for Westchester, Rockland, and Putnam Counties, as well as another for Suffolk County on Long Island," said Tricia Fleming, who is the Director of Communications for Planned Parenthood Hudson Peconic.
The mobile health centers used by Planned Parenthood Hudson Peconic were very busy last year. "The two vehicles that we have went out a total of 81 times last year alone," Fleming stated.
Although they were busy last year, they are off to a slow start this year. "We have only sent out the SmartWheels van four times this year, but that's normal in the winter months due to the weather," Flemming stated.
The mobile health centers go to many different locations throughout Westchester, Rockland, Putnam, and Suffolk Counties. "We go to many different places throughout the four counties. We send the mobile health center to community events, health fairs, and in Suffolk County we bring it to a lot of the summer festivals that are held throughout the area," said Fleming.
Jermaine Cali, a senior health science major and residential advisor, who is also the President of Student Government at Mercy, helped coordinate the event along with Colleen Powers, who is the Director of the Health and Wellness Programs.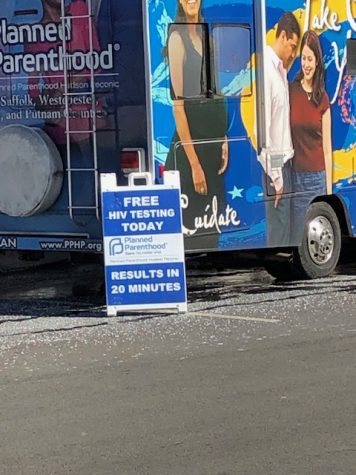 "I wanted to do this as one of my literacies for my RA programming because I want the students here to be safe and to know that there are preventative measures out there for STDs, including HIV," said Cali.
Cali also set up stations in both Main and Victory Hall, as well as a third in Hudson Hall. "The one we set up in Hudson Hall was to educate people on both PEP and PrEP. While the ones we set up in Main Hall and Victory Hall were for STD awareness and women's reproductive health," stated Cali.
Both PEP and PrEP, are preventive measure for people who may, or may have already, come into contact with HIV.
PEP, which is short for post-exposure prophylaxis, is a medication for HIV-negative people who may have been exposed to the virus. It must be taken within 72 hours of possible exposure. While PrEP, which is short for pre-exposure prophylaxis, is taken before being exposed to the virus, and is taken once a day for seven days.
Matt Palczewski, a senior residential advisor, also helped out with the event.
"I think it's great that were raising awareness for this issue because it is still around and people need to know more about the things they can do to prevent STDs such as HIV," Palczewski said.
Palczewski also had great praise for the people who help set up the event. "It was really a great idea by both Colleen Powers and Jermaine. I give props to both of them, I think this was a really great thing for the Mercy College community."
In the future, Planned Parenthood Hudson Peconic hopes that they can offer more services through their mobile health centers, and not just HIV testing.
"We are definitely looking at what we can do to expand the services that we can offer with these mobile health centers in 2019, as well as the foreseeable future," Fleming said.
To visit Planned Parenthood Hudson Peconic, they have ten locations. Four in Westchester County that are located in Mount Vernon, New Rochelle, Yonkers, and White Plains. Five in Suffolk County, located in Huntington, Patchogue, Riverhead, Smithtown, and West Islip. And one in Rockland County which is located in Spring Valley.
The SmartWheels mobile health center will be back at Mercy College sometime in March.
Leave a Comment