Skaters Gon' Skate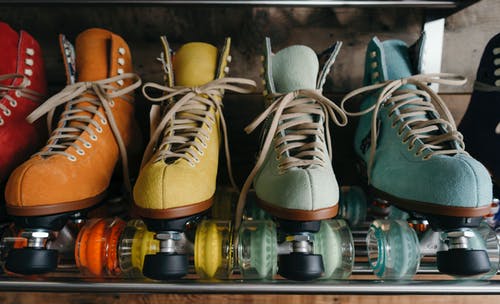 Roller-skating: the grooviest of pastimes.
It all began with a man named John Joseph Merlin in the year 1735. He wore his three-wheeled inline lady killers to a party in London, and boy did he start a trend.
James Leonard Plimpton decided to make more practical the concept of wheels on shoes by patenting a four-wheeled roller-skate that allowed for wearers to pivot and stop on a dime. His fancy-pants idea took flight in the drive-in dining days, and then very quickly became a staple in the 1970s and 1980s, when you weren't cool unless you spent your weekends under a disco ball.
The 1990s hit and history repeated itself, as it does. Inline skates with not three, but four wheels, and the ability to pivot and brake were putting bicycles to shame.
Now, thanks to Mercy College's Office of Student Life, the roller-skating trend lives on.
On Oct. 17, the Rotunda at Mercy's Dobbs Ferry campus was turned into a scene from Xanadu. The Office of Student Life put on an event for Mercy students far and near to a come and fall on their faces free of charge, and to the rhythm of some really good music.
Volunteers put together a beautifully colored roller rink using grid-loc tiles and the college supplied roller skates for the students in a large variety of sizes. The event was such a huge hit that available pairs of skates became few and far between. Students waited in line to relieve skaters who would hand off their skates to give others a chance on the floor.
Most of the attendees had never been on skates before, so it was enjoyable to watch while confidence grew as people taught themselves and each other to make it across the floor without falling. It was an innocent and humbling event that joined a community.
"I made new friends and people came out of their shells. It gathered all of us together," said 19-year-old, Kwuiny Laurent.
Student Life Specialist, Denecia Charles, was happy with the 115-student turnout.
"This was my first time doing it. I decided to do it for the Peer Mentor Program. I wanted to make a cool event for them and open it up to the community or whoever wanted to come."
Roller skating has had its highs and lows as an industry over the past 150 years. It's known for its spikes and dips. Once extremely prosperous on the West Coast, Los Angeles rinks are now minimal, as are rinks in the northeast, such as Boston and New York. Yet, roller skating is seeing a resurgence in the south, notably in Texas and Florida.
"Realistically, it's based on property value," owner of six Massachusetts rinks, Mark Pyche, explained to the Boston Globe. "People can't afford a 20,000-square-foot building in Greater Boston anymore."
The Office of Student Life regularly organizes events for the Mercy College community.
Contact the Office of Student Life at [email protected] with any questions about upcoming events.
Leave a Comment