COVID-19: Transformation of Westchester County Center into Temporary Hospital
Facilities take initiative in opening their doors for COVID-19 patients due to the excessive overflow occurring in hospitals.
The Westchester County Center known as the home of the Westchester Knicks, expositions, trade shows, and graduation ceremonies is expected to become a temporary hospital site for COVID-19 patients. The increase of overflowing hospitals have been taken to the next level. There are no more sufficient space in hospitals to accommodate patients who are in need of medical attention due to COVID-19. The County Executive George Latimer explained that there would be an estimate of 120 beds inside the site. The preparation of beds are expected to be placed during the next few weeks. It was not yet confirmed when it will be opened to the public.
Many senior graduates are disappointed with the cancelation of an in person graduation. Many Colleges have decided to host a virtual graduation for the moment with a future in person graduation after the pandemic is cleared. However, many senior college graduates wonder what will happen to the known facility of graduation being part of a temporary hospital for COVID-19 patients.
"Westchester County Center is now a historic place which not only held multiple memorable events and graduations. It is a place that stood tall and proud to help win the war of this deadly virus," says Raymer Cardona.
Senior Cardona continues to support the idea of saving lives during a crisis does not meet any standard. During a crisis like this that has made the U.S. feel terrified during the early peak of the pandemic, should increase the capacity of help stop the crisis.
Throughout the month of April to now, Gov. Andrew Cuomo and his office have done a great job in turning large venues and school dorms into temporary hospitals. This gives many individuals the chance to be treated when they have severe symptoms. This is the best way to help treat the virus in a high density city like New York.
Many seniors feel an act of kindness to the New York community by helping the medical professionals and volunteers treat patients with the sufficient space now. Other students felt concerned for their safety once the pandemic was cleared. Students feel it was not appropriate for the place of special memories become a helping center for an intense disease, COVID-19.
A student wondered how "would we know if they disinfected everything before being around the area or inside?" Concerns are growing but at the moment many have been spreading the idea of positivity that it is for the best to save lives by opening facilities for bigger capacities.
It is a symbol of pride and respect towards Cuomo's rapid decision and towards the open doors of the Westchester County Center. Each day the frontlines strive to help save the life's of those who are infected with the virus. They have set plans to be prepared for any future peaks during the crisis.
"We are living in what will soon be one of America's most memorable moments in history. I saw pride, passion, and faith once I heard the opening of new doors for the ill. They've incorporated their part in standing against the virus; something that we all must do," says graduate Darnell Hargett.
The initiative of separating the ill from COVID-19 patients seems an essential step to the control of the spread of the virus, most believe as the safety of many other individuals and their families is very important in this country right now. As well as, being grateful for those who volunteer to help.
According to an Arm Corps news release, an outside contractor was awarded $15 million contract to build hospital beds inside the arena and in tents constructed in the parking lot along the Bronx River Parkway. About two or three long white tents have been constructed already on front Westchester County Center and is still adding new materials for a successful plan. It still unsure how it will be planned out but for now it is just time and patience.
There is no curable treatment for COVID-19 patients. Health officials believe there may be another outbreak that can come in waves over an extended period of time. Therefore, the constructed beds in a large facility prepares for the worse if it is yet to come.
"Westchester County Center showed an act of humility and it should never be forgotten but remembered," says Hargett, a senior.
Americans continue to experience the COVID-19 pandemic but with the help that was provided the last few weeks have been succeeded. It is still advised to continue practicing social distancing as well as wearing the correct essentials to decrease the spread of the virus. Facemasks and gloves must be worn at all times to work, shopping, and so on.
The frontlines have kept striving every day since the start of the pandemic. The public shows support towards the medical professionals and volunteer by thanking them for their hard work. The fire department has shown their respects by standing in front of hospitals and applauding them. There also have been police officers who have gathered together to show their support.
Social media and celebrities also shown their support and started raising money to help those who are struggling during this period financially.
Thank you to the frontlines. You are the real MVPs who hold down the emergency floors and ICU rooms with overflowing patients of COVID-19. They will never be forgotten for their strives in a time of a non-forgettable crisis in American history.
"Not all heroes wear capes," said Cardona. "The frontlines are the heroes of the world right now."
Leave a Comment
About the Contributor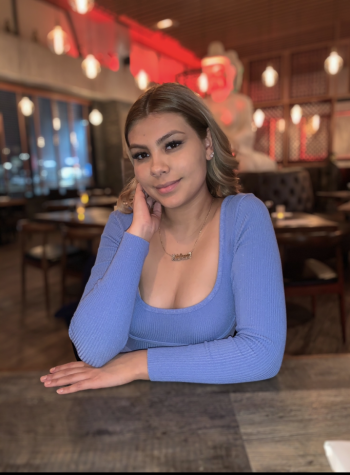 Estefania Salinas, Impact Staff
Estefania Salinas is a senior majoring in Media Studies: Radio & TV Production with a secondary concentration in Journalism. She is a passionate news...