News Anchor Turned Professor Magnus Recalls Her Days In the Media Business
"Up for 36 hours, drove home to New York to change my clothes, went into Manhattan, and didn't come home for a week."
Executive Director of Media and Innovation for Mercy College Edie Magnus recounts the aftermath of 9/11 – one of the many unimaginable experiences of her career – during an interview with the Impact News.
Not many people realize just how much more there is to her than "Professor Magnus."
During the attacks on the World Trade Center in 2001, she had a very hands-on experience with her coverage.
"I was on the air for NBC and I flew out of Laguardia Airport to interview a judge in Indianapolis. I arrived at Hertz to rent my car and everyone was standing in the corner where the TV set was, looking up. I was like 'what's everyone looking at?' Then I called my husband."
That was one of the last calls to New York before things all around the country began to shut down – including the courthouse she'd been on her way to.
She and a team were close to where Flight 93 had crashed.
"Everyone was so consumed with what was happening in New York, but we were able to get down to Shanksville. I, with the two crews, drove across Ohio into Pennsylvania. We were the first network report to come out of Shanksville with coverage."
With such a unique perspective on national tragedies, she chatted about her outlook on COVID-19. In comparing COVID-19 and 9/11, she said "That [9/11] is totally different from this [COVID-19]. This is your life, your family, your kids; something all-encompassing. I've never been through this before."
She continued, "It has so many dimensions: personal loss, disruption of technology, disruption of how you learn and work."
Having been a national news correspondent from 1985 to 2010, when asked how she feels about the media's reaction to our political climate and what she would change, Magnus said, "Well, if I was covering things now, my head would explode. Since election night, I have not watched the evening news. I find it too upsetting. There is a part of me in the wake of these events that have wanted to put my head in the sand, as opposed to being engulfed in it," she shared. "I tend to think this non-stop focus on the White House is a freak show and makes for good ratings. I know why they do it, they are all carnival barkers. They know if they put the President on, it gains good ratings."
In direct response to the Black Lives Matter protests and George Floyd, Magnus commented, "I was so focused on Breonna Taylor as well; that story just haunts me. The way the riots were covered, there is superficiality about it that I would not like to be a part of. Just a snapshot of violence with no context – just to show looters, and forgetting all the pain behind it. I would have been happy if I could have reported on the ways people were trying to alleviate the problem of systemic racism. But I would not have wanted to be in the streets of it. The outrage is real, but I think coverage just fans it in a way that isn't helpful."
She began her journalism career a few decades ago and was on national television for 25 years. She ran with the big dogs; a small-town girl turned big city, with big dreams that she worked hard to accomplish. Her past career shaped her into the fierce woman some lucky students have the pleasure of knowing today. Her real-world experience with politics, war, and media has left her with a lot of interesting stories and perspectives to share – relevant to today's world more than ever.
Magnus was born in Ohio and began her career working at a local ABC affiliate. She felt good about the trajectory of her career, but then the unexpected happened: she was called by an agent who asked to represent her.
"Unbeknownst to me, there was a big study done. The then president of ABC commissioned a study about how many women correspondents they had. Women were a tiny fraction of correspondents. They didn't get on air often, only when men wanted off. They realized they had to hire women. I didn't learn about this until a while later, but I'm in Cincinnati on Channel 12, and I get a call from an agent that said 'I want to represent you and the networks are looking for women. Can I represent you?' and I was like 'what?'"
Magnus moved to Chicago working for the big ABC network, was really killing the game. Early the next year, after a couple of months in Chicago, Magnus got a big break. She was sent to the Philippines to cover a coup. This really put her on the map for bigger executives and the opportunity to make bigger moves. Magnus realized she was hired under odd circumstances, but she was okay with it because of the opportunity she was given.
"You take the opportunity when it comes. Maybe later you find out that it came under less than ideal circumstances, but so what because three women had the chance."
With a gracious outlook on her circumstances, Magnus was able to continue with great work. During her career, she was around for many extraordinary events – both gulf wars included. She explained her time on the air throughout.
"That's a particular kind of feeling when the country is at war. Everyone on the news is at attention, but you're not concerned about your personal safety because I was in New York."
Magnus is a strong woman with a large career. She really looked up to Ruth Bader Ginsburg and was very sad about her passing.
"I was close to tears when it happened. There's a funny aside, we have a new pup named Ruth and people were trying to call us because they would see texts 'omg Ruth,' and they thought our dog had died. But the minute I looked online, I knew what was going on. I will also tell you, two very close friends from CBS and Dateline NBC, Julie Cohen and Betsy West, did the RBG documentary."
"I read in an interesting article that Obama went to her asking her to retire so he could name her 'successor.' I was like 'Why didn't she retire when she had the chance?' And there was an answer in the paper by the time she got sick, that Congress had turned over to Republicans, and she said to Obama, 'Who do you think they will get [to replace me]? So I'm going to hang in there.' So just today I understood why she did what she did. But this loss is incalculable; enormous for civil rights; women's rights. I looked up to her like everyone I know did. It's gonna be a long, dark night before we get someone else in there like her."
Magnus benefited directly from Ginsburg's work and will be eternally grateful.
By the time she was at CBS in 1990, she met her now husband, Bob, a producer. They were both working at CBS, but she didn't directly work with him at first. "When the first gulf war started, I was put on a show once a week. My husband had worked with Robert, my co-anchor, and we eventually got Bob to work on our show. I first met him when he was typing up notes for Connie Chung's big interview with Cybill Shepherd. I just saw him and I found him interesting and likable. But he wasn't looking at me at all, just writing questions. I was trying to get his attention, but couldn't. So literally, when I left, I put my hands on his shoulders and said 'It was really nice to meet you.' "
She joked about how weird she was when she did that, but it paid off because eventually, after one elevator ride, he asked her out.
Magnus had a fruitful journalistic career, but eventually began teaching. Now, at Mercy College, she is teaching a television performance class that, thus far in the pandemic-ridden semester, has proved difficult because of the mask requirement and technological circumstances. However, she has found a way around it, "I'm teaching about whatever captures you in front of the camera in today's world. Sixteen students are all wearing masks. I wanted to come in and do it, and I hoped the kids wanted to as well. I feel it's just more fun in person. Most of them are in class."
She found a way around the obstacles by playing an 8-minute scene from "Grey's Anatomy" where they're all in the operating room wearing masks, "I did this because you can perform like that. It's just hard. We are going to do a scene like the one from that show." Interesting times come with monotonous readapting, but she hopes her class will enjoy it and learn a lot.
When asked what piece of advice she would leave her students with, she paraphrased a Buddhist philosophy. "Stop expecting everything to be great because then you won't be disappointed when it's not," she explained. "You have an unconscious sense of direction in which you think your life is gonna go. Everybody does, whether they consciously know it or not. But it just doesn't go that way. There will be good things and bad things that come of that."
Leave a Comment
About the Contributor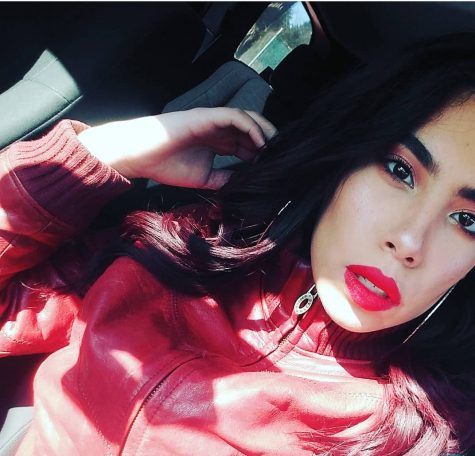 Jadeen Mercado, Impact Staff
Jadeen Mercado is a senior who loves all things entertainment!

She writes a column called Jadeen's Scene

She can be reached at [email protected]...