Self Driving Vehicles and Blockchain hot topics at National Cybersecurity Awareness Event
Autonomous vehicles will likely become a reality in our future and the value of Blockchain for digital money transactions were the main topics of focus during last month's cybersecurity event in Dobbs Ferry.
Mercy College's School of Liberal Arts and Cyber Education Center hosted "Emerging Technology and Security Challenges," a live virtual webinar to celebrate and inform students and faculty on the increasing popularity of cybersecurity on Oct. 30.
It featured keynote speakers, Dr. Umair Siddique and Dr. Yousra Javed.
The School of Liberal Arts' new dean, Peter West, gave the opening remarks followed by Siddique's presentation on "Security Challenges in Unmanned Vehicles" and then Javed presented on "Security and Privacy Using Blockchain." The two preceded a panel discussion that was moderated by Assistant Professor of Computer Science, Dr. Usman Rauf, and featured the keynote speakers, along with a professor and associate professor from the math/computer science department, Dr. Z. Chen and Dr. John Yoon, and the director of the computer science program, Dr. Sisi Li.
West kicked off the webinar by expressing the importance of cybersecurity, especially during the era of COVID-19 which has led to an increase in individuals using technology.
For his topic of focus, Siddique explained why the world is in need of self-driving vehicles, now, more than ever. He said that over 1.35 million individuals die yearly from traffic accidents and that more than half of traffic deaths are among vulnerable road users. The use of self-driving cars would limit the number of traffic accidents dramatically, according to him.
"We [humans] have distractions; we make mistakes. Machines don't get distracted and are not emotional."
There are a number of benefits that self-driving cars will provide, he added. Humanlike senses are being mimicked inside these vehicles, and they'll be used to determine when the car needs to stop for pedestrians and traffic lights, as well as to collect as much information about the cars and environment surrounding them as possible.
On the contrary, Siddique listed some setbacks that are currently holding self-driving cars back from becoming more widely accessible to the public. The reasons range from the level of difficulty it will be for these cars to accurately detect traffic lights and signals, to the near impossibility of them meeting both the safety and technological requirements required to make them "road-ready."
The cameras, sensors, navigation systems, and other parts come from different places and require a lot of assembly.
"You're getting information from places like Intel and other suppliers," he said.
For her presentation, Javed also expanded on cybersecurity and how Blockchain is becoming the leader of cryptocurrency. Blockchain is a form of cryptocurrency that acts like a spreadsheet containing information on every transaction made by sites like Bitcoin. Each transaction generates a hash which is a combination of letters and numbers created using an algorithm. She explained how hashes are essential to the security of Blockchain. They create blocks that are built after the previous chain and include a unique code making it difficult to hack. In turn, this makes it almost impossible for anyone to complete a transaction on someone else's account without them knowing.
Javed further explained the importance of making sure the Blockchain can not be tampered with.
"To prevent this, chaining is important here. We take the data and take the hash of the previous block to get its value. If someone hacks into the second block, for example, the hash of the third block will have to change along with the fourth, etc. So, if someone changes one block, then they will have to do it for all blocks," she said.
After the hour-long lecture, they opened the floor to a question and answer segment which included all presenters and lasted for 15 minutes. It focused on how cryptocurrency and cybersecurity are still improving and they discussed some of the safety risks that are still in place.
When discussing the current and future risks of cryptocurrency, Yoon discussed the issues that the online world currently faces and will continue to face in the future.
"All lands are controlled by computers and all computers are connected to each other. Hackers are everywhere and it can happen any time," Yoon said.
Chen concluded the event with the fact that online hacking might never come to an end.
"We don't know what's next. We don't know what problems we will encounter in the future," he says. "There are people who say 'What are we going to do about it?' But there is no way we can solve it. We are all connected through the internet, so we are never safe."
After the lecture was finished, West ended the webinar with a recap and a reminder of the importance of cybersecurity, especially during the pandemic.
"It's astonishing – it happens in all different career fields. We must continue teaching not only to anticipate the problems we can face today, but what to expect tomorrow."
Leave a Comment
About the Contributor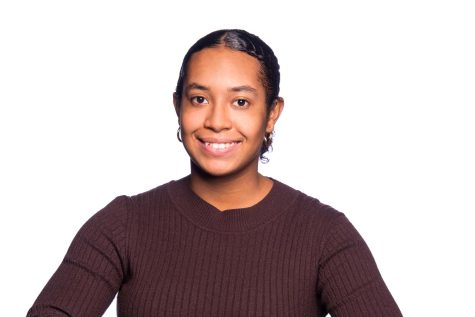 Britney Guzman, Impact Staff
Britney Guzman is a Senior at Mercy College. She writes a column called Quali-Tea News where she discusses her love for cats, Taylor Swift and mental...