Adjuncts Hold Rally Outside Mercy Scholarship Fundraiser
Members of Mercy College's adjunct faculty held a rally outside of Mercy's 2021 Golf Classic Scholarship Fundraiser at the Ardsley Country Club due to a stalemate in contract negotiations.
The rally was attended by over a dozen adjunct teachers, two union officials, and one student, and was aimed at the donors who were attending the golf outing. They saw the golf outing as an opportunity for the donors to hear their concerns about job security, benefits, and wages.
"We want the donors of Mercy College to be aware that we care about students and we are trying to do the best job for that we can for them. In order to do that, we need certain resources that the college is denying us," said Prof. Katherine Flaherty, a lecturer in the seminars program, who has been with Mercy since 2011.
In an email about the rally sent out to students from Prof. Charles Chesnavage, a member of the Mercy Faculty Forward Bargaining Committee, it stated, "After two years of our advocating for students, the Mercy College administration is standing behind a renowned anti-union attorney."
This is a claim refuted by Laura Plunkett, Director of Public Relation and Community Relations for Mercy College, who cited their relationship with the other union at Mercy College.
"Mercy is not anti-union and has a longstanding cordial relationship with another union that represents many of our non-faculty staff," said Plunkett.
Also gathered in support of the Mercy adjuncts was Guy Robinson, a Fordham adjunct. Fordham adjuncts are also a part of SEIU and unionized in 2016. They hosted similar events targeting Fordham donors who were not aware of the Fordham adjunct unionizing efforts.
"When we did this at Fordham in 2016, we approached donors at one of these events and it turned out a lot of them really didn't know the conditions and pay we were getting," said Robinson. "There's a lot of potential in these events."
Robinson also noted that Fordham reached a deal with the adjuncts in a few months of negotiating which typically takes years.
Mercy's response highlighted that Fordham's tuition rate is "almost triple" what the average tuition rate is at Mercy, which is approximately $19,000 per year, according to Plunkett.
These concerns have been the focus of an over two-year-long negotiation between Mercy College and the Adjunct's Union which was formed in May 2019. The two parties have to date met over 20 times since forming.
Plunkett stated that "Until recently, the college and SEIU had exchanged proposals on over 30 issues and topics, many of which have been memorialized in written and signed tentative agreements until negotiations were hindered after SEIU representatives walked out of the meeting on May 3 and refused to schedule another bargaining session until Aug. 27."
This walkout was confirmed by Chesnavage. In both of these meetings, Mercy presented a counterproposal to the adjuncts and the union did not respond.
In a letter to The Impact from Mercy Faculty Forward, Mercy College offered the following proposals:
No change in the current base salary of $3,000 per course.

Nothing in terms of job security, or path to full-time – the Administration will continue to hire adjuncts one term at a time and on a per-course basis.

No benefits

A rank system that would eliminate the title of Professor for all adjuncts, and replace it with the title of Lecturer.
The adjuncts also stated, "Mercy College adjunct professors will not accept any proposals that memorialize us as second-class citizens in the college community."
Mercy College called the walkout by the adjuncts and its union, "unfortunate and counterproductive."
In an effort to bring more attention to the summer-long stalemate, a letter from the Westchester County Board of Legislators was sent to Mercy College President Tim Hall. In this letter, the legislators, "hope that the college will negotiate in good faith with their union and reach an agreement that serves every member of the Mercy College community while maintaining a quality, affordable education."
Chesnavage stated that the letter "made no difference to President Hall and the Mercy College negotiating team."
The protestors state that adjuncts fear that without the pay raise, teachers will be forced to work other jobs and take time away from their students.
Plunkett emphasized Mercy's commitment to resuming negotiations and continue their focus on students. "Mercy remains focused on its mission of providing an exceptional education to its diverse and deserving students and focused on continuing to provide one the most affordable tuitions in the region."
Leave a Comment
About the Contributor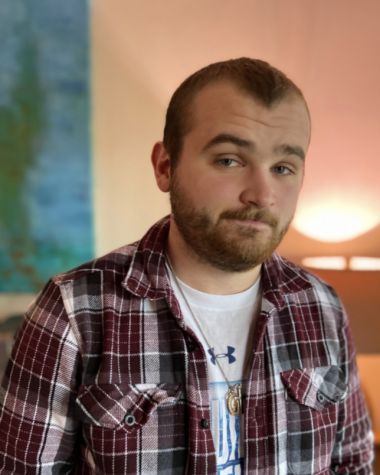 James Tiedemann, Managing Editor
James Tiedemann graduated from Mercy College in the May of 2022. He transferred there after graduating from SUNY Orange with his Associate's Degree in...