The Power of Faith and Dedication
Violet Edwards is now the oldest black student to earn a college degree
When Violet Edwards was handed her college degree on a camera broadcasting to the entire world, she was not thinking about how big of a moment this was. She was not thinking about the implications it had for the black community or the effect it had on stigma on learning past a certain age.
She was thinking, "Wow. I'm here."
And when Mercy College President Tim Hall said the words, "…and now you can turn your tassel from the right to the left," Violet smiled, flipped her tassel, and thought, "Wow. I did it."
Violet Edwards, age 96, was now the oldest black student to earn a degree, and overall fifth oldest person in the world to graduate from college.
In a surprise commencement celebration put together by family, friends, and Mercy staff, Violet looked beyond to all the memories filled with moments that brought her to this very minute.
"What a journey." she said, sitting down in front of her retirement home audience, "It has been a journey. Very interesting and very long."
As a Jamaican native, born in 1925, Violet has endured a lot. Growing up during World War II, one would think education would be the last thing on a person's mind. But defying all odds seemed to be Violet's specialty. In her younger days, Violet was the first person in her village to attend high school on a full academic scholarship.
Education was her number one priority. She always had faith that she would complete her goal. Even amid World War II, when tests had to be sent to England for grading and back for the score to be known, she still had faith. Although she feared for its safety, and whether or not her test score would ever be known, she still had faith. Evidently, it worked. She got her test scores back and graduated from high school.
College wasn't viewed as widely optional then as it was today. In the 1940s, the entire education system started to mold into the modernized version known today. Studies began to be taken more seriously, curriculums were created with more care, and college graduates became more sought after. This was largely due to the war. The army rejected five million recruits due to their education level. During this time, educators knew something had to change.
Violet intended to go straight to college and earn her degree. However, she didn't have enough money to put herself through the required years at the time. She didn't dwell on it. She knew she would return.
Instead, she turned to work. Violet joined the Jamaican Postal Service and ended up having a very successful career there. During those years, she became the first appointed female regional inspector, a supervisor position in charge of "a selected few of the island's post offices." When she felt it was time, she retired.
The best path for the best opportunities was always on Violet's mind. That is why she decided to relocate her family to the United States of America. She wanted the best opportunity available for her daughter.
Her story is beyond uplifting, especially for Christine Edwards, her biggest fan who also happens to be her daughter.
"She has inspired me," Christine said during her mother's commencement. "I am where I am because of her."
In Christine's own words, Violet put her own time and education aside to ensure that her education and degree were set. Christine is now a physician at the Florida Perinatal Center, a practice she's been serving for over 23 years.
After making sure her daughter was secure, Violet decided it was time to go back to school. With the full support of her family, she submitted her application. She enrolled in the College of New Rochelle in the early 1980s. Unfortunately just one year shy of completing her bachelor's, Violet faced financial roadblocks again. She reluctantly had to once again pause her studies.
However, this didn't sway her. She knew one day she was going to walk across a stage.
When she was able to resume, she discovered that the College of New Rochelle had been shut down and her records were given to Mercy College. Even worse, 84 of her credits had not been transferred.
Violet was back to square one. Even worse, she had just been diagnosed with cancer. It seemed like someone or something was working against her. Taking all her near-goal-completing moments and squashing them.
But Violet has been through this all before. She was determined to get her degree and conclude her journey.
As she said in response to Edie Magnus of Mercy's public relations department when asked about the importance of reaching this day:
"It was something I started. Let me finish it."
She decided to go for an associate's degree, completing online courses at Mercy College. Despite having cancer and treatments to go through, she persevered. Eventually, she got to that moment, with her friends, family, and the Jamaican Consul General Oliver Mair, she sat on that stage with her tassel flipped on the left side.
Violet had done it. She finally graduated. On June 25, 2022, she got her associate's Degree in Science. As Jamaican Consul General Oliver Mair read a decree in her name, she smiled.
Her goal was to complete this journey before her 100th birthday. At 96, she was finished. Violet's strong battle towards success taught us that education does not have an age limit. Education is a never-ending journey. There is always an opportunity to learn more.
As Mercy's President Tim Hall says, "We call her 'Unstoppable.'"
"I want to be like her when I grow up—still learning, still challenging herself. I hope all of Mercy's students are inspired by Ms. Violet's persistence in learning."
Leave a Comment
About the Contributor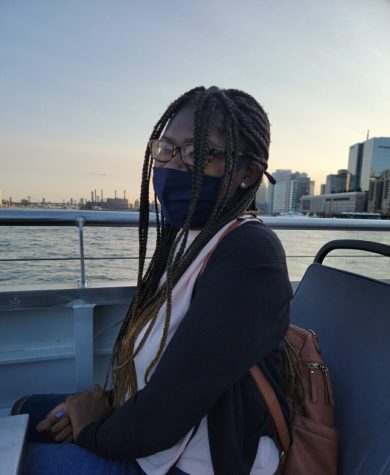 Diannah Plaisir, Managing Editor
Diannah Plaisir is currently a senior at Mercy College, pursuing a degree in Media/Communications. Having decided that she was going to be a journalist...