Thanksgiving At Mercy College A Hit
Mercy returned this holiday season with its annual Thanksgiving feast, this year hosted across all three campuses: Bronx Campus, Nov. 15, Dobbs Ferry Campus, Nov. 16, and the Manhattan Campus, Nov. 17.
The event was widely attended, with many students showing up to share a meal.
President Tim Hall had the opportunity to join students over at Dobbs Ferry where he greeted everyone at the door with a warm smile.
There was much to choose from with options varying from pasta to sweet potatoes to turkey with delicious gravy. Although the infamous mac and cheese was clearly the star of the show due to it having students lining up for it solely.
Both sides of the hall had been decorated with never-ending supplies of pumpkin, apple, and pecan pie slices, sided with deliciously warm apple cider.
Gabriel Gonzalez, a Mercy freshman, said he was pleasantly shocked when he walked into Rotunda Hall.
"I'm impressed. They put a lot of effort into making it feel like a community dinner. And the food was also really good."
Later, on Nov. 21, Hall sent an email to students, saying,
"Thankful" is too simplistic of a word to express how I feel toward the Mercy students, faculty, staff, alumni, and friends who have helped me fulfill a passion for making the opportunity of college possible for all students, no matter the circumstances in which they come to us from."
It was clear that circumstances were no match, as the Thursday night dinner proved. Although it was slightly interrupted by an unexpected fire alarm going off, students eagerly trickled back into the hall once it was safe to return.
Denzel Ostane, a junior media studies major, was determined to stop by although he had a class starting around the same time. "I found out that night about the event and I'm very thankful for it because I was extremely hungry. It's so nice that they decided to do this."
Although a slow start, the hall steadily had students and faculty streaming into it. All days had a good turnout, with students and faculty alike both stopping by for a delicious meal prepared by longtime Mercy partners, AVI.
Marlene Taveras, Dobbs Ferry Campus specialist said that the main goal was to create a community.
"We just wanted to give students a thanksgiving dinner outside of the family atmosphere."
Invitations were sent via Campus Groups, and used with unique personalization to really make every student feel welcomed.
"Every year we have different students reside in these halls. It's a chance, not only for the sophomores, juniors, and seniors to congregate but also for the freshman to meet new people," said Taveras.
This is the first year since covid that Mercy was able to have the feasts on each campus. Before this year, the feasts were only held on the Dobbs Ferry campus. The return of in-person events seemed needed, as many students and faculty joined each other.
Mercy campus specialists collaborated with Mercy Director of Operations, Orla Fitzsimons to put the events together. Each campus has its livelihood and the Mercy specialists know how to build on that.
Although the Bronx Campus is mostly a commuter-only area, it still managed to create a community.
Headed by Bronx campus specialist Sodary Castillo Guerrero, the Bronx campus had a luncheon that was uniquely decorated to make all participants feel like a fancy lunch. Accessorized with sparkling champagne glasses, the welch's juice was the main attraction of the afternoon.
The easiest part was getting students to come, and with the offer of free food, it wasn't hard. The actual hardest part was finding flavorful food. But Guerrero kept an open mind, and managed to find options enjoyable for everyone.
"It's about the experience," said Guerrero. "We wanted to give them the chance to destress and unplug as students. Just be people."
Events like these are important because it gives people things to look back on. When they think of college, they won't just think 'school, school, school.' They'll think of moments like these.
This is not the last event to come for the year. Mercy specialists are preparing more holiday events, including Stressmas. Don't miss out on the fun. Log in to Campus Groups via Mercy College and follow Student Life to stay updated.
Leave a Comment
About the Writer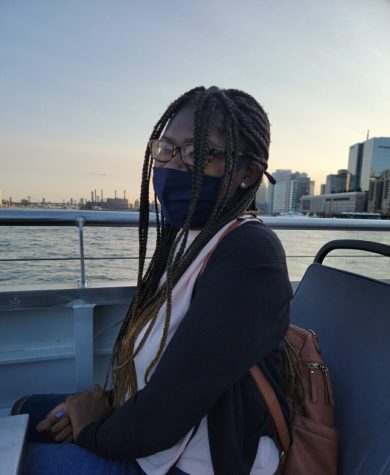 Diannah Plaisir, Managing Editor
Diannah Plaisir is currently a senior at Mercy College, pursuing a degree in Media/Communications. Having decided that she was going to be a journalist...