Worldwide Business Leader Indra Nooyi Speaks at Mercy College
Born in India in 1955, she grew up in a middle-class, Hindu, conservative family. She worked vigorously in Madras, India to earn a bachelor's degree in chemistry and a Master's in business administration. However, her education didn't feel complete. She left India to come to the United States, earning another master's from Yale School of Management. She worked past the American Dream with a $144 million net worth and into the impossible to become the fifth CEO and first woman CEO in the 44-year history of PepsiCo.
This woman happily belonged to two worlds. Her life of yearning in India and her life of education and motherhood in America.
This woman is now famously known as Indra Nooyi.
Mercy College welcomed Indra Nooyi to their Rotunda to meet select students and converse in front of students, faculty, alumni, Trustees, and community partners on gender bias, motherhood, and inequality in the workforce.
The event took place on May 1st. with around 250 attendees, according to Mercy's Executive Director of Public Relations Zodet Negrón.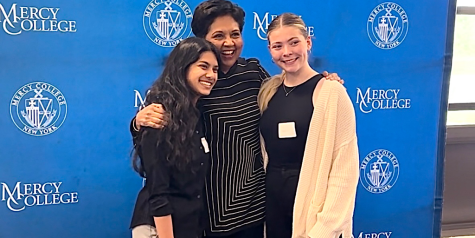 Before the enlightening conversation with Indra Nooyi, facilitated by Mercy College Provost and Vice President of Academic Affairs Eva Fernandez, Indra met around 30 students in a separate room to talk with them about their majors, Mercy experience, and career success.
The students were handed signed copies of her New York Times Bestseller "My Life in Full: Work, Family, and Our Future."
One of the business honors students who attended the meet and greet, Jaid Wazihullah '25 said, "I was so nervous to meet her, as she's part of the reason I went into business. However, as soon as we shook hands, I felt my nerves immediately fade."
At the end of the event, Wazihullah presented flowers to honor Nooyi.
"I learned so much about her, but I was surprised to see that she wanted to learn about me. I am honored that I was able to meet her and was one of the two selected students to thank her formally."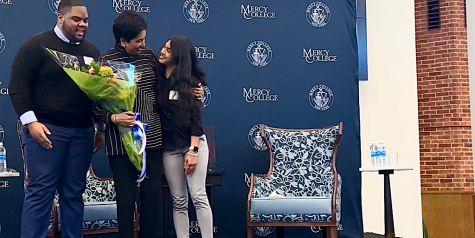 The meet and greet also served sandwiches and snacks to dine on. Nooyi is big on food. As CEO of PepsiCo and a mother, Nooyi wanted to incorporate more healthy food brands under PepsiCo's wing, such as a merging with the Quaker Oats Co.
"I didn't want people to think if food is good for you, it tastes like crap."
After introducing Nooyi to the audience, Mercy College President Tim Hall relished in the theme of success and debunking inequality to express Mercy's accomplishments. He said, "Mercy College awards more bachelor degrees every year to black students than Harvard, Yale, Columbia, and Dartmouth combined."
The audience clapped hard for Mercy's efforts and for Nooyi as they listened to her advice. The audience cheered the hardest when she firmly said, "If you were a really good mentor, you would be secure and allow someone else to take your job."
At the end of her conversation on stage, the audience was excited to question Nooyi on her life and her opinions on current world issues. Nooyi loved talking with the audience so much she even joked in comfortability about the Yankee's recent losses and her love for music (Nooyi was once a part of an all-girls rock band) brought up Woodstock!
Nooyi was clearly not all business. Although she is a powerful businesswoman, her humor had the audience giddy. She demonstrated all sides of herself to her admirers.
As she said in her conversation on stage, "I've never tried to pretend to be someone else."
Leave a Comment
About the Contributor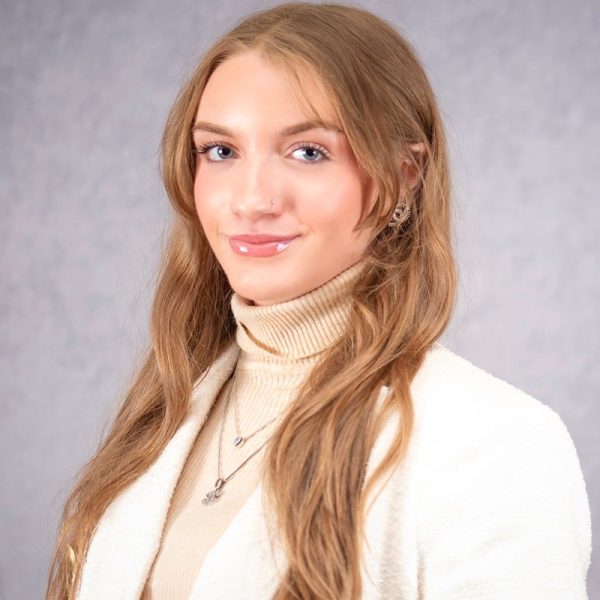 Alyssa Politi, Managing Editor
Alyssa Politi is a junior at Mercy University majoring in journalism and minoring in business. She serves Mercy University presently as the Director of...