OP/ED: It All Started With The Fearless Girl
In honor of International Women's Day this past March 8, State Street's Global Advisors temporarily exhibited a statue of a young girl, opposite the famously iconic Wall Street bull. According to the firm, the 50- inch bronze figurine was meant to serve as a call to encourage State Street's clients to hire more women into their corporate businesses.
But this statue quickly gained much more meaning than that. It has become a demonstration of female resilience, power and defiance to the world. As soon as the bronze beauty was set in place, thousands of people crowded around her in awe, taking pictures of their own source of power and confidence.
And then, with a few imitated thrusts, a young man in a suit and tie attempted to wipe the statue's symbolism and humbling humility away.
Architectural designer, Alexis Kaloyanides, snapped the picture of the man the day after International Women's Day, and posted it to Facebook and Instagram, writing: "Almost as if out of central casting, some Wall Street finance broseph appeared and started humping the statue while his gross date rape-y friends laughed and cheered him on. He pretended to have sex with the image of a little girl. Douchebags like this are why we need feminism."
Just as The Fearless Girl statue was fixated to represent female empowerment, the image of this man defiling her is a complete disgrace and is just another reason to keep the statue there indefinitely.
But as of now, this statue is only supposed to be a temporary fixture and according to Mayor de Blasio, will only remain upright until April 2.
Why should The Fearless Girl only stand tall for a month? It's not a temporary issue. It's been an issue since any of us can remember. Many women have said, "The significance of Women's equality should not be limited to a day, a week, or a month."
Margaret Thatcher once famously said, "If you want anything said, ask a man. If you want something done, ask a woman."
Neuroscientists have stated that there are instinctive differences in the way men and women think, but that doesn't mean men make better leaders, despite the fact that more men have secured many top leadership positions.
Women for centuries have been proving their strength, leadership and dedication and have fought for the rights we rightfully deserve. As if the Women's Marches following Trump's inauguration didn't voice enough, here are a few people I believe have been and continually are head-strong feminist leaders that we should take notice of:
Rosie The Riveter, though a fictional character, encompassed the female strength throughout the feminist movement. Representing women who worked throughout World War II, she is an empowering female symbol who still remains an icon to this day, reminding us of the incredible female efforts during the 1940s.
Betty Friedan, an American writer and activist who captured The Feminine Mystique in 1963, is often credited for sparking the second wave of feminism that began in the 1960s and 1970s. Friedan spent her life working to establish women's equality, helping to establish the National Women's Political Caucus, as well as organizing the Women's Strike For Equality in 1970, which popularized the feminist movement throughout America.
Sheryl Sandberg, Facebook's COO, is responsible for pioneering the "Lean In" movement with her 2013 book encouraging women to excel in the workforce. Through her conspicuous position at Facebook, her work with the Lean In Foundation and Women for Women International Board, Sandberg is forthright about the setbacks and inequality women face in the workforce. Most recently, she teamed up with Gloria Steinem to empower young girls following the 2016 election.
Barbara Walters was not only the first female co-host of a news show, but also became the first female co-anchor of an evening news broadcast for ABC News. Though at the time, she only earned half as much as her male co-workers. From the 1970s until today, Walters has paved the way for not only females in journalism but for women in the entire workforce.
Malala Yousafzai, is a courageous nineteen-year-old who rose to fame with her memoir, I am Malala, documenting her fearless journey as a young student fighting for access to education in Pakistan. Ever since, Malala has been traveling the world advocating for education rights for women and children through her foundation, The Malala Fund.
So why is this statue even being contemplated about being removed from its rightfully owned domicile across from the 11-foot bronze bull? This isn't just a battle we want to win to express feminism, it's also a constant reminder of our history, and a way for us to continue to strive to make the world a more female oriented lifestyle.
All of these ladies, and so many more not mentioned, have paved the way for females in not only the workforce, but in all aspects of our lives. They have dedicated their life to being hard working activists in hopes of changing the world.
Our world.
It all started with a young girl who felt inequality, sexism, prejudice, discrimination, and fear for her future.
It all started with the Fearless Girl.
Leave a Comment
About the Contributor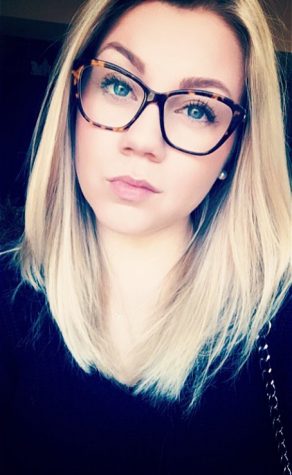 Laine Griffin, Associate Editor
Laine Griffin is from the one and only Washington D.C. and is a journalism major at Mercy College. Her hobbies range from playing sports, bartending, spending...