OP/ED TikTok: The Pros and The Cons
TikTok is taking over the world, and I'm not talking about Kesha's 2009 hit song. 
We all love a nice social media app that can bring both laughs and entertainment. That's why TikTok is so popular now. 
The famous app has become successful within the last few years, thanks to the younger generation. The big question, however, is whether or not this is a good thing.
It has quickly become the most downloaded app on the internet today, with 2.3 billion all-time downloads and 100 million active users in the US alone, according to an article by Business Insider back in August 2020. 
There are about 800 million active users worldwide, 41 percent of TikTok users are aged between 16 and 24, according to statistics on Oberlo.com. 
Other statistics include the average time being spent on TikTok per day in about an hour or more, and it is available in 155 countries. The average number of TikTok videos viewed is about 1 billion. In less than 18 months, the number of US adult TikTok users grew 5.5 times.
According to an article found on Medium.com, TikTok is originally known as Music.ly, was created by Bytedance, a Chinese multinational internet technology company headquartered in Beijing and founded in 2012. The app was later introduced as what it is known as today in 2017. 
It is a social media application in which users can create 15 to 60 seconds of short lip sync, comedy, acting, and talent videos with the available background music.
But is the use of a TikTok a good thing or a bad thing?
One major advantage of TikTok is that it serves as a great source of entertainment. With TikTok, users can dance, act, and expand their social circle. It's interactive, with creative challenges and dances people make for others to recreate and have fun with.
It provides steady enjoyable content. It keeps others entertained, especially during the stress of the pandemic.
Users have said they have learned more from TikTok than school, with creators using their platform to educate their audience about things we may have not known until now. 
According to a blog called Kinzoo, in some cases, the social aspect of TikTok may make young children feel included. Hashtags play a major role in TikTok. They make it easy for kids to find and follow content (and creators) that are of interest to them, which can also be negative in a way if a child clicks on the wrong hashtag, it could lead them somewhere you wouldn't want them looking. Though, there are a few safety and privacy settings that, when enabled, can make the app safer,  but like any social media platform, it's not possible to guarantee user safety. 
Users have the ability to connect and share with friends, and also make new friends no matter where they are in the world.
Now for the cons, allowing users to scroll through recommended videos is one of TikTok's most prominent features. Knowing this, it's easy to see how kids might be accidentally exposed to content that wasn't intended for them.
Viral "challenges" are big on TikTok. These can encourage dangerous behavior—like this "eye bleach challenge" described by Protect Young Minds.
It's easy to see how TikTok can contribute to harmful popularity contests among children. Social validation in the form of collecting views, likes, comments, and shares can have a negative impact on kids' and teens' self-esteem.
There's also a lot of bullying, users may think of it as a joke, but they don't realize how their comments can affect someone. I see with my own eyes, very harmful comments on videos. 
Another con being the amount of sexual content on the app. Several parents have raised concerns about inappropriate language and sexually explicit content. With challenges like, the "buss it challenge," and the "silhouette challenge," which is great adult content, but children may come across one of these videos. There's also the exposure of inappropriate songs. Let's be realistic, parents can't control what their kids are listening to 24/7.
While kids can make their account private so that only their friends can watch their videos and send them messages, there's not a whole lot of control over what other people post. On the Home and Discover pages, there are hundreds of thousands of public videos that can feature inappropriate ideas, suggestions, or images.
Yes, I know TikTok, is for 13 years and older, but let's not act like we weren't using popular Social Media apps at a young age too. I for one had a MySpace at age 9, though I had to share my account, I was still pretty young. By the time I was 12, I was using Facebook, and parents can only control so much on apps. 
I wouldn't allow my child to have one, even with safety settings, kids can still come across certain videos. 
There is also, suicide, which is a very big issue today. As stated above there is a lot of bullying through the app that can lead to suicide. There is also the spread of suicidal videos that go viral through the app. In a September 2020 article by CBS, a man originally live-streamed his suicide on Facebook in late August, but since then clips have been copied and spread across a variety of social media platforms, including, TikTok. That kind of graphics can trigger someone, or worse, give someone ideas. The last thing we want is to trigger the young audience. 
TikTok can also be very distracting, like all social media platforms, TikTok can pull you in for hours as you watch video after video. It can definitely be a distraction from homework, extracurriculars, and even social time with friends. Could TikTok be one of the reasons why kids have trouble staying focused in school? With school being online, kids are on their phones much more now. Thankfully, Tik Tok has a system in place to prevent kids from getting stuck in the app for long periods of time. 
TikTok is a great app, probably one of my favorites, but I can't help but think about the toxicity around it from time to time. Is this a healthy app to have?
Leave a Comment
About the Contributor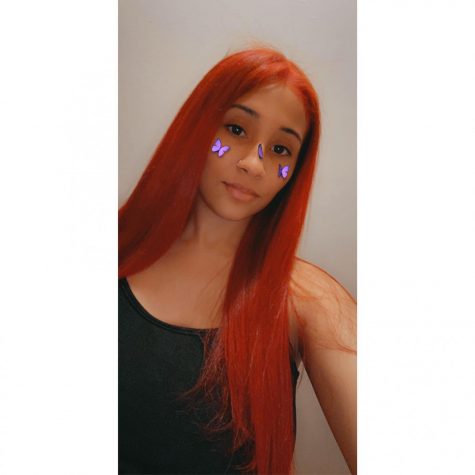 Amber Perez, Senior Writer
Amber Perez is half Puerto Rican and half Italian. She is currently residing at The Bronx, New York and enjoys listening to music and reading books about...