My First Time Trying Chick-fil-A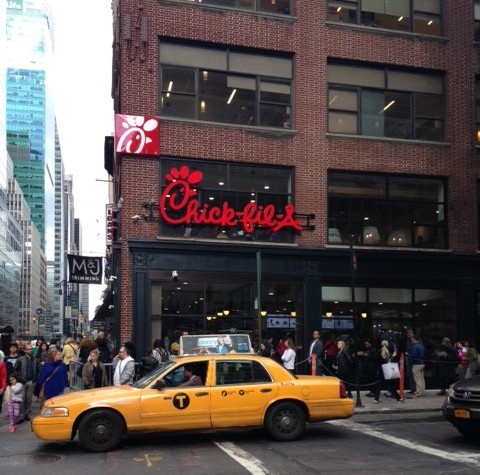 The first Chick-fil-A in New York opened its doors two weeks ago on 37th Street and 6th Avenue but, only now am I getting the chance to try their food. There's been quite the hype surrounding the fast food restaurant so I wanted to know why.
I'm always hesitant to go to grand openings because the lines usually wrap around the block, the workers are less than pleasant, and the food is just ok. But to my surprise, Chick-fil-A was the total opposite.
While the line did stretch half way down the block, it was moving constantly. While waiting to get inside, I had some great chats with my fellow New Yorkers.
An elderly woman wearing a bubble gum pink coat, stepped in front of me on line and turned around expressing her apologies. I didn't mind because I could tell she didn't mean to. So, I just let her go ahead of me. She turned around and asked "What is this for?" I laughed because she walked on a line and didn't even know why she did. I could tell that she genuinely had no clue why hundreds of people were waiting so I told her, "It's for some delicious chicken," and she giggled.
She was in awe of the scene. She kept looking behind us to see how long the line was getting. Every few minutes, people would cross the street, snap pictures of the line and head to the back of it to wait for their turn to get inside. The elderly woman was surprised by not only the amount of people but that they were exercising such patience. She said, "The sign says the wait is 10 minutes, but it will actually be 30 minutes."
The line was moving at a reasonable pace but she decided not to wait on line because she actually didn't want anything. My guess is she just wanted to be in the loop and know what was going on. We waved goodbye to each other and she disappeared into the sea of people trying to beat rush hour.
I started chatting with two young ladies who were standing in front of me. They told me that they tried Chick-fil-A before and they just had to come back. Since they were experts on the food, I asked them for suggestions on what I should try. After pointing to practically all the items on the menu, one of the girls said, "You really can't go wrong with anything."
I didn't want to order the whole menu and end up not liking the food so I started small. I ordered the Chick-n-Strips and Waffle Fries.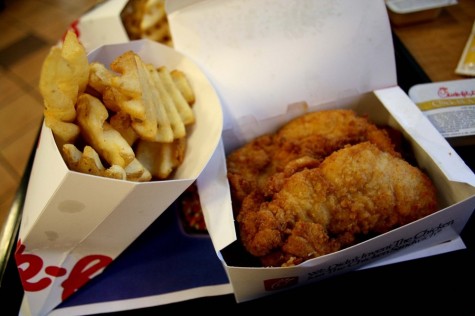 A Chick-fil-A employee who was carrying an iPad like device asked for my name and took my order once I reached inside. The noise inside was insane. It was as if someone turned up the volume on a stereo to its highest, and forgot to turn it back down. Customers giving in orders, cashiers opening and closing cash registers, managers helping to assist the flow of traffic. But, it was an organized environment. All the employees knew what they had to do and were following through on assisting each customer's needs.
After the young lady took my order, she handed me a ticket that said, "Please proceed to the GREEN register." Another Chick-fil-A employee motioned for me to skip the line because register green just had one person. I felt like I was a part of V.I.P. and get to stroll pass those on line who were waiting forever. Or better yet, like Beyonce! (I'm just kidding guys).
Once I got to the register, the cashier asked if I was Shantal and I said "Yes." I paid for my food and he handed me my bag almost instantly. I opened the bag to take a peek and to make sure I had everything. I couldn't believe that the process went so fast. I didn't have to wait long on line (10 minutes max). My food was at the register when I approached it and I was out the door.
So, my first thought on the food is that it's really good! The waffle fries were warm, soft in the middle and crunchy on the outside, and lightly salted. The Chick-n-Strips were tender and well-seasoned. They have a distinct taste from other restaurants which I really like. I can tell that they use a specific seasoning but I can't put my finger on which one that is. The Chick-fil-A sauce is a must have with the chicken strips! I have to go back and try their chicken sandwiches and frozen lemonade. All in all, I'm glad I took the time to wait on line and try Chick-fil-A's food. I could say it was worth the hype.
Leave a Comment
About the Contributor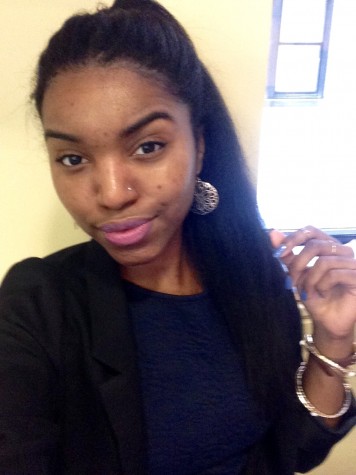 Shantal Marshall, Associate Managing Editor
Shantal Marshall is from Brooklyn, New York and majors in journalism at Mercy College. Her hobbies include reading O magazine, listening to music, and...