Zendaya Criticizes Fashion Mag For Retouched Photos
First off, let's start the hashtag "ZforZendaya" because she's amazing.
Early this morning, I was scrolling through my Instagram feed and saw that Zendaya Coleman (actress/singer/dancer) posted a photo from a shoot she recently did with Modeliste magazine. The fashion magazine had published a retouched version of the photo, showing the rising star with slimmer legs and torso. Zendaya took to her Instagram to address the issues she had with the photograph.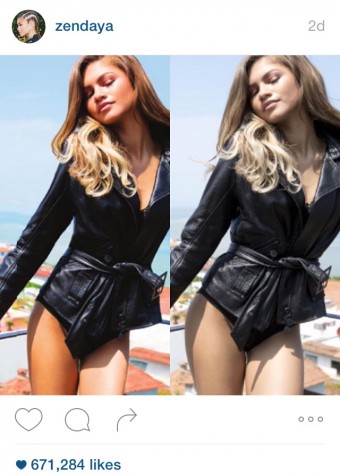 "Had a new shoot come out today and was shocked when I found my 19- year- old hips and torso quite manipulated," she expressed to her 13.9 million followers. "These are the things that make women self-conscious, that create unrealistic ideals of beauty that we have. Anyone who knows who I am knows I stand for honest and pure self-love. So I took it upon myself to release the real pic (right side) and I love it."
I read her comment and said, "Yesssssssssssss!" out loud because Zendaya handled the situation perfectly. She has the ability to address an issue sternly, without coming off as disrespectful. She understands that as a celebrity, all eyes are on her 24/7, especially young girls who may look up to her as a role model. I like that even though she's a highly profiled star, she makes it a point to remain humble and show girls that it's important to love yourself the way you are.
I'm disappointed in magazines that retouch celebrities in photos and change their physical appearance so drastically. While I understand that retouching is used to enhance celebrities' features and make them look better, it wasn't true in this case. When I looked at the unretouched photo of Zendaya, I saw nothing wrong with it. She looked confident, empowered, and stunning. I took a look at Modeliste's previous covers to see who they featured on them prior to Zendaya.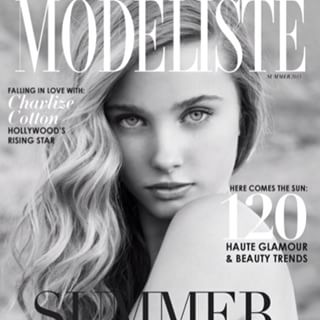 I tried to think why Modeliste would change the photo and could only think of two reasons. The magazine may have been used to retouching other models or celebrities that graced the cover and saw nothing wrong with their actions. Or, only one form of beauty has been shown on their covers and they have not yet realized that beauty comes in different varieties. In my opinion, the standard of beauty that some magazines uphold can send the wrong message to its readers.
Earlier in the year, Zendaya once again had to address the media. In February 2015, she had to deal with the comment that E!'s Fashion Police host, Giuliana Rancic made regarding her Oscars' look. " I feel like she smells like patchouli oil. Or weed. Maybe weed?"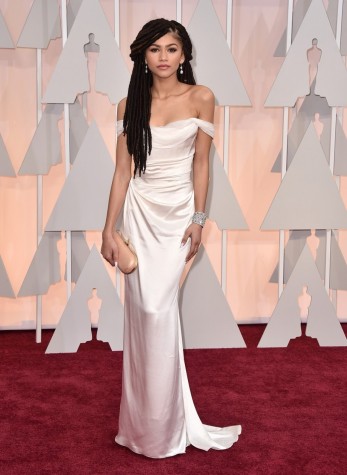 I missed the episode of Fashion Police when it premiered live but learned about what happened on social media soon after. When I heard about what Giuliana said I was absolutely baffled by her words. Why would she ever think that was okay to say? Is there no boundary for freedom of speech? Zendaya handled the issue like a pro. She released a statement on Twitter that read: "There is already harsh criticism of African American hair in society without the help of ignorant people who choose to judge others based on the curl of their hair. Me wearing my locs on an Oscar red carpet was to showcase them in a positive light, to remind people of color that our hair is good enough." It was easy for Zendaya to lash back with anger towards Giuliana but she didn't. She took the time to develop a well thought out and intellectual response to show the world that you don't have to be rude to get your point across.
Even though, Zendaya is younger than me, I look up to her. Usually, my role models are older than I am but in this case, age is just a number. Zendaya shows that at any age, you can teach. She showed that it's perfectly fine for celebrities, actually anyone in general to embrace their curves and whatever makes them, them. And to let people know when they cross the line and address them in a respectful manner. She's showing people, especially young girls that self-love is the most important. It starts from girls looking in the mirror and being happy with who is staring back at them. Loving every inch of yourself is not easy, it's definitely a process. Personally, I don't love every feature about myself when I look in the mirror but time has made me accept myself more and more. It's impossible to love everything about yourself but if you learn to embrace all of you, you're on the right track.
My disappointment subsided with magazines (for now) when I learned that the editors at Modeliste removed the retouched pictures from their website, after Zendaya voiced her opinion. According to the NY Daily News, Editor-in-Chief Amy McCabe promises to publish the unedited photos from the magazine shoot. I loved hearing that they took responsibility for their actions and plan to do the right thing.
In the future, I hope more beauty and fashion magazines, actually magazines in general will take this as a lesson. It's okay if celebrities grace their covers unretouched, that's showing the world that what they look like is just fine and no computer software is necessary to change them.
Leave a Comment
About the Contributor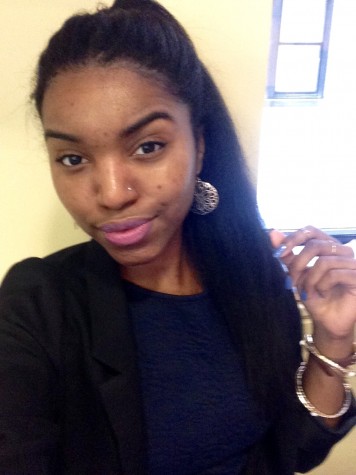 Shantal Marshall, Associate Managing Editor
Shantal Marshall is from Brooklyn, New York and majors in journalism at Mercy College. Her hobbies include reading O magazine, listening to music, and...