Our Struggle Makes Us Better
My mother is one of the strongest people I know. She has endured a lot of struggles throughout the years but she never gives up.
At the age of 21, my mother's life changed when she had me. Getting pregnant at such a young age was not easy for her because she did not know how to tell her parents. In order for me to get a better life as I got older, Mom moved to Antigua and Barbuda. During her time there, she worked odd jobs like working as a gas station attendant and on a farm to make ends meet. Any money she earned, she would send it back to Jamaica to take care of me and her family.
After moving back to Jamaica, my mom had to move again. This time she moved to England permanently, where their would-be better opportunities for her to support her family. She is a strong minded and determined person because providing for her family was her main priority.
Moving and settling into a new country wasn't easy for her. It was difficult for her to keep going, but her family was her motivation. She had to work at jobs that most regular citizens wouldn't do because she was an immigrant in another country.
I was able to move to the United States after my grandmother filed for me, my brother, father and two aunts. When we first arrived in the United States everything was new to us. We had to acclimate our self to a new country and culture. We had to make ends meet until my father and two aunts were able to get a job.
Leaving my family and friends at the age of six to move to the U.S. wasn't easy because that environment was all I knew. My family and I lived in the Bronx for the first year of our stay in the U.S. I went to P.S. 70 for my first year of school in a new country. I was able to meet a lot of friends, but I ended up having to move again. We moved from the Bronx because our apartment was too small for the seven of us. This time we moved to Queens and that's were we have been ever since.
Being so far away from my mother was hard for both of us. I was able to keep in contact with her over the phone, but we didn't have smart phones to communicate face to face.
In 2011, I was able to see my mother and my little brother for the first time in 10 years. The first time I saw my mother I didn't recognize her because it was my first time seeing her since I was three years old. That two months we spent in Jamaica for the summer was memorable because we were able to catch up on all the times we didn't have with each other. During that time, we were able to create a strong mother-son relationship.
At the age of thirteen, I didn't really know how to put into words how I felt about my mother leaving me at such a young age when she first asked me in Jamaica. However, as I got older, I knew that she did the right thing because all she wanted to do was to provide a better life for me and her family. Every parents goal is to give their child a better life than what they had and that's what she did.
Over the years some of the sacrifices my mother had to make was some of the most memorable moments in my life. She wasn't able to attend my graduations in elementary and middle school because at that moment her immigration status in England wasn't sorted out.
This year was going to be her first time seeing me graduate in person, but the current pandemic has put a pause on that plan. However, she will still be able to see me graduate when Mercy College host a virtual graduation and she'll be at the actual in person ceremony to see her oldest son accomplish a big milestone.
As I am about to graduate college, everything I am doing I want my family to be proud of me because everyone played a crucial part in the person I am today. In the future, I want to be able to get my family anything they want because we came from humble beginnings.
All the trials and tribulations my mom faced during her journey made her the person she is today. The struggles we face in life are put in front of us to show us how strong we are. We are thankful for everything we have because gratitude is a must.
"Every struggle in your life has shaped you into the person you are today. Be thankful for the hard times, they can only make you stronger."– Unknown
Leave a Comment
About the Contributor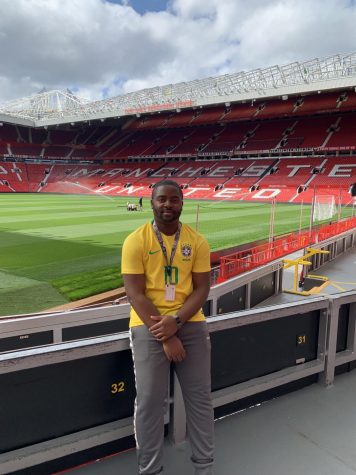 Chevaughn Hurst, Impact Staff
Chevaughn Hurst is a senior majoring in media studies with a concentration in journalism. He grew up in Jamaica and migrated to the United States at the...