Students Have Depression, And Sometimes We Don't Know Why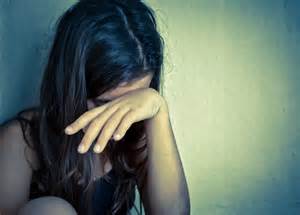 Depression is a serious illness that can affect anyone and can produce into something worse if not properly treated. As college students, the stress of obtaining good grades and making it into the cool kid's crew sometimes can be the least of your worries.  Watching shows like The Fresh Prince of Bel Air and movies like Mean Girls can draw a false perception of what school life is actually like for the everyday student. Many young and mature adults that fill the seats of a college class room are parents, single parents, soldiers and people who experience the issues of everyday life.
"I quit my career and ended a long term relationship because I couldn't understand that I was struggling with depression," said Diana, a junior majoring in business while looking around at the students in the Manhattan campus library while finishing up her sentence. "My whole family would pride themselves on being strong. Admitting or even thinking I was suffering with depression would have only made me appear to be weak."
Diana is now 23 and would have graduated last May however, after months of unknowingly suffering from depression she was unable to attend classes and eventually flunked out.
"I felt so sick, but physically nothing was wrong with me. I'd stay in bed sleep for 15 hours straight some days but somehow always seemed tired."
Diana looks down at her textbook, then looks me straight in the eyes. "I remember telling my mother I was depressed, her exact words were black people do not suffer from that," said Diana as she looked back at her textbook. "I wanted to go to class. I missed my friends but I was lost somewhere in my mind and being around people only made it worse." Diana now takes medication to help her socialize better with others, however, it was after cutting ties with everyone she had known and almost causing physical harm to herself.
"The worst part is I don't have anyone to thank but myself, I helped save my own life."
Diana now hopes to help others who are going through depression.
The rate of college students have increased by thirty percent within the past three years. The amount of tuition has also increased for institutions and colleges within the last year making it that much harder for students and families to afford an education. Working full-time and attending classes has become the everyday normal for many. This is something Malik Harrison is all too familiar with. "My mother works a minimum wage job to support my three siblings,  so not working is just not an option for me," says the college junior of Mercy College.
His is currently a sales associate at a T-Mobile store and hopes one day to run his own company. Malik smiles as he explains more in depth about his responsibilities and the day to day task of a sales associate. "I almost didn't make it. I almost didn't get the job," Malik states that he started experiencing anxiety late last year around the start of his junior year. "I had picked up this job full time and was enrolled as a full time student, the pressure was hard, T-Mobile is very strict about sales and it left me little to no time to do my homework."
Malik laughs as he describes a time he was sent home by his professor, "I literally just fell asleep in his class, and funny thing is I didn't even know I was tired." Malik states that after only two months of working at T-Mobile he had started to experience a lot of anxiety but didn't know what it was until one afternoon his manager had to call the ambulance because Malik could not breathe.
"I had no idea what anxiety even was, I knew I was stressed but never overthought it, I would just tell myself this is life and I have to just push through it."
Pushing through it and something that cannot fix the issue, unfortunately anxiety and depression does not heal itself. As many young adults may assume, this illness is way more serious than many people portray it to be. Depression can affect any and every one. This is something Jamil Lake is very familiar with.
"I took off a full year after my sophomore semester because depression took over my life and damn near ruined it," says Jamil, a senior majoring in sociology. "It was days when I just couldn't get out of bed. I'd sleep for thirteen hours but somehow still be extremely tired."
Jamil recalls this time in his life being the absolute worst but also an eye opener. "I gained so much weight, quit my job and even deleted my social networks, watching others happiness just feed the depression and made it that much worst."
When asked about his parents support during this ordeal, Jamil choose not to comment but did say they were not supportive. "My father lived most of his life in and out of jail because of the reckless mistakes he choose to make, and my mother stood by him. In their eyes I was just being dramatic. There was nothing to be depressed about."
Depression lurks in the inside and can surface when you least suspect it. If you are any students you may know are suffering from depression, anxiety or just need someone to talk to please contact student counseling services on your campus. Remember, not reaching out or seeking help is the worst thing to do.
Leave a Comment