TRE!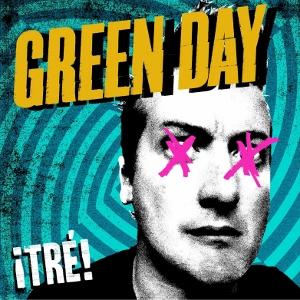 On December 11,2012  Green Day released TRE!  their third of the three album trilogy called UNO!, DOS!,TRE!. This is the grand finale of the trilogy so it's an overview of old and new Green Day. I bought this cd after work on Tuesday this is definatly better than the second and just as good as the first, it's an epic finish to this trilogy. I'm going to do what I did last two times I'm going to go track by track.
Let's start it off, track #1 is Brutal Love, picking up where the last album left off with another nod to Sam Cooke, but this song is beautiful too and a great feel to it/
Track #2, Missing You, is a song you can relate to, it has the feeling of missing someone you care about and you feel like nothing without them and it's brutal to be without them it's unbearable.
Track #3, 8th Avenue Serenade, this song is kinda cool with an old feeling mixed with some new vocals and is a good singalong serenade for the album.
Track #4, Drama Queen, yes you Drama Queens finally have a song about you, this song has been around for awhile though, I remember when I saw Green Day back in 2009 at Madison Square Garden at the end of the show Billie Joe Armstrong came out and did this song by himself, that was the first time I heard this song and it's pretty cool.
Track #5, X-Kid, this song asks where did the time ago and what happen to the good old days, I hear this song I think about surfing and good times. This song is an awesome catchy tune. One of my favorites.
Track #6, Sex, Drugs and Violence, reminicent of Nice Guys Finish Last from Nimrod with a title that is like Blood, Sex and Booze from Warning and Bassist Mike Dirnt has a vocal part on this track.
Track #7, A Little Boy Named Train, this song is a definate hang around song.
Track #8, Amanda, this is the 3rd song in the trilogy to feature a girl's name, this song is actually really cool and is kinda surf rock like.
Track #9, Walk Away, this song is like a walk on the beach, it captures your heart and makes you think a lot about past, present and future and if you should do the right thing or at least try.
Track #10, Dirty Rotten Bastards, I feel this could be a drunk fighting song, all it's missing is some bag pipes and it could be a St. Patrick's Day song. My senario for this is sitting in an Irish Pub watching a soccer game, getting plastered and singing alont to this song.
Track #11, 99 Revolutions, this has to be my other favorite on this album, this song was featured in The Campaign, Starring Will Ferrell and Zach Galifanakis, this song is kinda reminicent of American Eulogy from 21st Century Breakdown. It sounda like recent Green Day. This song would be an awesome closer in live shows and It actually is.
Track #12, The Forgotten, okay Twilight Saga fans this song is for you, this song is featured in the recent and final installment of the Twilight Saga: Breaking Dawn Part II. This song is also the single off of this album. It's a beautiful song to end the whole trilogy with. This song definitely hits home and the heart. It's definitely a powerful song.
This album is a definite must buy, if you're a Green Day Fan this belongs in your collection. Even though right now Green Day had a few bumps in the road with Billie Joe Armstrong going into rehab, but once he gets out they are going to tour the country ready to go and show everyone that they still got it. It has been fun doing this and reviewing the albums of the band that I love and that has inspired me to be a musician. Feel free to leave comments below, Thanks.
Other Green Day Albums: 1039 Smoothed Out Slappy Hours(1990), Kerplunk (1992), Dookie(1994),Insomniac (1995), Nimrod (1997), Warning (2000), International Superhits (2001), American idiot (2004), Bullet in A Bible (2005), 21s Century Breakdown (2009), Awesome as F*** (2011), Uno! (2012), Dos! (2012), Tre!(2012).
Leave a Comment