Six Flags Fright Fest: Thrills-By-Day, Fright by Night!
Every October, Six Flags: Great Adventure hosts possibly the greatest Halloween scare experience of the season – Fright Fest.
Every weekend in October Six Flags offers family-friendly thrills by day where you can enjoy and experience the Halloween fun. But after the clock strikes 6 p.m.,it transforms into an epicenter of horror.
All the roller coasters are available to ride in the dark which attributes to the ominous atmosphere, ghouls and monsters roam the park trying scare you, and there are even certain attractions and haunted shows that open up specifically for Fright Fest.
Possibly the most popular of the Fright Fest attractions were the terror trails, which were haunted houses in various places all throughout the park that were categorized by scariest to least scariest.
Of course my friends and I went for the scariest places first, so we started out with the terror trail called 'Total Darkness'. It was about a 45 minute to hour long wait, but it was worth it. My four person group, along with the other Fright Fest goers,  were given a long rope and instructed not to let go at any time during the trail. they also assured us that the "ghouls" in the attraction would not touch us, and asked that we please not touch them in return.
As we made our way in, I noticed that the trail name had been taken quite literally as we were submerged in "total darkness." What made this trail so scary was the fact that it was completely pitch black – one couldn't even see his or her hand in front of their face, let alone the ghouls and monsters whispering in ears and hollering scary phrases.
As the trail neared its end and everyone was beyond ready to run out of there, I saw a worker who was posing as one of the ghouls and decided to ask him a few questions.
"Halloween is my favorite. I work here every year," said the ghoul, who preferred to remain nameless. "I get real pleasure out of scaring folks and seeing the look of horror on their faces, getting paid to do it is just a bonus."
He's not the only one who enjoys scaring an unsuspecting bystander – as you walk through the park going from one attraction to the next, you'll find numerous bloody men with chainsaws and creepy little girls hiding around every corner. Some of the people out scaring weren't even workers, but just people here for the experience that wanted join in on the fun.
Another part of the Fright Fest experience are the haunted shows. My friends and I did have the chance to catch one on the way out. It was on a giant stage in the middle of the park where a man called a young girl up to climb on his back while he stepped on thousands of shards of broken glass.
The man himself was around 250 lbs. and girl who climbed on his back was around 130 lbs, so you can only imagine the immense pressure on this man's feet as he carried the girl across the broken glass, terrifying to watch, but entertaining nonetheless.
Fright Fest is without a doubt a classic scare experience that people of all ages should take part in. Although it is closed for the rest of the season, next year it will open its doors just like the year before to scare all that dare to enter. So if you do decide to join in on the fun… beware the ghouls!
Leave a Comment
About the Contributor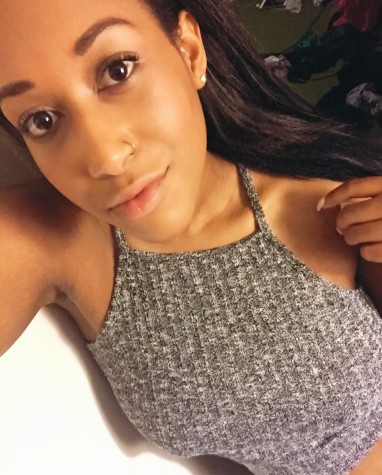 Brittany Lee, Staff Writer
Brittany Lee hails from Cortlandt Manor and attends Mercy College as a journalism major. Her hobbies include reading, writing, sleeping, Netflix, and enjoying...