'Lemonade' Is A Refreshing Listen
Beyoncé is known for her hit albums, as well as throwing new unannounced albums out and making a fortune off of them. This time would be no different.
In April all you heard about was Lemonade, and Beyoncé and Jay-Z's relationship status. Personally, I'm not the biggest Beyoncé fan. I know a few songs, but not enough to fan girl over her.
Beyoncé had released her newest album entitled, Lemonade, in late April and fans known as the Beyhive, went pretty much insane over this new record.
Since there was so much talk and controversy going on about this album, I decided to give it a try, and listened to the album Lemonade, and it was pretty powerful.  This record was Beyoncé's way of putting all of herself out there and being not so subtle about her relationship with artist/rapper Jay-Z.
The most popular song according to iTunes, on the record is "Sorry", which is the song that has caused the most controversy. Mainly because of the lyric, "He better call Becky with the good hair." Which most people assume is a reference to Jay-Z's alleged affair with Rachel Roy.
This was the song that sparked all the controversy and rumor talk about this alleged affair. Rachel Roy has denied said accusations of being "Becky with the good hair" but they Beyhives are still accusing her of being "Becky" and leaving nasty comments on her social media accounts.
Another song that that is fairly popular on the album is "Formation" which Beyoncé released prior to releasing her album. She performed this song at Superbowl 50 along with Coldplay who were the main performers, as well as Bruno Mars.
Formation is one of the more popular female anthem songs on this record. The song embraces black female empowerment more than anything.  The song discusses women banding together and getting things done themselves and not relying on a man to do anything.
Banding together, and working hard and throwing up a middle finger to all the haters out there to which she references at the end of the song, "always stay gracious, best revenge is your paper." She won't let any one take her down, and this song proves this clearly.
Moving on from female empowerment and songs you can sing along to in the car, to female vulnerability. Beyoncé gives a hair-raising performance with "Sandcastles" proving that she is just like the rest of us. Yes, even celebrities get their heart truly shattered, and she shows that through this song.
This song is the breakup ballad that each artist has after having all the empowering songs showing they are okay. In this song, you can hear Beyoncé's voice crack with every word which makes it all that more powerful. The lyric's "we built sandcastles, that all washed away" that allegedly represent her and Jay-Z's relationship, that was damaged because of his alleged cheating with Rachel Roy and maybe a few others.
Lemonade is an album that has it all, female empowerment, female vulnerability, and is full of emotions. A great way to get through a rough break up or even just to get your self-esteem up. A few powerful songs from this record will help you get through the tough times. In the words of Beyoncé  "Always stay gracious, best revenge is your paper."
Leave a Comment
About the Contributor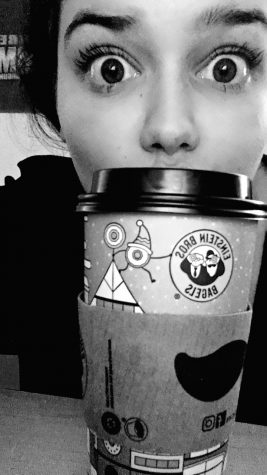 Weronika Raczek, Digital News Editor
Weronika is majoring in Media Studies/Radio and Television Production at Mercy College.

Her hobbies are obsessing over television shows, mainly Supernatural...