'Get Out' Takes Meeting the Parents To A Horrifying Level
It's always refreshing to see someone take the horror genre seriously. The fine art of mastering the perfect fright has become a rare find in today's films of predictable scares and weak plot lines meant to fool the viewer into thinking that what they just watched was, dare one say, "scary."
Loud sound effects have become the stand in performers where characters and setting once translated terror right through the screen (The Shining) and permanently into the minds of audiences, subdued until waking at precisely the right moment, when one finds themselves alone. Jordan Peele's Get Out isn't one of those fright depleted films. The scares are there and they aren't cheap. They come at the expense of a protagonist trapped on a hypnotic and terrifying journey through the lens of horror.
But he is facing something a little different this time. And what's waiting inside is something truly terrifying.
Best known as one half of the sketch comedy duo Key & Peele, Jordan Peele's The Art of the Social Thriller, a series of horror films running from Feb. 17 through March 1 at the Brooklyn Academy of Music (BAM), is the precursor to his directorial debut of Get Out. The film, which hit theaters on Feb. 24, accompanies the series of movies, all of which have been influential in its production. On Feb. 19, Peele who cites Rosemary's Baby (1968) and The Shining (1980) as primary inspiration, premiered Get Out at BAM and held an audience Q&A after the sneak peek, in which The Impact was in attendance.
To say the debut of the film was only well received by the crowd would be an understatement.
Peele, who says he started writing Get Out as a "passion project" shared with audience members that he wanted to make a film in the spirit of one of his favorite movies, The Stepford Wives (1975). The similarities are there, however, Get Out prides itself on putting the spotlight on a subject that is sure to have everyone talking.
"This movie is about the monster of race and how it manifests itself," Peele said at the premiere. "I wanted to make a movie about race that is also entertaining."
He succeeded. Audiences will not only get an interesting look at racism as horror, but Get Out will be as surprisingly funny as it is frightening. Peele's take on the prejudices of society does not hold back. He presents them on the screen for everyone to confront at the same time.
In regard to plot, most can tell you it's never easy meeting the parents of a significant other. Especially Chris Washington. Chris, the protagonist in Get Out, is a young man on his way to meet his girlfriend Rose's parents for the first time. Chris, portrayed by Daniel Kaluuya, is apprehensive because Rose, Allison Williams (Girls), has not told her parents that he is (gasp!) black. Rose, who is (gasp again!) white, does her best to reassure Chris that her family is not racist.
Though she is able to comfort him, life at the Armitage household still seems to be a bit off to Chris. It's not giving away too much to say he's on to something. Surrounded by aloof servants, who one just might catch staring at them a little too creepily, or better yet running towards them at full speed in the middle of the night, and guests who enjoy passing the time with macabre games of Bingo, what follows is an unsettling mix of Guess Who's Coming to Dinner (1967) and Night of the Living Dead (1968). One that will leave viewers never looking at a cup of tea the same way again. Quick! Wake up!
Kaluuya and Williams both deliver genuinely solid performances while Katherine Keener (Into the Wild) and Bradley Whitford (Brooklyn Nine Nine) serve up sinister performances perfectly disguised as a welcome platter. Perhaps the two stand outs of the film, however, are Caleb Landry Jones who plays Allison's younger brother Jeremy, and Lil Rel Howery, who was also in attendance at the premiere, as Rod, Chris' best friend. Jones single-handedly redefines creepy for 2017 and Howery provides the majority, if not all, of the comedic relief.
In addition to laughs, the premiere of Get Out brought audience members to a steady flow of screams and gasps. Incessant cheers for the protagonist also filled the theater often making it easy to miss the following lines of the actors. This was ok. In his mix of suspicion and violence, Peele provides what all good horror films need. A hero.
Though plans may not always work out while battling the way back to sanity, the heroes of Get Out, yes heroes, have audience members of all races collectively pulling together in support as if they could climb right through the screen and save the day. This is the power behind what makes the film so entertaining as the audience remained involved. Near the close of the Q&A, Peele addressed that what he ultimately wanted people to acknowledge about his movie was that prejudice is not one sided, but exists on many sides.
Jordan Peele's Get Out is an entertaining ride that takes the horror genre and spins it on its head. The idea of presenting racism as horror doesn't seem so far-fetched, but what makes Get Out stand out is Peele's timing and attention to the art of the scare. Get Out becomes more than just a movie about race. It continues the respect for its genre and is fueled by a natural support for the underdog. What's left is a stadium-like camaraderie with people you've never met before. You'll be cheering along with the person right next to you.
Who are these people, anyway? It's as if we've all had something in common all along.
Leave a Comment
About the Contributor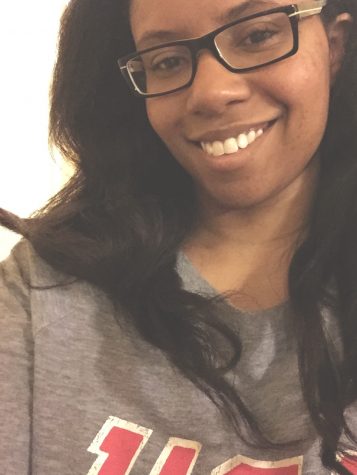 Christine Coleman, Staff Writer
Christine is an English major at Mercy College who is also minoring in Journalism. In her spare time she enjoys writing, dancing, movies (usually scary...