Second Annual Theatre Showcase Sparkles At The Irvington Theater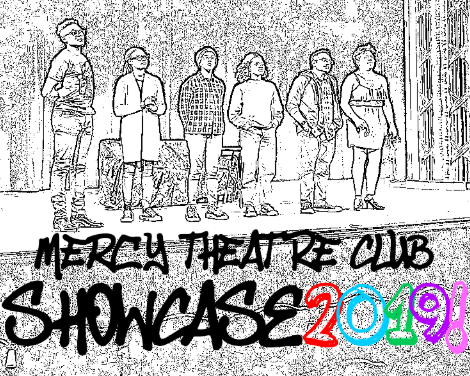 Curtains open and the lights are illuminating. The eager crowd is ready for showtime.
On April 15, the Irvington Town Hall theatre was filled with friends, sports teams and family of the theatre club students from Mercy College perform their second annual showcase. On April 15, fifteen of the Mercy college theatre club returned to work on and behind the stage at theatre to the beautiful Irvington Theatre for their second annual showcase.
The students performed a variety of one act plays as well as music performance from the Mercy College A Capella club.The theatre club advisor, Prof. Marc Palmieri, whom worked in collaboration with Greg Allan manager of the Irvington Town Hall Theatre to make the beautiful night happen. The students put together a show full of scenes, one act plays and song performances that left the audience full of applause, laughs and tears.
This year's show was different from last year's performance ,which was mostly made up of one act plays and monologues.
"Last year, I thought it would be best to build the show on both short scenes and monologues so that the actors could show what we work on in the club. Again, it was terrific," Palmieri said. "We decided to take one small step forward for this year's show and say we want just short, self-contained, one-act plays that could be up to eight to ten minutes each. We've expanded a bit and are including more students," Palmieri said.
Palmieri has become a mentor to these students. Having multiple rehearsal during the last few weeks to make sure the showcase reaches its full potential. He was very proud and please with how everything came together in the end.
"We are so delighted to be at the Irvington Theatre once again for our second annual showcase and more excited to have even more students perform. I am very proud and think the show went fantastic," Palmieri said.
The musical performances were done by Mercy College's A Capella club in between scenes. Individual students sang songs such as "Journey to the Past" from Anastasia by Dana Meade, "Don't Rain on My Parade" from Funny Girl by Cora Small and "On My Own" from Les Miserables by Natalie Meyer. They also did amazing group ensemble performances such as "By My Side" from Godspell by Emma Giannini, Matt Lombardi, Meyer, Cora Small and Meade while the Acapella Club performed a harmonic version of "I Dreamed a Dream" from Les Miserables. The club consists of Cora Small, Dana Meade, Matt Lombardi, Emma Giannini, Neena Joseph, Brian Russel, Jack Seda-Schreiber, Linda Thomas, Jenna Conti and Rachel Zheng.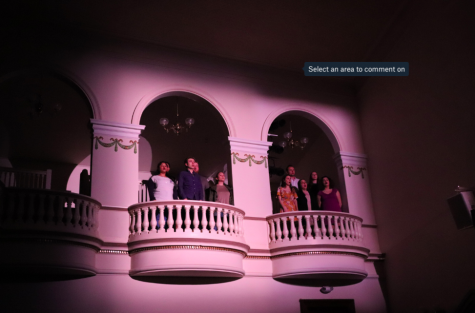 The audience roared after each one of the talented singers performed and the music kept up the overall paste of the show.
A monologue from The Marriage of the Bette and Boo by Danielle Muscente was fantastic, as was Down to Sleep by Nicole Gordon and Angelica Campoverde
Perla M. Perez Santiago, Amy Acosta and Rhorgino Flores performed in a comedic one act scene called Three Confessions by John Painz. The scene depicted three friends whom have a confession to tell one another and who's secrets end up intertwining with one another. The audience chuckled and laughed at their one line punches and the actors showed a lot of fun friendly chemistry with one another.
"This was my first time performing so I was very nervous and this experience has been stressful and a lot of hard work but I think with the help and support of Palmieri and the club members we were able to pull of a great show,"Santiago said.
Angelica Campoverde and Jonathon Delgado performed in a one act scene called Oh Happy We by Stephen Kaplan. The scene was about this old women who won't leave this lonely man alone and tries to comfort him with her sense of humor and wisdom.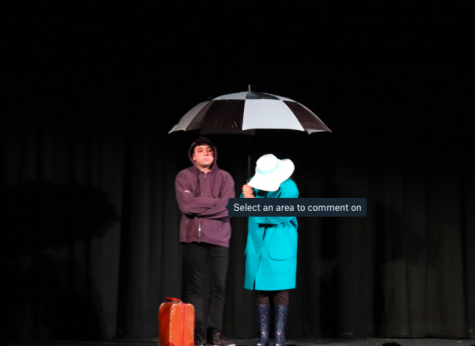 "I imagined all the strong women figures that I have been lucky enough to know and have in my life. I knew my character had to be wise and compassionate so I tried to embody those attributes so it could reach the audience.. I honestly think both Jonothan and I did our very best," Campoverde said.
The whole cub worked long rehearsal hours to make the show possible.
"We went from rehearsing one time a week, to twice a week, to three times a week.. it was worth it though because we made a good show now we can all focus on school," Campoverde said.
Angelica Campoverde, Jonathan Delgado performed Oh Happy We, while Down and Out was performed by Perla Perez, Johnny Aperano Yoba, Danielle Muscente. Nicola Gordon and Johnny Aperano Yoba performed in How'd It Go.
Mikayla Newham and Reeyaz Bettencourt closed the show with her performance in the final act, Tim Eless Private Eye by Stephen Kaplan. The scene resemble an old 1930's movie about a private eye with memory loss. Newham's character had a plot to murder Tim Ellis her ex finance who left her at the alter. The two performers had good word play, humor and chemistry on stage that made the audience laugh more than once.
Once Newham surprised the audience with a gun the crowd we crazy. Then she was shot but Bettencourts whom also whipped out a pistol followed by him completely forgetting what he did. It was the perfect refreshing blend of drama and fun comedy.
Newham was cheered by her softball teammates and family members who came to support her.
"This whole experience was a lot of fun but I think my favorite part was that my family and teammates surprised me and came to support."
Leave a Comment