Joaquin Takes The Stairs As The Newest Joker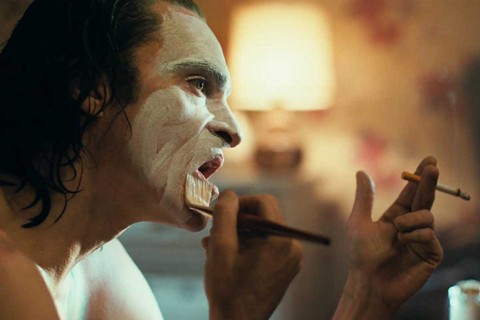 "The worst part of having a mental illness is people expect you to behave as if you don't."
Joaquin Phoenix is astonishing as Arthur Fleck in Joker.
Mastermind filmmaker Todd Phillips takes one of DC's classic villains, whom we've seen many on-screen versions of over time, and he starts from scratch. He removes all the bells and whistles and brings the audience back to 1981. No version of the Joker has ever seemed quite this mad, yet his suffering exercises emotions in viewers like none ever before in the "superhero" genre. And over all his subtleties, it is Phoenix's laugh that is most traumatizing.
This film is dark, painful, and compelling. It thoroughly cultures us before it throws us into the action. To watch so closely a self-destructive movement toward clinical madness is a rather taxing experience, yet we continue to pull our hands from covering our eyes to watch Phoenix as he unveils a new Joker persona during the making of a villain.
It's been said that the role of the Joker is cursed; that the method acting involved in this portrayal has its habit of taking a toll on those who wear that infamous smile. Phoenix is unrecognizable in the very best way. He shifts through contentment, credulousness, depression, mania, love, terror, comedy, violence, and innocence. His dedication to the craft amongst modern actors may have no equal.
In the film, Fleck is a struggling comedian who battles mental illness, heartbreak and despair amidst the realities of an impoverished Gotham City. Disassociated from reality, his lack of identity allows him to create a new one.
From the first version, throughout the lengthy timeline of television shows, cartoons, and film portrayals of the Joker, we've seen the 2019 version of the character change drastically.
In 1966, Cesar Romero was the first on-screen Joker in Adam West's Batman. To bring comics to life, the costumes, makeup, music, and actions were over-the-top, theatrical and playful. There wasn't much depth or character development, and issues such as severe mental disorders and morbid, graphic gore were not pictured. From Jack Nicholson to Heath Ledger, we've seen different interpretations of the character on the screen. But Phoenix's version may be closet to Alan Moore's Joker in The Killing Joke,  The Watchmen originator's 1988 graphic novel sensation.
The horrifying beauty of Joker is an uncanny sense of realism. Arthur Fleck didn't come from another planet. He doesn't have superhuman powers. He didn't fall into a vat of toxic waste. Fleck is a human being, and there's something especially frightening about seeing such a relatable character in this light as it could happen to any of us. Instead of going overboard with fanciful events like viewers saw with the previous Joker in Suicide Squad, Phillips uses very real possibilities. As Moore's Joker says in The Killing Joke graphic novel, we are all just "one bad day away" from losing our sanity.
This is exactly what lands this film in the drama/thriller category, and the reason it's the first R-rated film to gross over $1 billion.
Of the recent movies in the Batman universe, this is the only one completely CGI-free. Again, Phillips is thorough in his attempt to bring the Joker's image back down to earth.
There is something to be said for the slight tilting of a camera to an oblique angle. Gotham City wouldn't be as recognizable without some of those. When they're strategically placed and combined with outlandishly believable acting, a strange magic emerges. We don't see this more than a few times in the film, but it allows that Batman-noir feel that we all still crave.
Joaquin, you've created a monster. We can't wait for the sequel.
"It's funny, when I was a little boy, and told people I was going to be a comedian, everyone laughed at me. Well, no one's laughing now."
Leave a Comment