"The One Where Fans Couldn't BE Any More Excited'
For 10 years, you spent holidays, birthdays and celebrations together. You attended weddings and the births of their first children, and there was always room for coffee.
For the last 20 years, fans of the hit television show Friends have tuned in to new episodes and re-runs for a chance to have a seat in Central Perk Coffee House to see what Joey, Ross, Chandler, Phoebe, Rachel, and Monica had going on in their lives. They're the six best friends that always had time to sit down and have coffee with you, and discuss their latest life tragedies.
Whether it was looking for a new job, getting feedback on someone they just started dating, or asking for advice on what they should do about a past lover, your Friends were always relatable to what was going on in viewers lives.
In honor of the twentieth anniversary, Warner Bros. Television Group, Warner Bros. Consumer Products, and Eight O'Clock Coffee are partnered up to re-create the Central Perk coffeehouse, and there are plenty of reasons to check it out, besides the free coffee. The location is 199 Lafayette Street in New York in SoHo.
Various Mercy College students have waited on long lines to share a cup of joe in an exact set redesign.
It's hard to believe that viewers have almost spent 10 years of their lives watching a show called Six of One, where Courtney Cox was casted as Rachel, and that wasn't the only name that was crossed off the list. The hit show was also named Across the Hall, Once Upon a Time in the West Village, Insomnia Café, and Friends Like Us, which was shortened down to the show as we know it now, called Friends.
Originally the show was going to focus on four main characters, Monica, Ross, Rachel and Joey, with Phoebe and Chandler as supporting roles, and all would agree the show wouldn't be what it is today if that were the case, especially with Joey and Monica being the intended main love interest, could things BE any weirder?
"I couldn't imagine the show without the whole cast," Graduate Education Major, Stacey Bevis informed. "Each character brings their own flare to the show, and it wouldn't be the same if missing a couple of 'Friends'."
"I can finish any line in any episode," graduate student Jillian McEvoy stated. "Being on the same couch that the cast sat on was an unreal experience."
Senior psychology major, Rebecca Martines, said "I was expecting there to be a line, but I wasn't expecting it to be three hours long. I thought my legs were going to fall off! But, it was definitely worth it."
This real Central Perk is an exact replica of the coffee house that the characters of the show hung out at during their 10-year run on NBC, including the infamous orange couch which you are able to take memorable pictures on. The coffeehouse also plays episodes from the show throughout the day for customers to enjoy while drinking their beverages.
"I grew up watching this show," Senior Education major Dominick Grosso informed, "and is just as relevant today for me as it was then, especially since I am going through things the Friends did: the age they were at the beginning of the series, living in the city, trying to get through life."
There are four flavors at the coffee station, "Including the Central Perk roast," Bevis added.
"I had so much coffee I was shaking, but it was worth it," said McEvoy.
The store opened on Sept. 17 and has been the talk of the town.
Live musical performances will be performed weekly, and yes, "Smelly Cat" is on the playlist, along with other improvised songs that are just as entertaining as Phoebe Buffay's. There will also be an appearance by James Michael Tyler, who played Gunther, our favorite coffee barista, whose "hair is brighter than the sun," to quote Rachel.
"There isn't something that occurred in my everyday life that wouldn't be a funny scenario that would call for a Friends' quote," Grosso added.
"I'm the Rachel in my group of friends," Bevis stated. "Anyone who is a fan of the show has established who they are from the show."
Grosso has been determined by his group of friends to be the Ross, Martines the Monica, and McEvoy the Phoebe.
"Everyone has a friend that is each character from the show, and that's what makes these friendships so exciting," McEvoy enthused.
Fans can also expect daily giveaways, trivia contests, and other various contests throughout the month.
The walls are covered in memorabilia that will make fans stop in his or her tracks and take a trip down memory lane, including photos of Ross and Chandler's 80s jerry-curl and Flock of Seagulls hairstyles, showcases displaying Monica and Chandler's wedding vows and rings, and the Gellar cup. There are also displays of actual wardrobe worn by the cast, and the big white dog.
Memorabilia and merchandise is available to purchase including anything from posters and key chains, to the complete series on DVD and picture frames shaped like the frame around the peep-hole on Monica and Chandler's apartment door, which was ironically a picture frame itself before someone on set of the show broke it. Also, in spirit of the Friends' anniversary, Eight O'Clock Coffee's special Central Perk-themed blend will be available in stores across the country.
Martines advised, "If you're planning on visiting, plan to go during the week, or bring a fold up chair to sit in on line."
"I bought four bags of coffee and mugs that have the Friends' and Central Perk logo on them," Martines stated.
"'The One on the Last Night' was playing when I first got there," Grosso said, and informed that "that's the one where Chandler and Monica move in together and is 'the end of an era' for Monica and Rachel."
It will be bittersweet when they lock-up shop on the coffeehouse, and not knowing the next time you'll be able to reminisce in the memories of the show again, because the finale of the show was in it of itself the "end of an era."
Be sure to get there while the coffee is hot, because the pop-up shop will only be in business until Oct. 18, when the owner's will be putting their keys on the counter closing up shop, and they'll be there for you from 8 a.m. to 8 p.m. Monday through Friday, and 10 a.m. to 8 p.m. Saturday and Sunday.
Leave a Comment
About the Contributor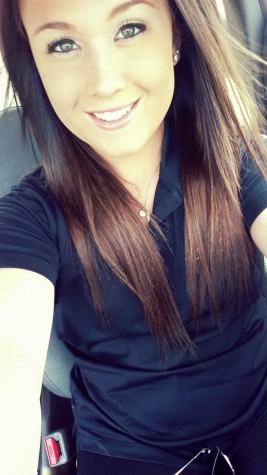 Kristin McGovern, Impact Staff
Kristin McGovern is a senior media studies major, with her focus on journalism. She loves to write stories on current and local events, and entertainment...