Jersey Shore Just Won't Wash Away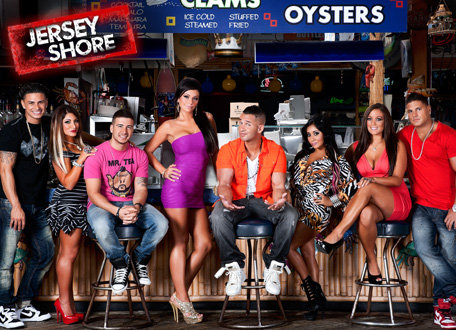 The IQ of many American viewers slowly began to decrease as of December 3, 2009 when MTV and 495 Productions decided to air the first season of the Jersey Shore.
Two years, four completed seasons and 51episodes later; the show has seemed to have built a loyal fan base thus resulting in season five being aired once the new year approached.
The show, a reality television series, just like every other show MTV airs, follows the lives of eight "friends" as they spend their summer. Seasons one, three and five found the housemates at the Jersey Shore in NJ whereas season two was filmed in Miami Beach, during the winter, and season four was filmed in Italy.
Having been called a "cultural phenomenon", the series has supplied MTV with stable ratings, while also being the network's most viewed series.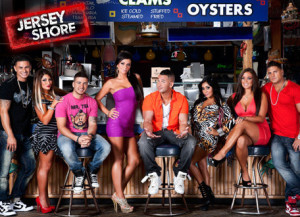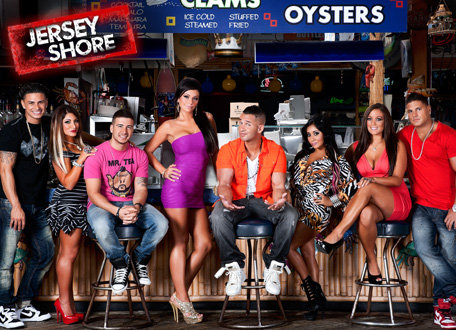 Paul "Pauly D" DelVecchio, Nicole "Snooki" Polizzi, Michael "The Situation" Sorrentino, Jennifer "JWoww" Farley, Ronnie Ortiz-Magro, Sammi Giancola, Vinny Guadagnino, Angelina Pivarnick (seasons 1-2) and Deena Nicole Cortese (seasons 3-present), the cast, was credited with introducing "unique lexicon and phrases into American popular culture" and were named on Barbara Walters' 10 Most Fascinating People list, blah blah blah blah.
The show is a piece of trash and should be disposed of accordingly.
MTV has once again proved that airing shows with little to no actual credibility is of the utmost importance to them thus providing their "stars" with their extended 15 minutes of fame.
The fact that people tune in every Thursday night to watch this show still shocks me.
If I wanted to watch conceited men and women who pride themselves in tanning, consuming alcohol and making fools of themselves, I'd sit on my ass in the dorms and document the lives of several students that attend local college/universities.
There's nothing entertaining about watching the cast of the Jersey Shore, most of which can't even remember to put on a pair of underwear before they leave their home.
With girls who compare bunny costumes to serial killers and lay in bed screaming that the subtle pain in their chest, undoubtedly heartburn or possibly a muscle spasm/cramp, is a heart attack, my irritation for the show has skyrocketed.
Praising men who are more concerned about their looks than any girl I have EVER met while going up to females on a daily basis asking them if they are "DTF (down to fuck)", is one of the most rude and inconsiderate things I have witnessed on television (never mind the fact that the women they sleep with know their characters and submit themselves to being recorded having sex with these males).
I understand that MTV hasn't set the bar high for their standards considering the other "outstanding" shows they have aired (A Shot At Love With Tila Tequila, The Andy Milonakis Show, Date My Mom, From G's to Gents, The Hard Times of RJ Berger, Exposed, Bromance, NEXT, I Want A Famous Face, Rich Girls, Yo Momma, the list goes on), but at some point the executive producers have to realize that enough is enough.
Watching the latest episode of the show, "Free Vinny," I could literally feel my brain beginning to fry and hear my subconscious crying for me to change the channel.
Hearing lines like "You don't yank on my new weave, that I just got." and "I don't even remember the stripper's name. It coulda been Anita. I-need-a cigarette," I found a new found hatred for reality television.
With characters that refer to themselves as "Meatballs" and have coined the phrase "Meatball Problems" in regards to when they are faced with issues such as falling in the middle of the street due to public intoxication, I can only hope that the reign of these "Guidos" quickly comes to an end.
Leave a Comment
About the Contributor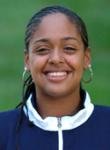 Jasmine Williams, Managing Editor
Jasmine Williams is a Senior majoring in Media Studies (Journalism) and minoring in Psychology. She is the Editor for the Impact and co-captain of Mercy's...