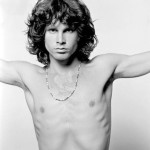 The Doors haven't released a new song in 40 years. Apparently it was "found" on tape recordings forL.A. Woman. Strangely enough (wink), its the 40th anniversary of the L.A. Woman album which is going to be released with new tracks and some recuts
. I find it a little suspicious that this song just happened to be "found," but isn't it all about promotion these days?
This song has potential, its fast, simple and catchy. It would blend in perfectly in a set with Love Me Two Times and Love Her Madly.
When i heard about  a new Doors song, i was looking for something a little deeper. Maybe not as dark as The End, but i was hoping for something that i could throw in a set with Five To One.
Besides, for those of you old enough to remember, you can't tell me the announcement of a new Doors song didn't remind of Eddie and the Cruisers and the lost tapes from A Season in Hell?