Discovered Competition Prepares For Season 2
Students at Mercy College now have a shot of making it big with a simple task, submitting a recorded video of their talents.
Only in its second year, the Discovered competition has been a colossal hit with hundreds of videos being uploaded daily to obtain a shot at getting an opportunity to record a single of their choice with the DISCOVERED record label.
As online auditions are streaming in for this season's discovered, the unsigned artist competition, one of last season's finalists has released his debut original single, "Tightrope." Danny Spadaro, an 18-year old pop-singer, delivered an unforgettable live performance at the 2011 season finale. The New Jersey native earned his spot in the finale after being an overwhelming choice of thousands of online fans across the country.
"I've been singing for as long as I can remember," said Spadaro. "Mercy College provided me with an opportunity to produce music and learn first-hand from professionals in the music industry. The experience was amazing and made my dream a reality. I would urge anyone who has ever wanted to chase their dreams not to miss the chance to be discovered."
The newly released single displays Spadaro's penchant for crafting catchy hooks and memorable melodies. Spadaro's guitar playing prowess and distinctive vocals are also evident throughout the track. To download "Tightrope," check out iTunes and Amazon.
Discovered invites entrants, ages 14-26 residing anywhere in the Unites States, to upload a YouTube video recording of themselves singing to the website. Contestants, as well as all visitors to the DIScovered website, are encouraged to vote for their favorite entrants through March 17, 2012.
In March, the top 20 contestants with the highest combined total votes, audience vote is worth 50 percent of the total vote with the other half coming from a panel of judges, will move on to the semi-final round.
In the semi-final round, to be held March 15-22, the top 20 will compete head-to-head for a place in the finale. The top 10 contestants with the highest combined total votes in this round will then be invited to perform live during the finale to be held in April.
Prof. Paul Steinman, who has been working with the music tech program since 1997, is in charge of the DISCOVERED competition and has seen and worked with many rising musicians.
"The winner of contest earns their songs produced in record studio.  It could stop there or continue for them.  We are looking to sign them as well."
A major difference from last year, he says, is that the competition is getting more recognition each and every day.
"More people are aware and are taking it seriously, so we expect a higher caliber musicians auditioning. People have heard the professional quality of recording and people are starting to see the benefits," says Steinman.
However, the road to success for unsigned talents is not an easy one, claims Steinman.
"It's extremely difficult. Record companies don't sign someone these days unless they have a nearly-produced product fan base and catalog"
On the bright side, Steinman believes that this competition will bring out the best of the unsigned artists through the competition.
"It's an overall learning experience, plus exposure."
Leave a Comment
About the Contributor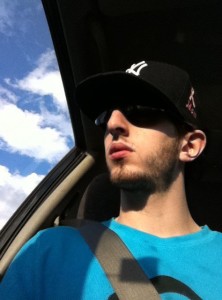 Vincent Roszkowski, Entertainment Editor

Vincent Roszkowski is a senior and media studies major. In 2011, he was the  Entertainment Editor for The Impact newspaper, and enjoys to write about...