Business Student A Finalist For Prestigious WalMart Scholarship
Sitting in entrepreneurship class, on break, Rikki Allard was going through her email. As she scrolled down, she saw a "Congratulatory" email from Mercy College, informing her that she has won the Walmart Women's Empowerment Grant.
Allard was filled with excitement as she knew it was a national award, but couldn't show it, as class began.
So she did what successful businessmen and women are supposed to do – she composed herself, contained her emotion and carried on with business as usual.
Allard is a freshman and is a finance major at Mercy College. She recently has won the Walmart Women's Economic Empowerment Grant for $1,500 through Entrepreneurial Action for Us (ENACTUS). Allard is one four finalists out of 2,000 competitors nationwide now competing for the grand prize.
Allard chose Mercy because when she came to visit for one week. she fell in love with the campus and the intimate feel.
The Women's Economic Empowerment Project Partnership is an ENACTUS program sponsored by the Walmart Foundation that empowers women by providing entrepreneurial training and workforce development through ENACTUS teams. The need for women's economic empowerment is evident around the world. While leading organizations and corporations have identified significant benefits that result from the ability of women to equally and fully participate in the economy, there is still much work to be done to advance women's empowerment.
Enactus is an international nonprofit organization dedicated to inspiring students to improve the world through entrepreneurial action.
ENACTUS provides a platform for teams of outstanding college students to create community development projects that put people's own talents at the center of improving their livelihoods. Guided by educators and supported by business leaders, our students take the kind of entrepreneurial approach that empowers people to be a part of their own success. Their work transforms the lives of the people they serve, and in turn, the lives of the students as they develop into more effective, value-driven leaders.
Allard first became involved with this project because of her two cousins who have autism and Down syndrome, inspired her. She went into this project with both of them in mind.
She thought of them when she won the award.
"It was very heartwarming, and I knew my cousins would be proud."
For this project, each student had to create an idea of what they wanted to do, and for Allard this one was close to home and very near and dear to her. She conjured an idea to create more jobs for autistic women. One of the foundations that Allard and the Business Honors Program paired up with is Luv Michael, which employs people with autistic disabilities and sells granola.
Luv Michael was formed around a 17-year old man diagnosed with autism, who had a passion for cooking. All of its products from beginning to end are made by individuals with autism. Luv Michael has come up with a food-based curriculum, which breaks down all the processes and procedures so that all of the Luv Michael employees can work efficiently in the kitchen in order to produce a quality product that each of them is proud of, according to the Luv Michael Association.
While Allard was there, she saw that they had little notes encouraging each of them, to let them each know that after each task they did that they have done a good job and should keep up the good work.
The more granola that is sold from Luv Michael, the more each of the workers get in their paycheck.
Allard said, "It's inspiring to see how a disability can be turned into a strength."
Allard's goal is to get Lessings in Mercy College to start selling granola and to be more involved to help promote Luv Michael and get more students involved. Allard wants the Mercy community involved so everyone can have a fighting chance to have a decent job and make a living. 
Allard wrote the grant for Walmart Women's Economic Empowerment, explaining how BeReady can advance entrepreneurship for autistic women through the Luv Michael partnership. This is the first ever grant the School of Business has received through ENACTUS, and Allard plans to lead more students to receive grants for good causes such as BeReady and other student businesses at Mercy College.
"The grant I wrote was explaining how my student business can empower everyone especially women, so they inspired me not only to perform according to the grant, but to represent them so that they can be guaranteed a promising future rather than be considered unable," said Allard.
The Business Honors students sell their granola as their student business, but also visit the kitchen to ensure not only inspiring those new to the message, those with autism who work so hard in the kitchen.
Over spring break, the Business Honors students are heading to Washington D.C. to compete in ENACTUS, to win another $7,500 for their business. Allard and others will have to present a 17 minute speech about their project and how it will benefit the community around them. Allard is hoping to win the $7,500 for her project to get more help from the surrounding community.
Allard wants to help make a difference and an impact to help those with autistic disabilities because of the inspiration of her cousins: Ben, who has Down syndrome, and Brayden, who has autism.
Luv Michael and other culinary projects work from a rented out space in Long Island City, and there will be a bakery opened within the next year where it is partnered with a school that will train and help hire more autistic individuals.
Allard wants to stand up for those who don't always have a fighting chance, especially women. Join Allard in helping those who want to have a job and be treated like everyone else.
Leave a Comment
About the Contributor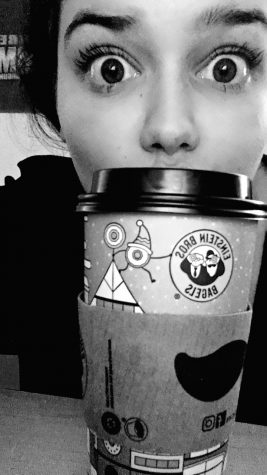 Weronika Raczek, Digital News Editor
Weronika is majoring in Media Studies/Radio and Television Production at Mercy College.

Her hobbies are obsessing over television shows, mainly Supernatural...