Impact Wins Four NYPA Awards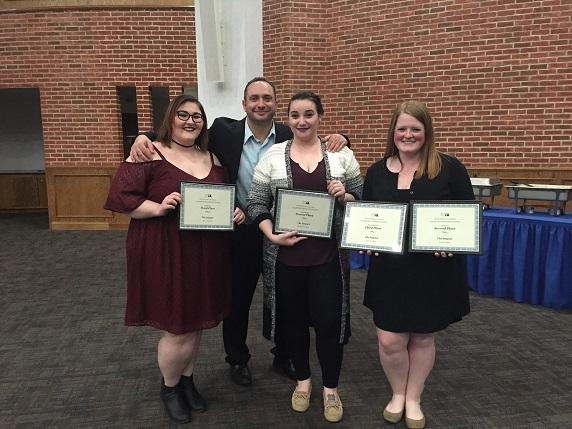 The Impact is proud to announce that is has won four New York Collegiate Press Association awards in the annual Better Newspaper Contest.
Since 2007, The Impact had won four NYPA awards, yet 2015 was Mercy College's year in the contest to breakthrough, as it doubled its total to eight.  In this year's awards, only the Ithacan won more writing awards than The Impact in the state of New York.
Karissa Allen won two awards, third for feature writing and second place for column writing. Erminia Errante won a second place award in the category of news reporting. Jackie Miranda won a third place prize for editorial writing.
Allen, a former Associate Editor of The Impact, is headed to the New School graduate program to study media studies in the fall. Her column, titled A Strike of Enlightenment, often focused on her personal life and how she viewed the world.
Her feature story focused on a current Mercy student who returned from the Middle East battlefront with PTSD , and his service dog, Zen. 
Her two nominated columns were titled Your Lips Keep Moving With Lies and The Hardest Letter I've Ever Had To Write.
"Personal issues aren't always the easiest to talk about. That's why I write about them. It can be difficult to start the columns but once I start it's like a never ending waterfall of word," said Allen. "I can't necessarily talk about my feelings but writing them seems to be second nature."
Errante is a former Managing Editor of The Impact. Her news story focused on the epidemic of sexual assault on college campuses, and the challenges of credibility women must face if they report. Errante finished third in the category in 2013. She is currently a graduate student at Mercy College studying secondary English education.
"Professor Perrota gave me the chance to write this piece knowing how emotionally involved I was in it and I am endlessly grateful for that. Every now and again, The Impact peaks its head out for the big guys to know that we are an award winning newspaper,  and even though we come from a small college, we are competitors," Errante said. "This newspaper was a family to me for four years, and winning another award is an honor."
Miranda is a former opinion editor for The Impact and currently a graduate student in psychology at Mercy College. Her lead editorial focused on the concept of pain, and warned young adults not to engage in self harming and cutting as a method to cope. Her other editorials focused on students dealing with relationships, and being labeled in the friend zone or as a sidechick.
"Coming into a group of journalists as an outsider studying psychology, I never imagined that I would have gained enough skill and potential to win one NYPA award, let alone two," said Miranda. "In The Impact we were given the ability to be professional and true to ourselves. We were never asked to change who we are or what we believe in, but were instead encouraged to find ourselves throughout our writing and share what we discover with our readers."
The NYPA is an annual contest that judges categories in which every college in the state of New York is eligible. The contest is judged on a calendar year, and every submission must be published by Dec. 31.
"I'm extremely proud of these women. They were a core nucleus to the publication and their contributions will always be remembered by future staff members," said Impact advisor and Department of Communication and the Arts Chair, Michael Perrota. "I'm forever grateful to them for their dedication and hard work."
Size of the college, staff or budgets are not taken into consideration during the awards process. Just the top collegiate work, regardless of the school.
"It truly is amazing to be able to compete with the much larger schools. It sends a message that Mercy College students can not only hold their in situations, but win," said Perrota.
Allen was taken back when she discovered that she had won, and says that before studying media studies, she had insecurities about her writing.
"I've seen people win NYPA awards in the past, and I wished that one day I could, but I didn't consider myself a writer," she said. "Never in my life did I imagine winning any awards, never mind two awards in one year. It's overwhelming. I look at them everyday and it doesn't feel real.
"They made me realize that I am in fact a writer."
Leave a Comment