Meet Students At the International Café!
The International Café is held every other week on Wednesdays. On Sep. 28, the second meeting of 2016 fall semester was held at 3 to 4 p.m. in Main Hall 235 at the Dobbs Ferry Campus.
There are over 200 international students in Mercy College from over 54 countries. Mercy College has a lot of programs for international students including "International Students Orientation." International Café is another one of those programs which is held in order to help international students.
The International Café started four years ago on the Dobbs Ferry Campus to help build a community among international students. Another purpose of holding the International Café is to help international students adjust to the U.S., New York and Dobbs Ferry. It is also to help student understand cultural differences and deal with their culture shock. International Students who participate in the meeting can enjoy food and get to know each other. In the meeting, international students chatting as an ice breaker while eating food. Also, different types of activities are planned to help international students learn about new culture.
On Wednesday, 10 students from different countries joined the meeting. They exchanged greetings eating pizza. After that, international students discussed five different new cultural situations. The situations included situations about American's daily lives which a foreigner could find confusing. International students share their individual opinions, cultural differences and some experiences about the topic. That week's situations included the different ways of greeting, courtesy and some different values.
A Mercy student from Moroco, Hamza Chafki, said "I appreciated the idea creating space for international students to come together, sip coffee and discuss different issues. Furthermore, as an international student, surely I have been at risk of culture shock. In today's meeting, the idea of discussing many scenarios that we are likely to experience in our daily lives here in the states has attracted me. Other than that, talking about similarities and difference of culture gave me many ideas like punctuality."
A Greek student, Konstantinos Tielman, from Greece,  "It was a wonderful meeting. It is so nice to hang out and share many stories about other cultures where international student can meet."
International Café is very helpful for many international students. However, some students can't participate in the meeting because class times clashed with the meeting. Also, since the meeting is held only on the Dobbs Ferry Campus, it is hard to join for students who are in the Manhattan and Bronx Campuses, which have a lot of international students.
Mercy is preparing many other programs for international students like making ginger bread houses at Christmas, amongst other events.
The Director of International Student Services Valerie Monaco said, "I am happy to see students come to participate. It was exciting to see students are involved in activities and getting to know each other. Also, I am always looking for new ways to improve the programs so more students can join and collaborate better."
Leave a Comment
About the Writer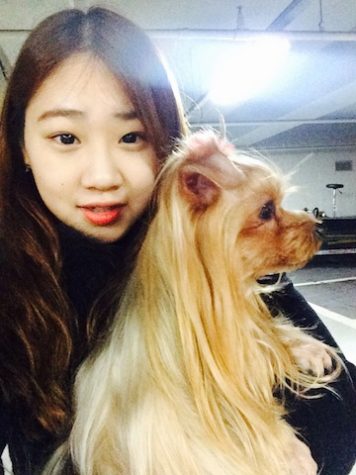 Jenny Cha, Staff Writer
Jenny is an exchange student from South Korea. She has worked as a reporter at the  Yonsei University Newspaper 'Yonsei Chunchu' for  two years. She...