Students at Manhattan Campus watched Ted Talk as part of Disability Awareness Month
As part of Disability Awareness month students at Mercy College's Manhattan Campus watched a Ted Talk that Mindy Scheier conducted on Oct. 24.
Disability Awareness Month was created to raise awareness about the differently-abled community struggles with employment and other issues that they face on a day to day basis.
The accessibility specialist at Mercy College, Alyssa Seidel was happy the school shined a spotlight on students with disability.
"Every semester we put on a Ted Talk at Mercy," said Seidel. October is recognized as Disability Awareness Month and the Disability Services Office decided the whole school should know about it."
Working in the Fashion Industry for twenty years, Scheier noticed an opportunity where she could inspire kids from ages 6-18, by teaching them about fashion. So, she decided to create a fashion school called Future Fashionistas.
When Mindy's son Oliver was born with muscular dystrophy, she decided to create Runway of Dreams to help develop adaptive clothing.
The students in Manhattan watched the screen and looked on as Mindy talked about how her son Oliver inspired her to create her organization Runway of Dreams.
Runway of Dreams aims for inclusion and acceptance in the fashion industry for the differently-abled community. Her organization was founded on the premise that clothing is a basic human need, the foundation supports charitable initiatives that expands the reach of adaptive clothing.
Oliver wanted to wear jeans to school just like his friends, but it was difficult for him to dress himself. Mindy used her fashion skills to alter a pair of his jeans to make it more easier to put on.
This led Mindy to realize that a lot of people in the differently-abled community around the world were struggling to get clothes that meets their needs.
Scheier wants to rebrand the notion of adaptive clothing through her organization Runway of Dreams.
"Adaptive clothing by definition is made for people with disabilities including the elderly and anyone that is challenged with dressing themselves," said Mindy.
When Mindy decided to start her organization, she knew she had to know the world of disability. She only knew from her son, Oliver, so she took an entire year to do research, organize focus groups, create surveys, visit hospitals, schools and facilities to gain more understanding of the clothing challenges of people with different types of disabilities.
After Mindy's organization launched, they collaborated with Tommy Hilfiger on the first mainstream adaptive clothing line for kids.
"The ultimate goal was to educate the fashion industry that changes could be made to mainstream clothing to make them more wearable for people with disabilities," said Mindy. The Tommy Hilfiger team understood my vision and in 2016, Runway of Dreams partnered with Tommy Hilfiger to make fashion history by launching the first ever adaptive clothing line for kids. And, I currently serve as a Consultant at Tommy Hilfiger for the Adaptive Division."
The Runway of Dreams Foundation is working with the fashion industry to teach them that the differently-abled community are the largest minority in the world. Across the United States there are almost 60 million people with disabilities.
"They are consumers that have yet to be serviced by the fashion industry," said Mindy. "I hope that someday adaptive clothing is just another fit within the fashion industry that we will see in our stores as well as online in every brand."
Runway of Dreams have also collaborated with other brands to promote inclusion for the differently-abled community. Mindy currently serves on the Adaptive Counsel for Zappos. Brands like Nike and Target have supported Runway of Dreams Foundations mission to make clothes that is also easily accessible for people with disability. Her foundation hopes to educate all brands that people with disability needs to be thought of also when they are designing clothes.
Mindy Scheier loves to help people and make them feel more included with the work she is doing with her foundation.
"There really is no adequate description that can express what it feels like to help so many people, said Mindy. I know what my struggles are with my son Oliver and to be able to help him and millions of other people, it is just about the best feeling in the world."
In the next five years, Mindy hopes to see major changes within the fashion industry.
"It would be my dream to see a complete integration of people with disabilities in every aspect of the industry from our Runways to brick and mortar stores," said Mindy. I would love to see representation and hopefully this conversation will be a thing of the past!"
After watching the Ted Talk students at the Manhattan campus were very impressed with Mindy because she turned a heartbreaking diagnosis into her passion, of trying to make adaptive clothing more mainstream.
Oscar Bailey Nero, Sophomore Criminal Justice major, said Mindy inspired him.
"I thought it was amazing," Nero said. "It inspired me. I think adaptive clothing is good for society universally."
Michael Quelhas, senior Psychology major, said he liked the Ted Talk.
"I like the idea of taking into consideration of other peoples struggles," said Quelhas.
Adriyana Galychanivska, freshman Finance major, said the Ted Talk helped her gain new information that she didn't know.
"It was informative," said Adriyana. "It provided me a view into disabled people's daily struggle."
"What Runway of Dreams is trying to do, is to educate the fashion industry," said Mindy. "Adaptive clothing can just be another type of fit similar to plus size, petite or maternity."
Leave a Comment
About the Contributor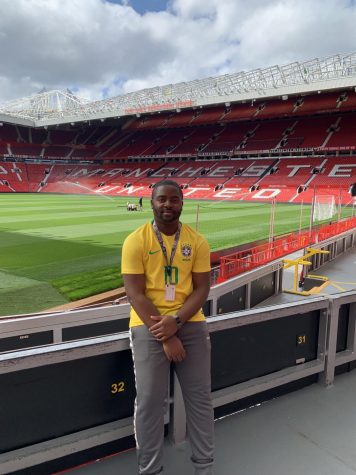 Chevaughn Hurst, Impact Staff
Chevaughn Hurst is a senior majoring in media studies with a concentration in journalism. He grew up in Jamaica and migrated to the United States at the...