'Food For Thought' Poster Controversy Creates Confusion In Hudson Hall
If you live in Hudson or happen to have walked in the residents building to visit a friend, one might get greeted with a big orange sign saying "Thoughts? Speak English! We're in America!" in big bold blue letters.
On the second floor, there are similar signs before walking into the lounge and elevator stating "Thoughts? "I prefer dark-skin men because they are tough and strong. Light-skinned guys are soft!" and " Thoughts? You failed an exam! How?! Aren't you Asian?"
Once you take a closer look there is a smaller sheet of paper that Resident Director Najja Beaulieu-Hains has placed alongside each poster. It is a disclaimer stating that these statements were not meant to offend anyone, however she wanted to solicit the residents' views and welcomed them to write their authentic views on the posters as long as they follow some rules. They could not write names, curse words, derogatory messages with intent to harm anyone and they could not tear down or vandalize any of the posters.
These posters were made to give the residents an opportunity to voice there opinions and discuss further during RA Kezia Varughese's "Food for Thought" event at the end of the month. Beaulieu-Hains has also sent out emails before posting the posters to all the Hudson residents explaining the event and going through the rules of writing on the posters.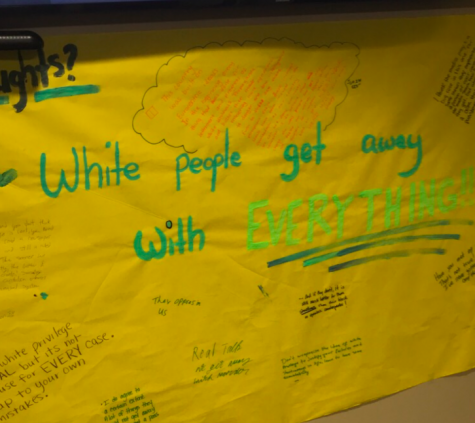 There were two other posters placed on the fourth floor saying "Thoughts? White people get away with everything!!" and "Thoughts? If black girls would control their attitudes, maybe guys would want them!" which were torn down by outraged students.
The suspects have still not been found, but it is currently being investigated by Residential Life, which noted the suspects will go through a judicial system and will have to create an educational program similar to this one as ,punishment according to Beaulieu-Hains.
"Things like that are considered vandalism and could even be considered a hate crime giving the context of the posters. We are currently trying to identify the students that did this. We wanted to give students a platform to write their thoughts and feelings and the students that tore down the posters took that opportunity away for other students who voiced their opinion," Beaulieu-Hains said.
The event was Kezia Varughese's initial idea as a project and with the help of Beaulieu-Hains along with Residential Life. It was carefully developed as a way to start a conversation on racism and stereotypes.
"My goal was to address topics that people are uncomfortable with and make them more comfortable about these taboo subjects by starting a conversation."
"These are things that people might actually say or think to themselves but if we talk about it, we can educate each other to break down these stereotypes and bring awareness to it so that they know how to handle it if they happen to encounter it in a professional environment," Varughese said.
Beaulieu- Hains explained that Residential Life had done a lot of research on various groups of ethnicities and stereotypes that are said about them.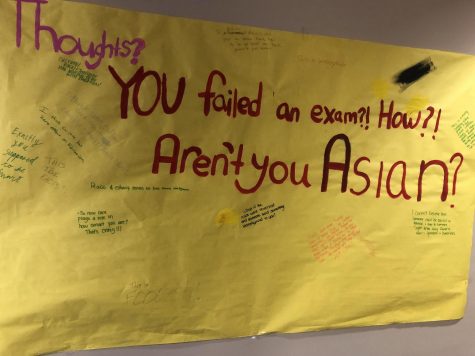 "We looked at several essays and online research to come up with the statements used as a group, we are a multi-cultural staff and would never purposefully try to offend any of the students here, we are not trying to take away from peoples thought and feelings, we are just trying to remove the taboo and educate the students on how to handle real life situations," Beaulieu-Hains said.
When speaking to fellow Hudson residents about the posters, there were mixed reviews on if they thought it was appropriate for the posters to be put up to begin with.
Despite the multiple emails sent and disclaimers placed next to the poster, students were still confused by the purpose of the project.
Shasdi Rojas, a sophomore studying Health Science, says " I honestly thought students vandalized the building, I didn't thing Residential Life had anything to do with it. I think the stereotypes used could be funny and we can joke about it, and I definitely feel like they caught peoples attention and got people to talk about tough subjects".
Other students understood the purpose of the project but felt it was executed poorly.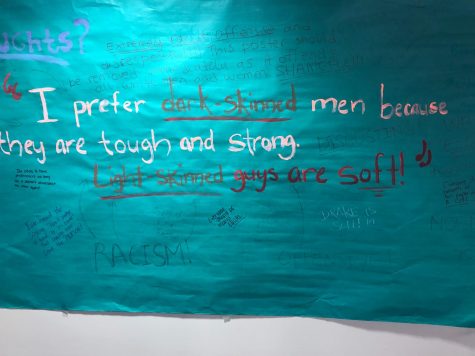 Taririque Robinson, a junior studying Cyber Security, said "At first I laughed at the stereotypes because I thought they were so ignorant but the one about "speaking English because we are in America" was flat out racist and went way to far.
"I think it should have addressed better before she posted it and blindsided people. It makes sense for them to be in the main building for educational purposes, but to do it in the dorms where people live just makes no sense. I think (Res Life) was better off sending out an email to get our responses instead of having posters in the Residential Hall."
"On top of that, she picked the most ignorant stereotypes that I don't think spark a discussion, you can start a conversation using better statements,"Robinson said.
Carina D'Orazio, a sophomore Behavior Scienes major, felt outraged by the posters and also felt it was a poor choice to place them in the residents building.
"I don't think the posters should have been posted because people live in these buildings and once you see them, it leaves a complete shock. I understand what they were trying to do, but I feel like if you are going to do something like that, it would have been better to send out a survey to everyone instead of putting these big posters all over the building."
"What are our little siblings going to say when they come for a visit and they see these posters up on majority of the walls in the building?" asked D'Orazio.

Multiple residents felt it made more negative reactions then positive.
"A lot of people took it the wrong way. I personally don't let things like that get to me but I thought the statements were messed up. Instead of bringing people together, it tore us apart," commented Naeliss Goris, a sophomore Health Science major.
Gina Marcellino, a Junior Health Science major, felt the same way, and said, "I respect what they were trying to do but people our age aren't going to see it like that, they even ripped down the poster in my hall."
Lamide Ladoja, a junior accounting major who also happens to be an RA in Hudson Hall where the posters were stationed, said "As humans it is easy to get offended but that was the point, these are phrases that are said daily so it was really good that people got upset, because it is not right to use these stereotypes in society…I do personally believe that the posters should have not been up for that long because it is Black History Month, and it does take away from that, so to have the posters up for maybe a week or so, that would have been great."
Amme Bhatt, a business major and international student from England, wasn't really sure what to make of the posters as she didn't know what it was when first glancing.
"My first impression was 'what the heck?' I understood the purpose of the program, but when you quickly look at it, the boldness as well as the font size of the statement is the first thing that you notice. If you are going to look at it from a marketing point of view, you aren't going to look at that small piece of paper on the side explaining it. You don't really pay attention to the opinions people have written on the poster.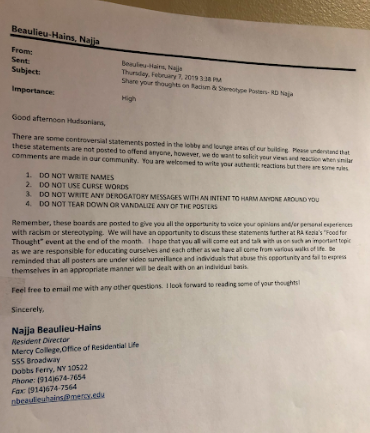 "Where I am from in England, I think this would cause a massive outbreak."
While this project had intentions of bringing people together and starting an open discussion on racism and stereotypes, it seems to have created more controversy within the Hudson residents. Whether you are an outsider coming to visit one of your friends or family or if you are a resident in the building, the purpose of this event was not to offend anyone, it was just to raise awareness and start conversation.
Kezia's "Food For Thought" event on Feb. 27 continued the discussion and students were able to share their experiences and discuss these posters in a deeper nature.
Leave a Comment
About the Contributor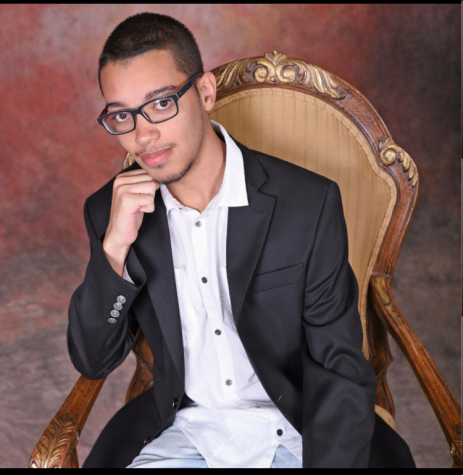 Jared Naut, Impact Staff
Jared Naut is a junior majoring in journalism hailing from the town of Parlin, New Jersey. When Jared is not writing, you can catch him listening to his...