Soon To Be Graduates Celebrate At Senior Toast
Seniors gather for a night to toast their 100 days countdown. Thoughts about graduation and upcoming events.
As all the seniors raised their glasses up high, one can hear their loud cheers. It as a rallying cry to say:
"Wow, this is it. We are almost done."
There is no turning back, just to keep pushing forward and end the semester strong. Set goals and accomplishments both academically, athletically, or socially.
The 100 day countdown for seniors began on Feb. 10. Different activities were going on throughout the day from senior portraits to the "Champagne Toast" in the evening at Mercy College. Students gathered for a memorable night with their close friends. Faculty who organized the event were also present.
About 30 to 40 people were present at the Champagne Toast. Students gathered around the tables full of delicious macaroni cheese puffs, empanadas and chocolate covered strawberries. Champagne glasses were placed in the middle of the Rotunda and students took a sip all night long.
The Executive Director of Student Life, Felipe Henao, gathered the seniors for his speech as well as the President of Mercy College, Timothy Hall, before raising the glasses and saying "Cheers."
The ceremony was short and the excitement of graduation for many of these students is bittersweet. Many students want to just enjoy the months but it is crazy to think that they are very close to the finish line. Students at the event commented the excitement of graduation has not "hit them" yet, which surprised them since they though they would be ready to leave.
"It is weird that my time here is coming to an end. It doesn't feel like I've been here for four years already but I don't think it has hit me yet at all," says Maverick basketball player Bryan Griffin.
Griffin has come a long way these past four years in basketball. The young man, who is 6'8, is known for his incredible blocks and dunks. Griffin has lead his team a couple of times to victory by leading more than 20 points several games. His fans, teammates and family always go crazy for him on the sidelines each time he steps foot in the court.
"Playing college basketball has given me some of the best memories of my life from the good wins, the hard losses, the fun practices and hard conditioning. It's all been a part of the journey and everyone that I have played basketball with here has become a lifelong friend," says Griffin.
Three more months are left until these students hit the real "adult life." It is a time where many faculty members and friends think what these seniors next steps are in life. It is not easy to adjust to the real world when in four years a student was living "life" on campus.
"Adult life I think would be different. It is not school anymore, full-time jobs are around the corner. No more naps and hanging out with friends throughout the day. It may be hard to adjust at first but I will get there," says second generation student Krystal Hued.
Hued wants to follow her mother's footsteps. As a second generation student, Hued feels excited for herself and her family. Her mother is extremely proud of the work she has done throughout the four years. There were many the ups and downs, but Hued finally managed to pull through,
"In college, we built friendships, have long nights of homework and studying. To be away from my family has taught me a lot," says Hued.
Many Mercy students came together with advice for their fellow classmates. Mercy College is a community where friendships are made between students and faculty. Memorable memories that will never be forgotten but, to keep pushing forward and build a future.
"The advice that I would give to other seniors is that just because college is coming to an end, hard work doesn't stop. Keep striving to become the best person you can be and maximize your potential in life," Says Griffin.
"Enjoy your time now. You built yourself a community when you started and they will be there in the end. Look forward to the future. It will be an adventure living life and trying to see if I will complete my master's degree," says Krystal
Another student mentioned how her excitement to graduate and start her new life in another state is something she is looking forward.
"There are many opportunities that have come because of the hard work I have done these four years. I am extremely proud of myself. It was not easy. College classes can be stressful and lack of sleep is a struggle when there are distractions on campus."
These students are proud of themselves and look forward to any Mercy events for them. A senior cruise will be happening on May 6, and many are looking forward to it and are ready to be the first ones to get tickets.
Senior cruise night is a night no one will forget. A last night with fellow students before graduating in two weeks.
"I'm looking forward to senior boat night with my fellow seniors and to connect and reconnect with people that I haven't met or haven't spoken to in a long time," says Griffin.
Hued is on the lookout for the tickets. Her night consists of celebrating with also her boyfriend who graduates too. Senior couples are amazing to see. Celebrating the work both have done and who were able to support each other along the way.
"It is a different feeling of excitement to walk across the stage and knowing your boyfriend will do it too. We did it."
Senior Marissa Scaramuzzo is another senior who looks forward to the senior cruise night. Especially when students are able to bring a plus one. Whether it be a close friend from another school or your significant other.
"It is a special night. We look back on all we have done and celebrate with close friends and peers of our accomplishments."
Mercy College wishes all seniors a great last semester. Enjoy what is left, do not give up and push hard for your future.
"We are unstoppable."
Cheers class of 2020!
Leave a Comment
About the Contributor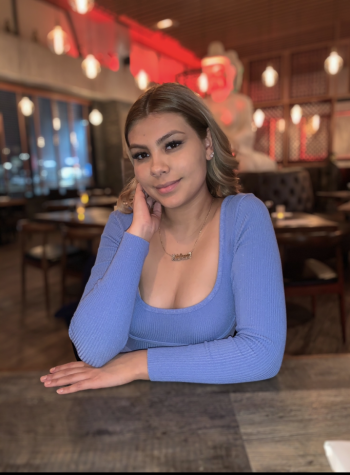 Estefania Salinas, Impact Staff
Estefania Salinas is a senior majoring in Media Studies: Radio & TV Production with a secondary concentration in Journalism. She is a passionate news...