Combat Soldier Shares Experiences With Mercy On Veterans Day
"I had them in my sight, maybe 100 meters to our front. My thumb was resting lightly on a butterfly-shaped trigger over the heavy machine gun. (That's) when I thought… I would wait to see what they did."
Just before the full darkness of night set in, Aaron Leonard recalled having to make a daring choice in February of 1991, in the early days of the Battle of Norfolk in Iraq.
"I chose not to kill nine Iraqi soldiers peeking over the edge of a foxhole," said Leonard.
The Iraqi soldiers had surrendered, putting their hands up and casting aside their weapons. Leonard remembers that night vividly. A night surrounded by death.
"A feeling that returns from time to time when triggered by a sound or smell," said Leonard.
His memories from that night remain fogged. He believes this is due to many reasons, one has to do with the enormity of fighting.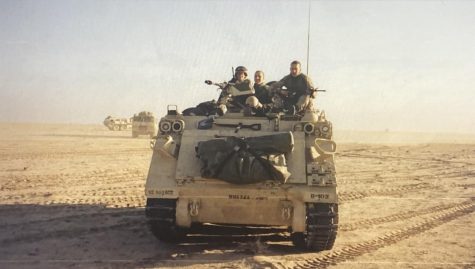 And the other, he says, is "partly due to the numbing fatigue brought on by sleep deprivation and partly due to trauma from witnessing the cause of human suffering."
Leonard is the chair of the Veteran and Military First Coalition at the Sierra Club. His first combat deployment was as a sergeant with the First Infantry Division in the 1991 Operation Desert Storm and Desert Shield. Following the attacks on 9/11, Leonard was deployed to Iraq as a major with the 138 Field Artillery Brigade, and twice with the First Cavalry Division. He retired as a lieutenant colonel in 2014.
Leonard is a regular speaker at national conferences on the efficacy of nature-based programs to help veterans transition into healthy civilian lives.
When he left the military, he found solace in connecting with nature. It is one way he can reflect on his time serving.
"Each trip into the woods allowed me to reach into my rucksack and pull out a few more rocks lessening the burden born from years of conflict and witness to human suffering."
Leonard says that the wilderness allowed him to live and thrive.
"Those days spent sleeping under the stars in the Hudson Valley was how I began to heal from the trauma of war."
Leonard was one of the speakers who shared their personal stories at Mercy's virtual Veterans Day celebration. He first enlisted in May of 1987 and retired in November of 2014.
"If you have an opportunity to thank a veteran for their service this Veterans Day, take it," says Leonard. "If you find yourself thinking you might need some help, seek it, and if you have a story, please share it."
***
This year, the Veterans Day reception was hosted virtually by President Tim Hall and Execs. Director of Media and Innovation, Edie Magnus, with the purpose to honor and establish a connection for veterans.
The meeting had guests from the Military and Veteran Outdoors Coalition. The Veterans Mental Health Coalition of New York City, and The VA Medical Center of Mount Vernon.
The director of Veteran Services of Westchester, Andrea Molina, spoke about the Vet 2 Vet and Dwyer program. A program designed to research the effects of peer-to-peer mentoring on suicide prevention and reactivation for veterans getting back into the community.
Molina deployed to Iraq during the Operation Iraqi Freedom surge in 2003, and again in 2005.
"We are veterans, assisting veterans, and we have extended our program to caregivers and family members. We provide intensive case management and advocacy. We have been there. We have been in the trenches, so we understand," said Molina.
The Dwyer program was created as a pilot program back in 2012 in honor of Joseph P. Dwyer, a medic and an Iraq veteran who struggled with his symptoms of PTSD.
"Our mission is to connect that trust to reputable providers, people that actually respond and follow up and follow through. We also are looking to create a strong network within our county of Westchester. We also assist veterans from the Bronx area."
There are over 22 counties that hold the Dwyer grant. Molina hopes this program will serve as an everlasting community to veterans.
"Not only serve the veterans, but hope that the veteran will serve their community, back, and also become a pillar or a program that other veterans coming home reactivating could lean on," said Molina.
Along with other guests who shared their sentiments for veterans stood the Commissioner of the Veterans Service Agency in Mount Vernon, Viviana DeCohen.
"We want you to know, all the veterans who are here today, we are here to support you. We are here to honor all of those who serve," said DeCohen.
DeCohen was recognized by the Department of Veterans Affairs, as one of the 27 women named for the 2021 Woman Veterans Trailblazer award.
"You know we always say many, many people do not realize that the veteran service never ends. We serve God, country, family – and then we continue to serve the community."
DeCohen expressed her gratitude towards Mercy College.
"The only reason that I am in the position that I am today is because Mercy College recognized that I was a veteran and gave me an opportunity and literally built a door where there was a wall, and that's the opportunity that so many veterans deserve," said DeCohen.
Hall says the college is dedicated to helping veterans transition from soldiers to students by providing them the resources and the assistance they need.
"It's about making sure they have the care they need and the benefits that they've earned when they come home. It's about serving all of you, as well as you've served the United States of America," he said.
Mercy College classifies as a Yellow Ribbon School, and they provide veterans with funding to obtain a private school college education.
"Each of our undergraduate, graduate, and doctor doctoral degree programs are fully covered by the Post 9/11 GI Bill, allowing eligible veterans to enroll without any additional out-of-pocket expenses," says Hall.
Hall tells veteran students to make use of the resources provided by the college, and he expressed gratitude for their service and impact in the college community.
Hall added, "Thank you in particular to our veterans, knowing that saying this can scarcely satisfy our debt of gratitude; or honor to you. We are grateful, not only for your service to all of us but to your membership in the Mercy College community."
Leave a Comment
About the Contributor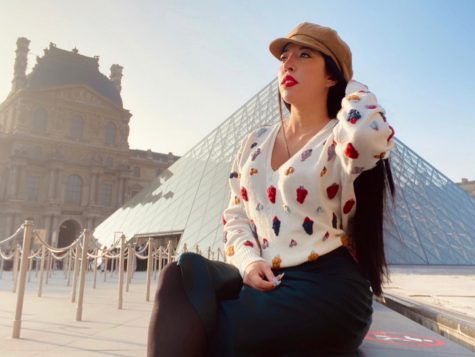 Nicole Alarcon, Associate Editor
Nicole Alarcon is a senior at Mercy College, majoring in journalism. Born in São Paulo, Brazil, she moved to the United States at 10-years-old.

Nicole...